150 Christmas Goodie Bags delivered to our Farnham community
On Tuesday 8th December 2020, we were delighted to welcome the Mayor of Farnham to a short socially distanced service of blessing for delivery of our Christmas packs. Cllr Pat Evans joined the retiring Farnham Assist Manager June Trantom, new Manager Rodney Bates and several of our volunteers for a Bible reading and prayer in the car park of Bethel Baptist Church, Upper Hale.
This was followed by volunteers receiving goodie bags for delivery to 150 older people in Farnham that may be feeling alone at this time. The goodie bags contained mince pies (kindly donated by Farnham Cook), Christmas cakes (kindly funded by Farnham Institute) with a Christmas card and small gift from Farnham Assist. Since then, we have received a number of kind thank you calls and notes from clients that have been overjoyed to receive a gift at this time. For many, they are unlikely to see relatives or friends or receive any other gifts and wanted to share that this would be their Christmas highlight.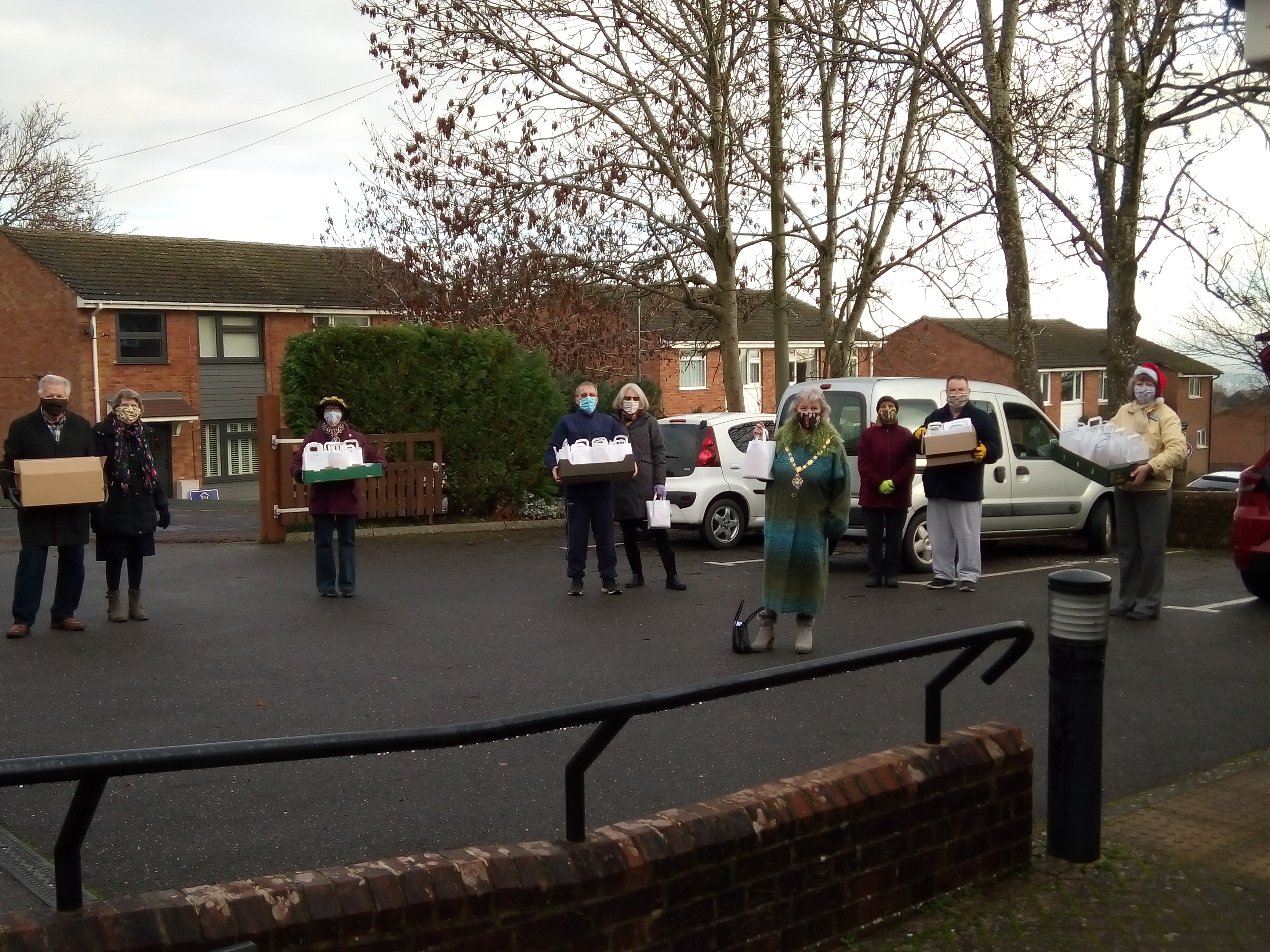 In light of the recent government advice regarding coronavirus we are suspending our regular activities and outings until further notice.
If you are over 70 please do isolate yourself, we have many volunteers who can help deliver shopping, pick up prescriptions and telephone you for a chat.
Please do contact us on 01252 717710 if you need help or know of anyone who is isolated.
A BIG thank you to the staff of Frensham Heights School who cleared their science labs of all their stock of protective gloves and delivered them to our office. In all 3,000 gloves which have been distributed to our volunteers who are collecting prescriptions and shopping for our clients and I have also given them to the Foodbank and Meals on Wheels teams too.

If you know anyone who would like help keeping Farnham ASSIST running in order to help our older folk in town then donate to ASSIST for a run/walk/cycle, we are running a small challenge.
Many people are missing their fitness challenges and would like a focus, do pass on the message to your families and friends.
· May be you are part of a running group, you could encourage your friends to join you (in separate locations) to run 8km or sprint for 8 minutes
· If you/your friends like to walk, why not challenge them to walk 800 metres and see who is the quickest (separately of course)
· Could you run up and down the stairs 8 times?
· Do 8 sit ups
· Can you juggle 8 balls at once?
Then head over to
http://farnham-assist.org.uk/donate.html and donate, it's as simple as that!
Earlier in 2020, we had a wonderful afternoon entertained by Peter Tomlinson talking about his career as an Air Traffic Controller, this was an extremely informative talk with delicious cakes and refreshments served afterwards. Thank you to Peter and all who helped.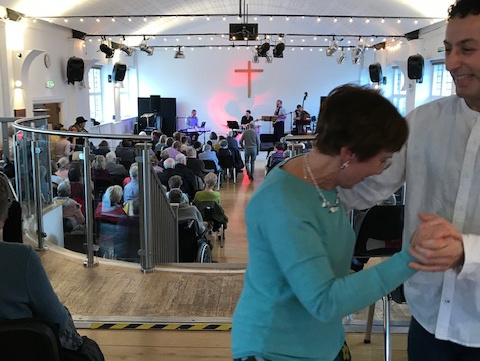 We had a wonderful time at Music in the Vineyard with The Vic Cracknell Swing Band, thanks to all our volunteers for their help with baking and serving and to Farnham Town Council for including us in the event.

Here is a copy of our 2020 events diary. Sadly, we have not printed a version for 2021 whilst we wait for the pandemic to subside. However, we intend to resume activities as soon as we are able and will put further updates in the early New Year.
An online version of 2020 is available: CLICK

The Hale lunch at Christmas was a jolly affair with 40 guests enjoying a traditional roast dinner with all the trimmings and carols afterwards, each guest received a gift with generous sponsorship from The Wisley Foundation. Thank you to all involved in the preparation and running of the event.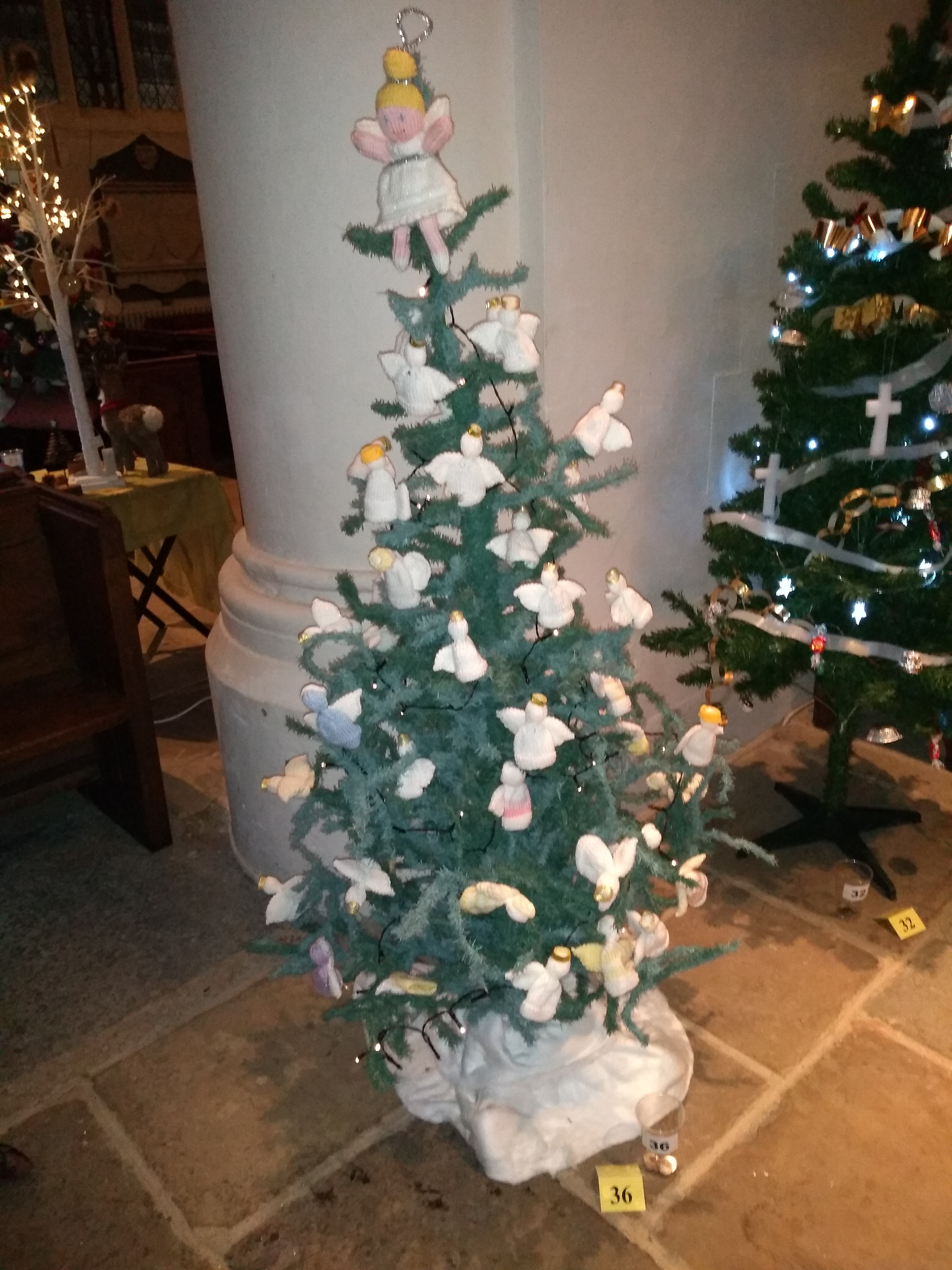 Our clever ladies at the Knit & Natter group created an abundance of Angels to decorate their tree to represent Farnham ASSIST at the Christmas tree festival at St Andrews.

The friendly Knit & Natter group runs in St Andrews Parish room on Mondays at 1pm, do call us on 01252 717710 if you're interested in going along.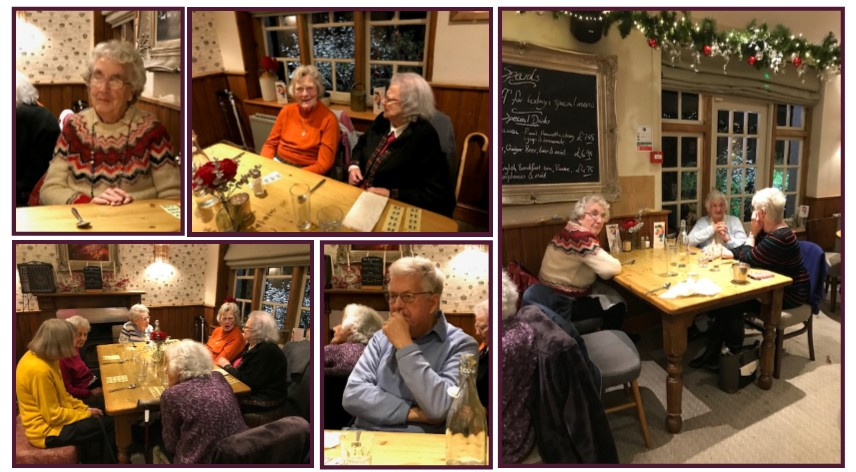 A big thank you to Farnham Hedgehogs and Red Mist pub Duke of Cambridge for spoiling 10 of our clients (who live alone) and providing a delicious lunch/dinner with raffle prizes and fudge.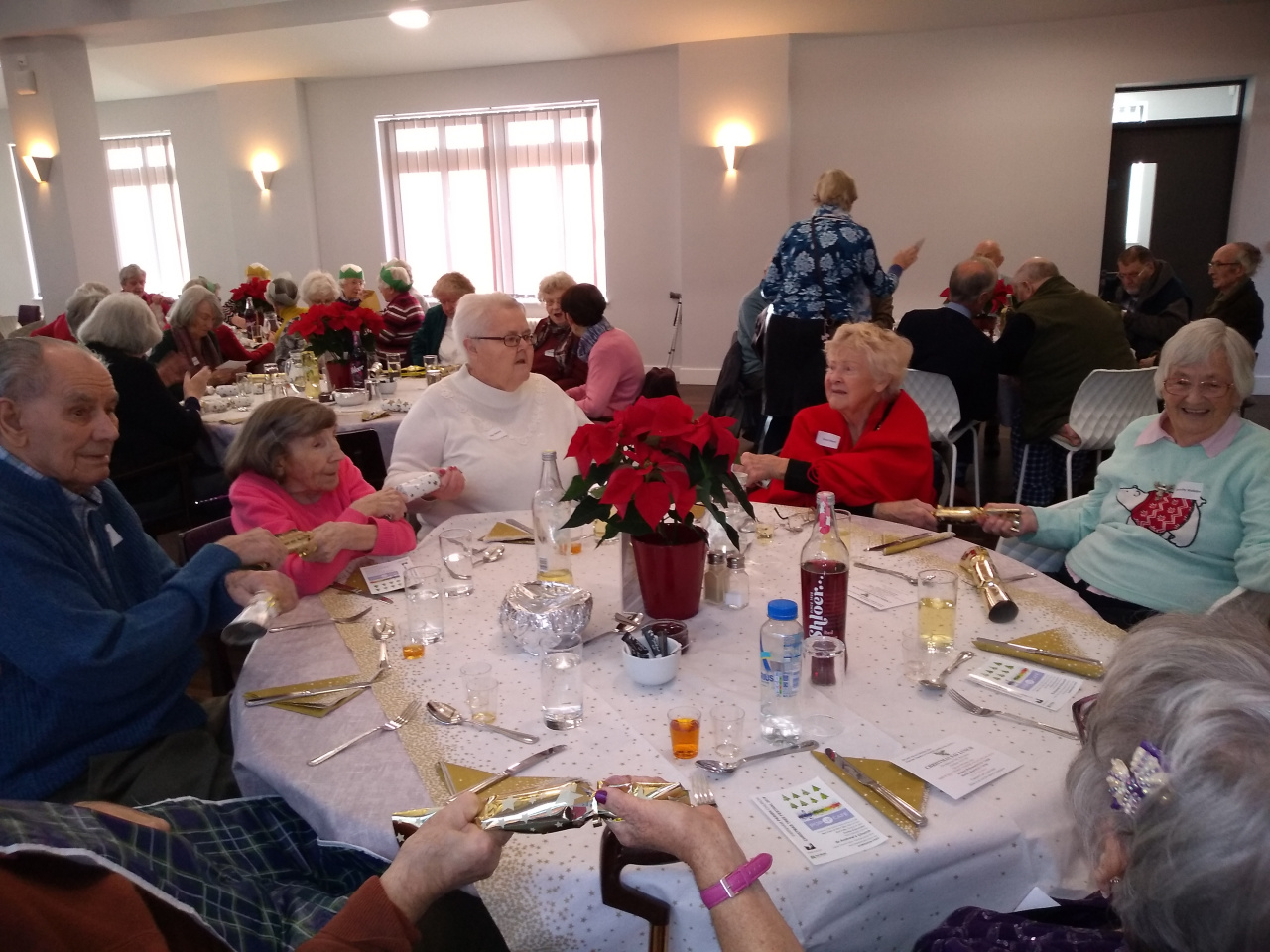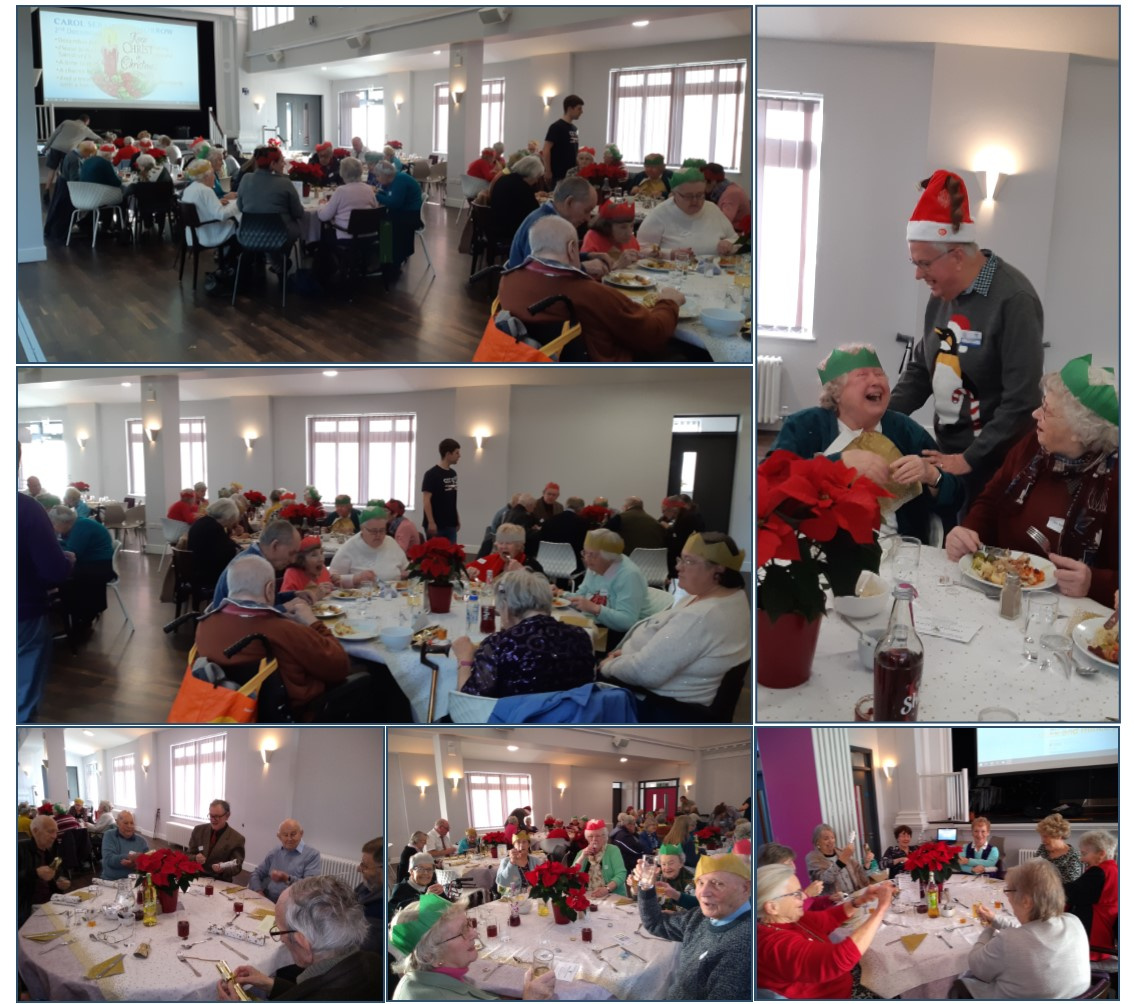 79 happy guests attended the Farnham ASSIST Central lunch held at Farnham Memorial Hall. The guests were greeted with sherry proceeded by a full Christmas lunch and then Christmas pudding and carols. A gift was then given to enjoy over the special period. A huge thanks to all the volunteers who helped to make the day so special and to Malcolm Stewart-Smith & The Wisley Foundation who sponsored the lunch, ensuring the event could go ahead.
Despite bad weather and the Rugby our fundraising Artisan market went well raising just under £1500 for Farnham ASSIST. A few of our lovely volunteers also made items to sell at the market with their proceeds helping Farnham ASSIST. Thank you to all involved!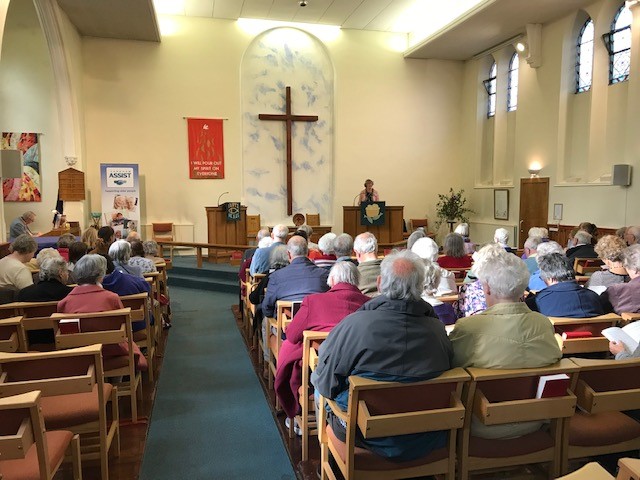 Our celebration of the International day of Older persons was held on the 3rd October, 2019 in the Spire Church, Methodist building. A short service attended by many local residents including local councillor Alan Earwaker and Rev'd Liz Lane (part of St Thomas on the Bourne team) was followed by an afternoon tea. Thank you to all who attended and for the many volunteers helping to run the afternoon.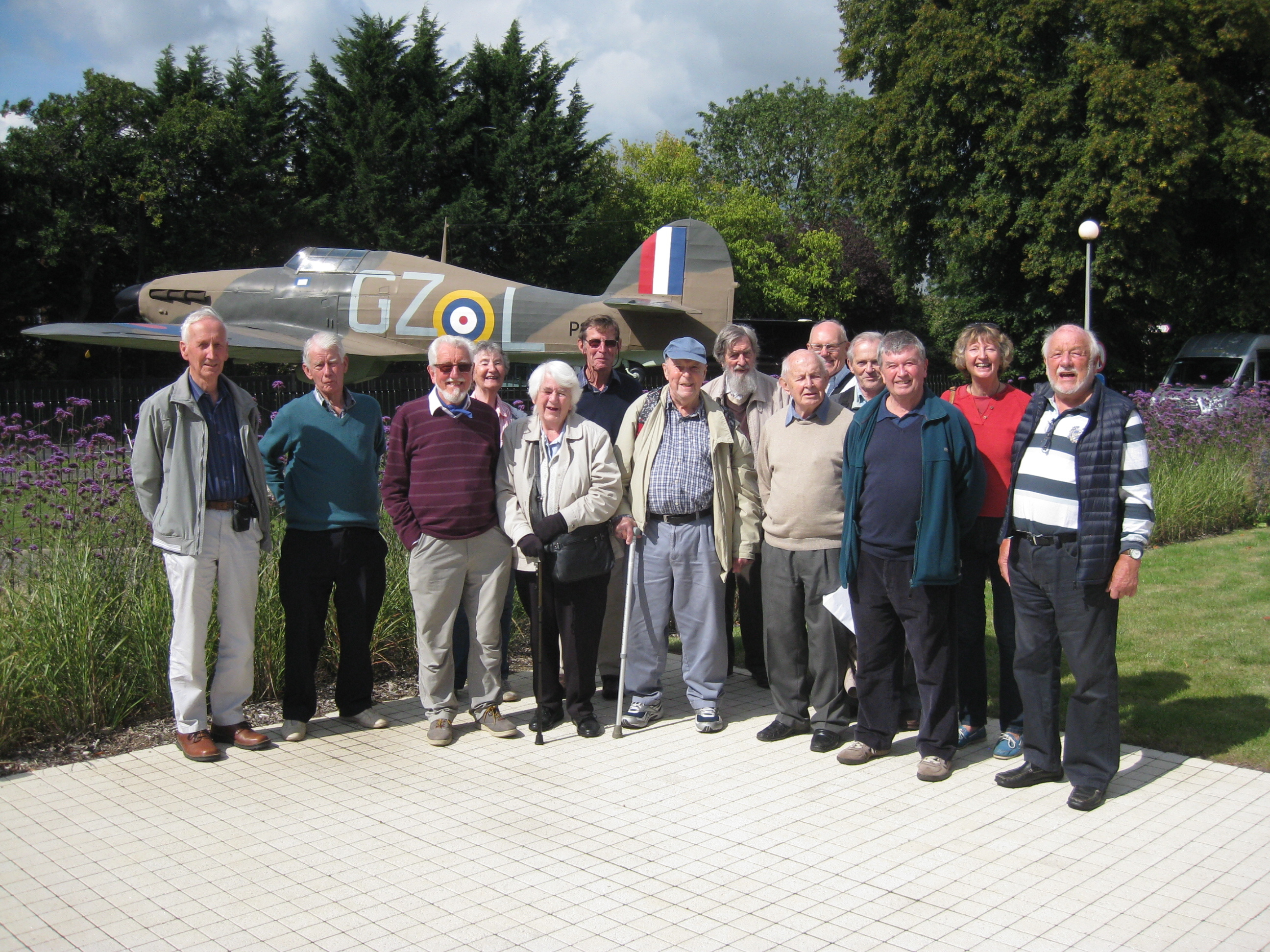 The Pie & Pint club enjoyed a trip to the Biggin Hill museum followed by lunch at a local pub.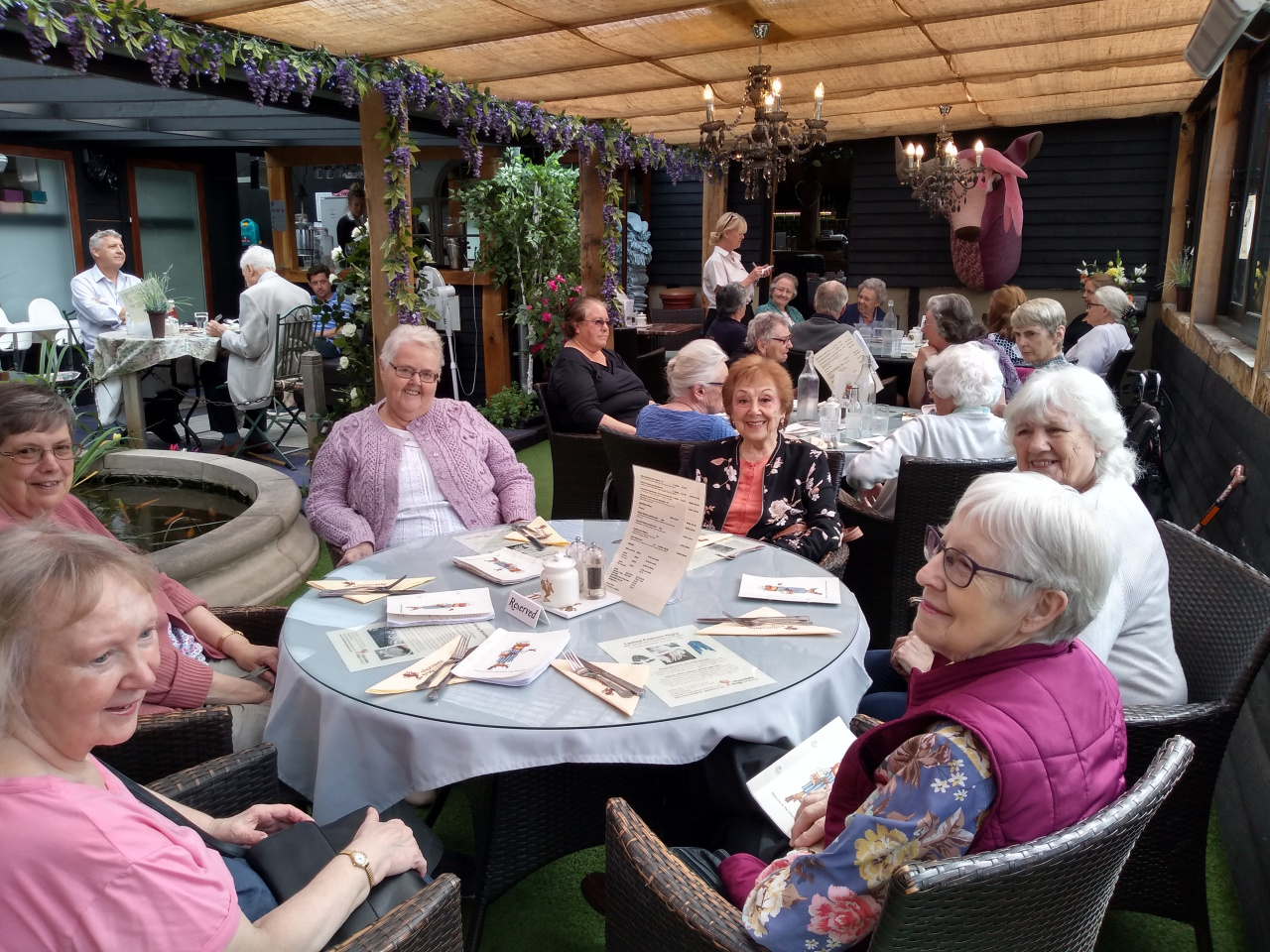 We had a lovely lunch and browse of the shops at the Chocolate Frog tea rooms.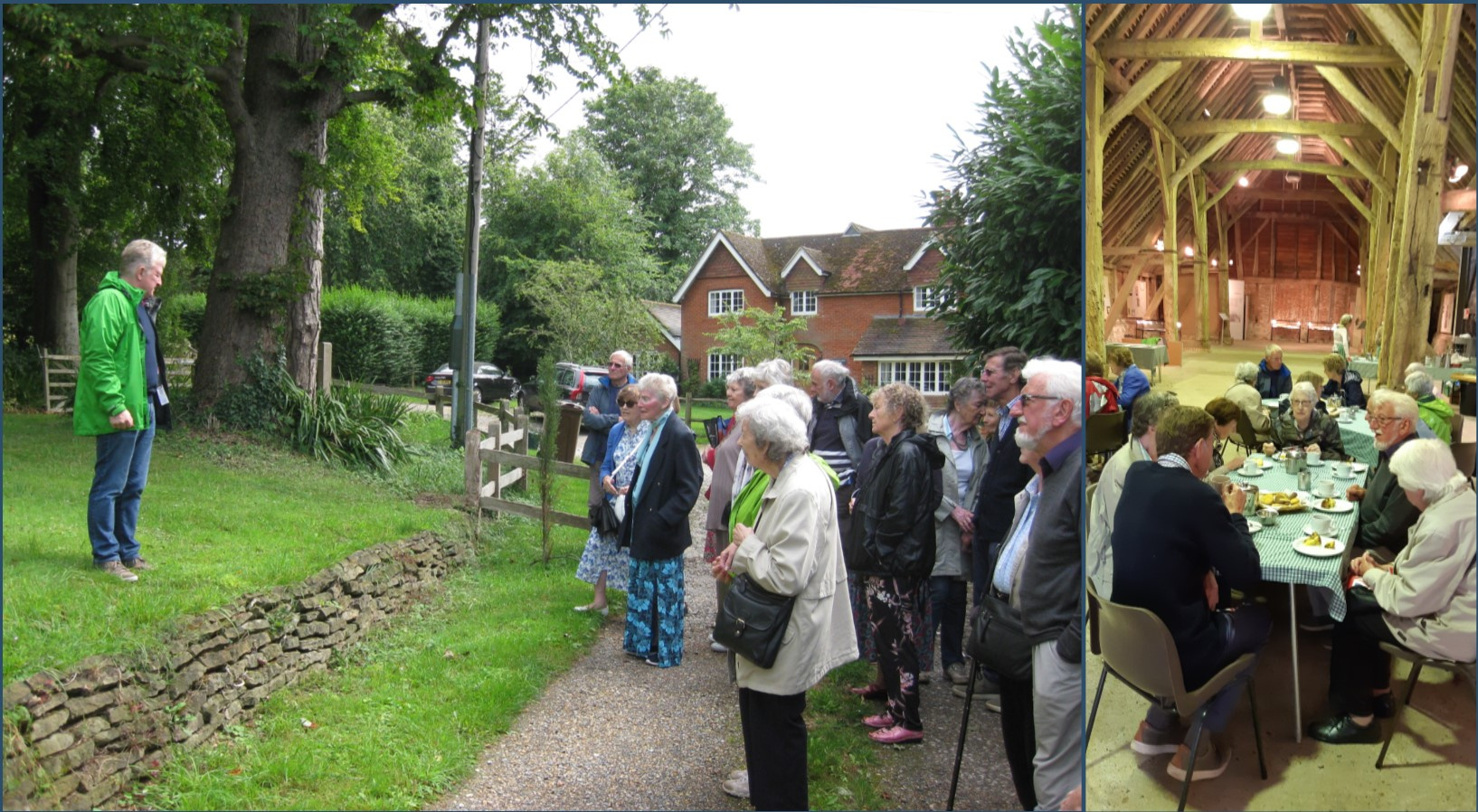 Our visit to Wanborough Great Barn was very informative and enjoyable, well worth a visit. The barn is beautiful and steeped in history. We were provided with tea and biscuits after the talk and enjoyed cake to celebrate a big birthday.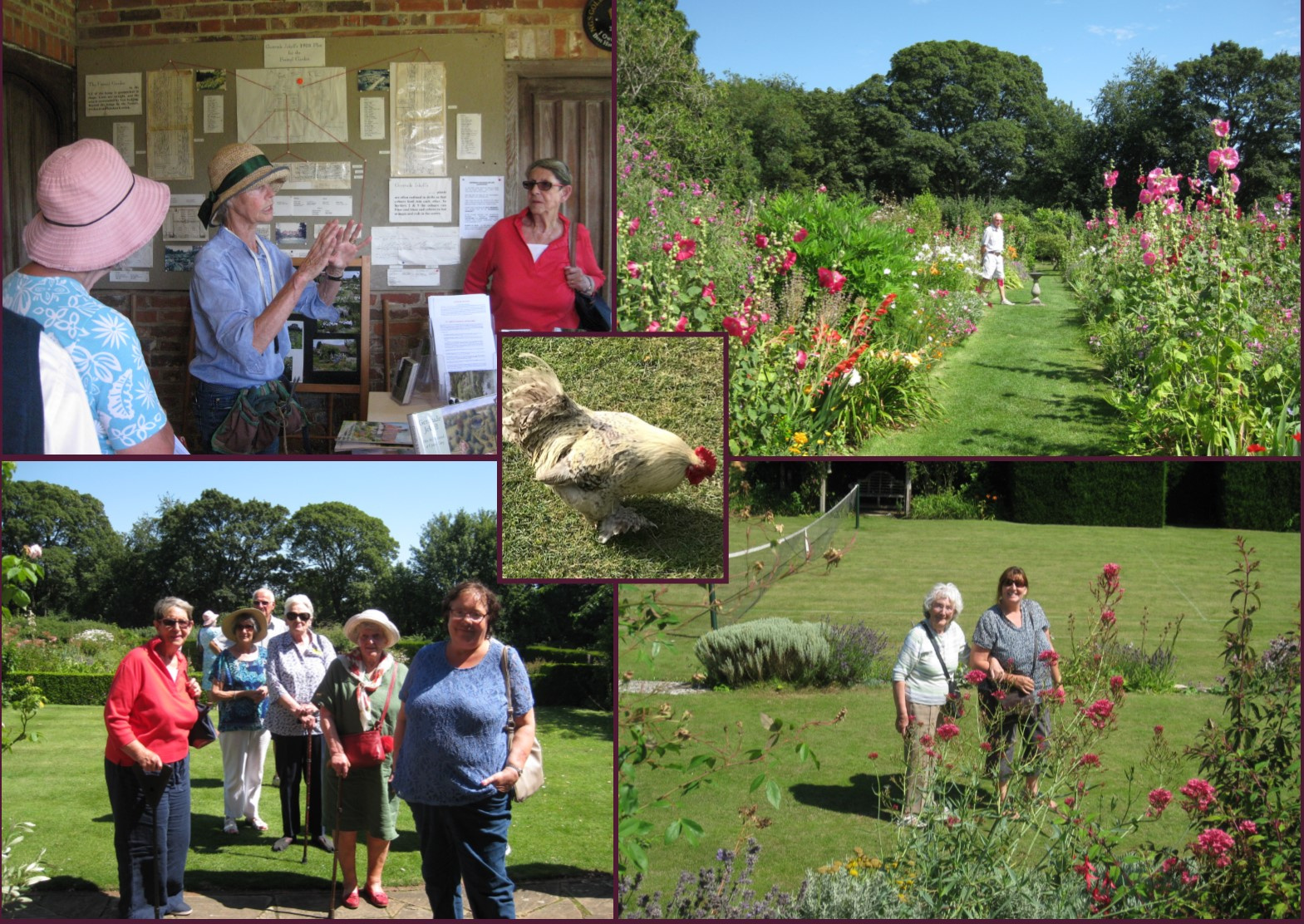 The Manor House at Upton Grey was a glorious garden to visit this summer, the House Martins kept us entertained as we ate our tea & cake, the quintessential English gardens were a riot of colour, plants and Bantams!
A huge thank you to our volunteers who helped on the day and to Rosamund who guided us through her beautiful garden and looked after us so thoughtfully.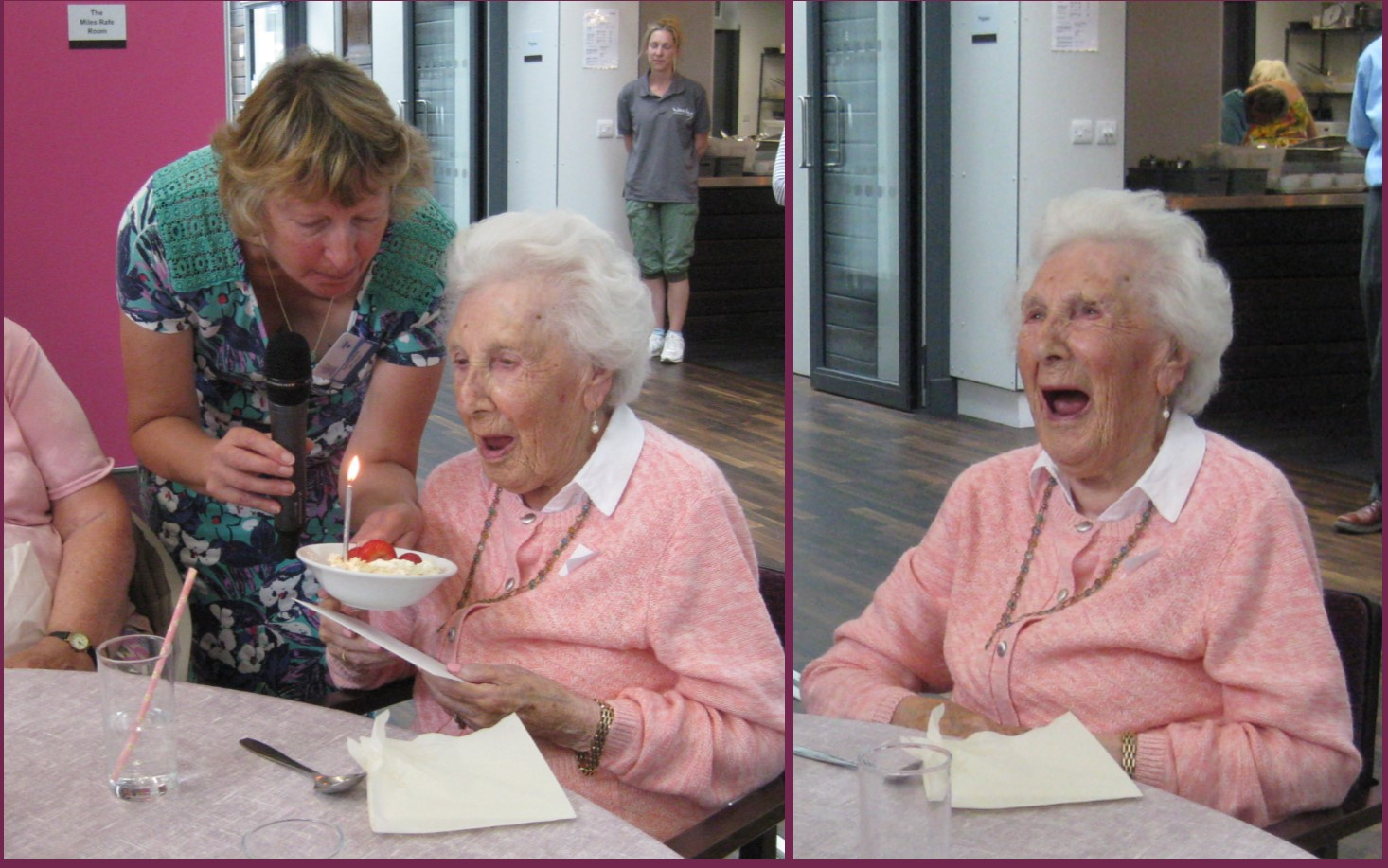 We had a special roast lunch on Sunday celebrating one of our clients 102nd birthday!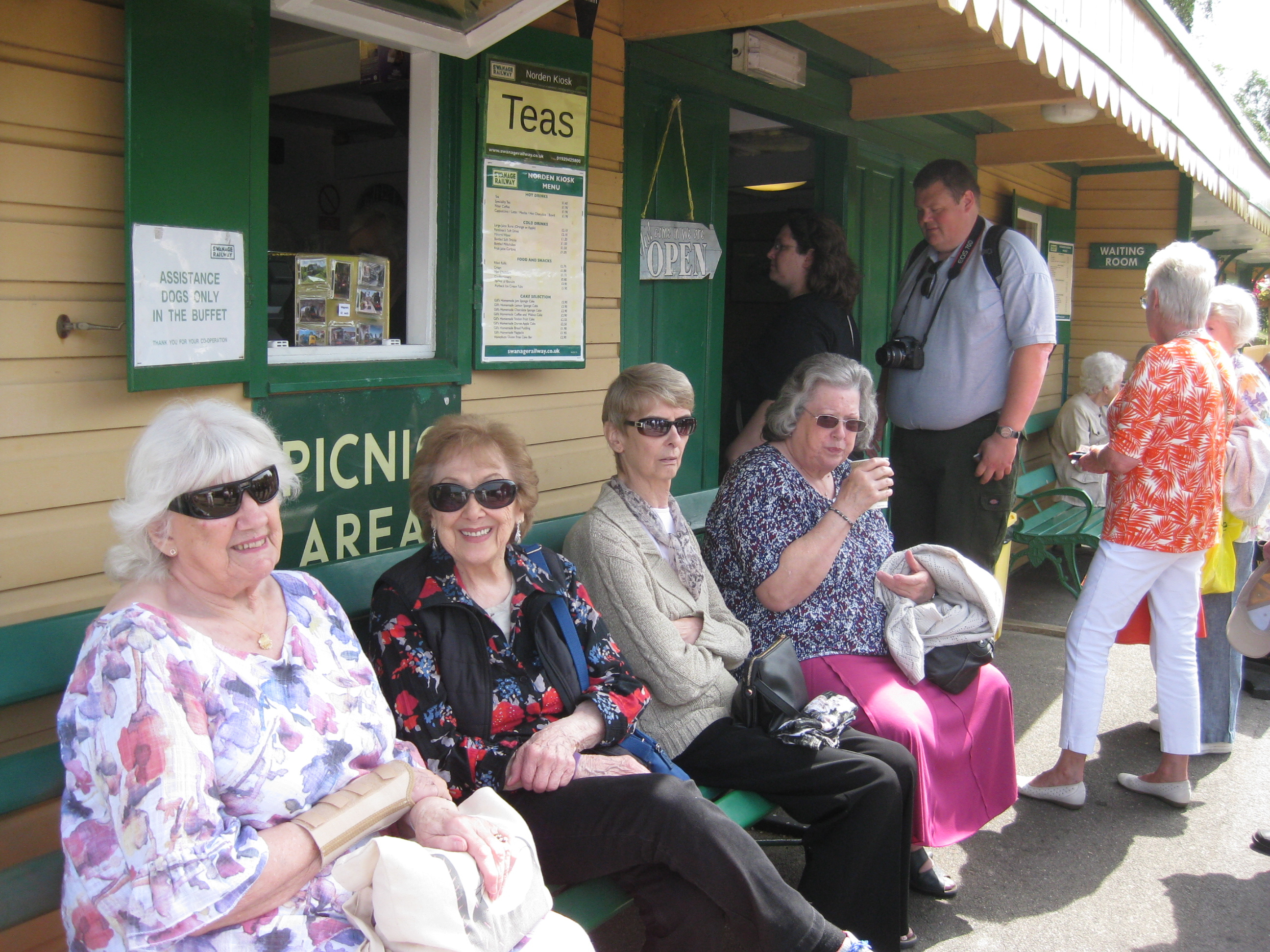 We had a wonderful day out in Swanage, Dorset, stopping en route at Norden to enjoy a leisurely trip on the Swanage Railway which dropped us in the town. This was followed by a delicious meal at the Grand Hotel, overlooking the sea. All in all it was a delightful day with a quick trip back on the chain link ferry.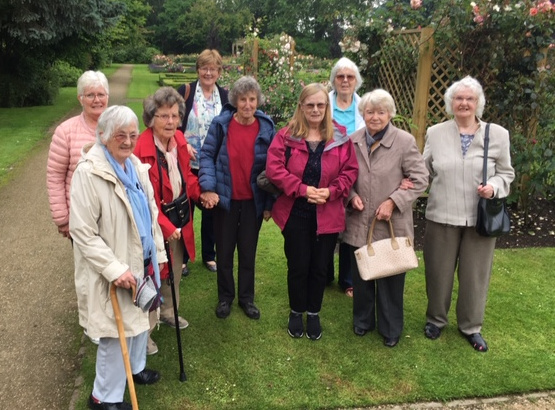 Some of the Knit and Natter group visited The Sunbury Embroidery Gallery in Sunbury-on-Thames to view the Tapestries on display and enjoy lunch together.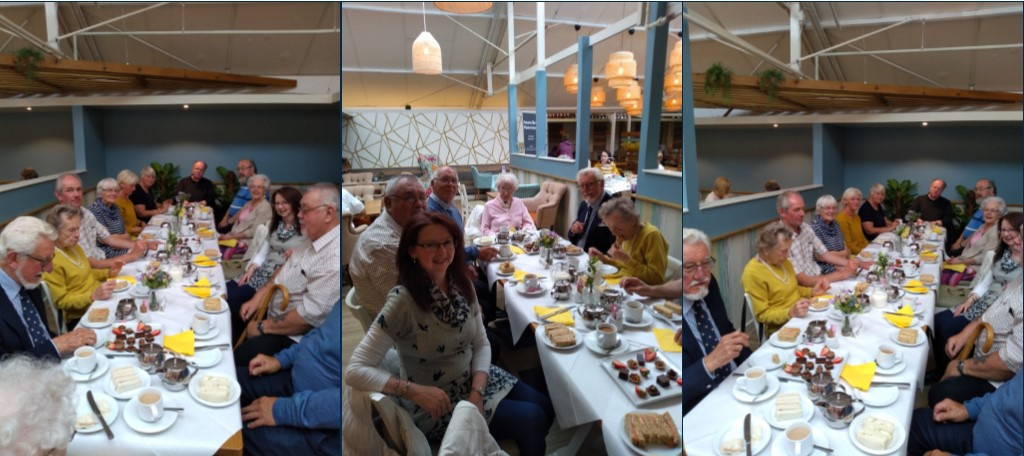 Our One-to-One befrienders, some with their clients enjoyed an afternoon tea at Squires garden centre to celebrate the work that they do and enjoy meeting with one another, this was possible thanks to a combined gift from one of our One-to-One clients and the Farnham Hedgehogs.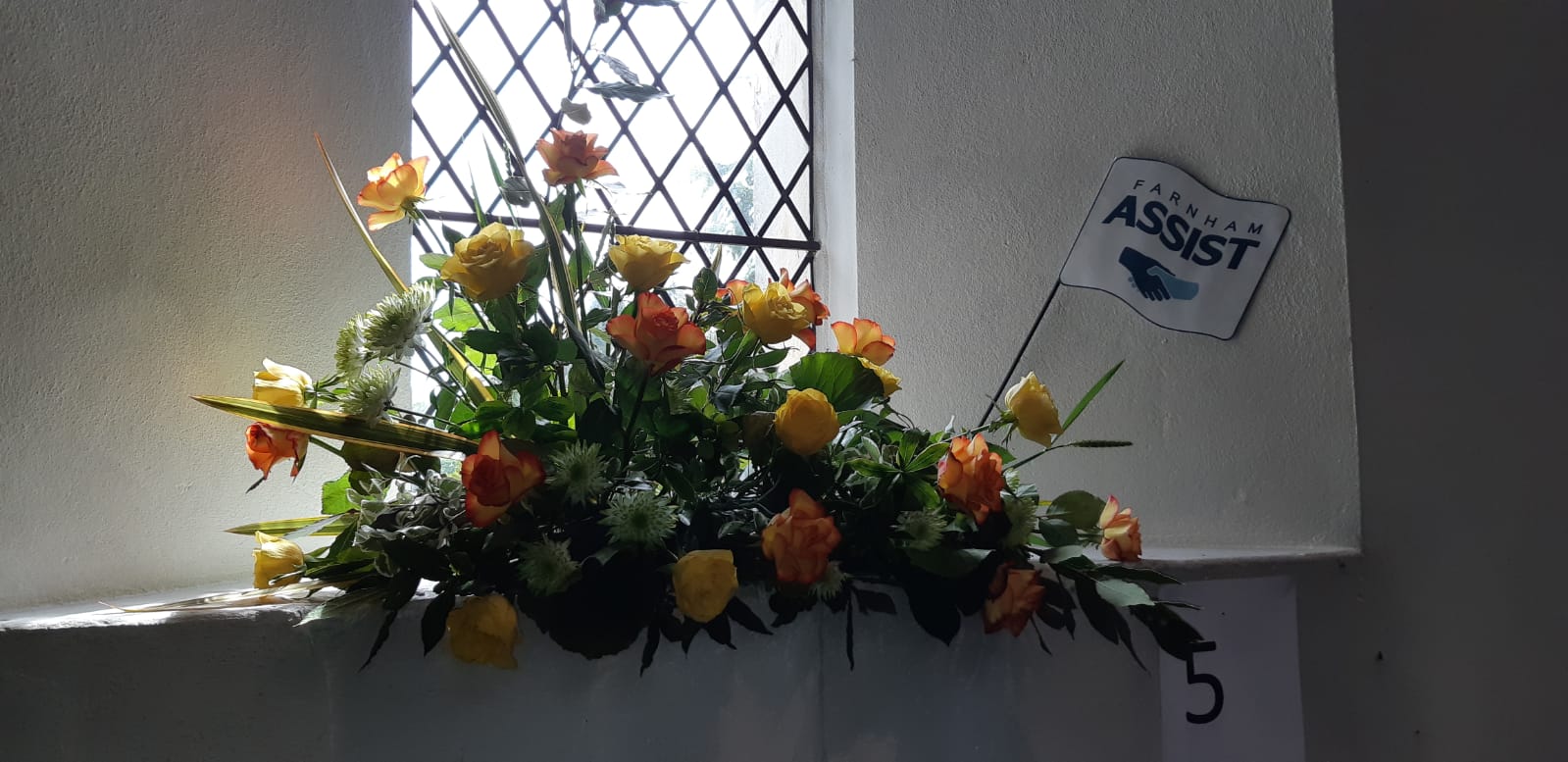 THANK YOU to Meg Daniels, one of Farnham ASSIST's trustees and volunteers, kindly created a beautiful flower display for ASSIST to show at St John's Flower Festival.
The Farnham ASSIST annual Lego exhibition was a great fundraising success, with the new addition of Lego Robot Wars build and battle sessions. Local AFOLs displayed their fantastic creations which included space rockets, town layouts and rollercoasters. We would like to say a huge thank you to our sponsors Kidd Rapinet as well as to our volunteers and the AFOLs who displayed such wonderful masterpieces.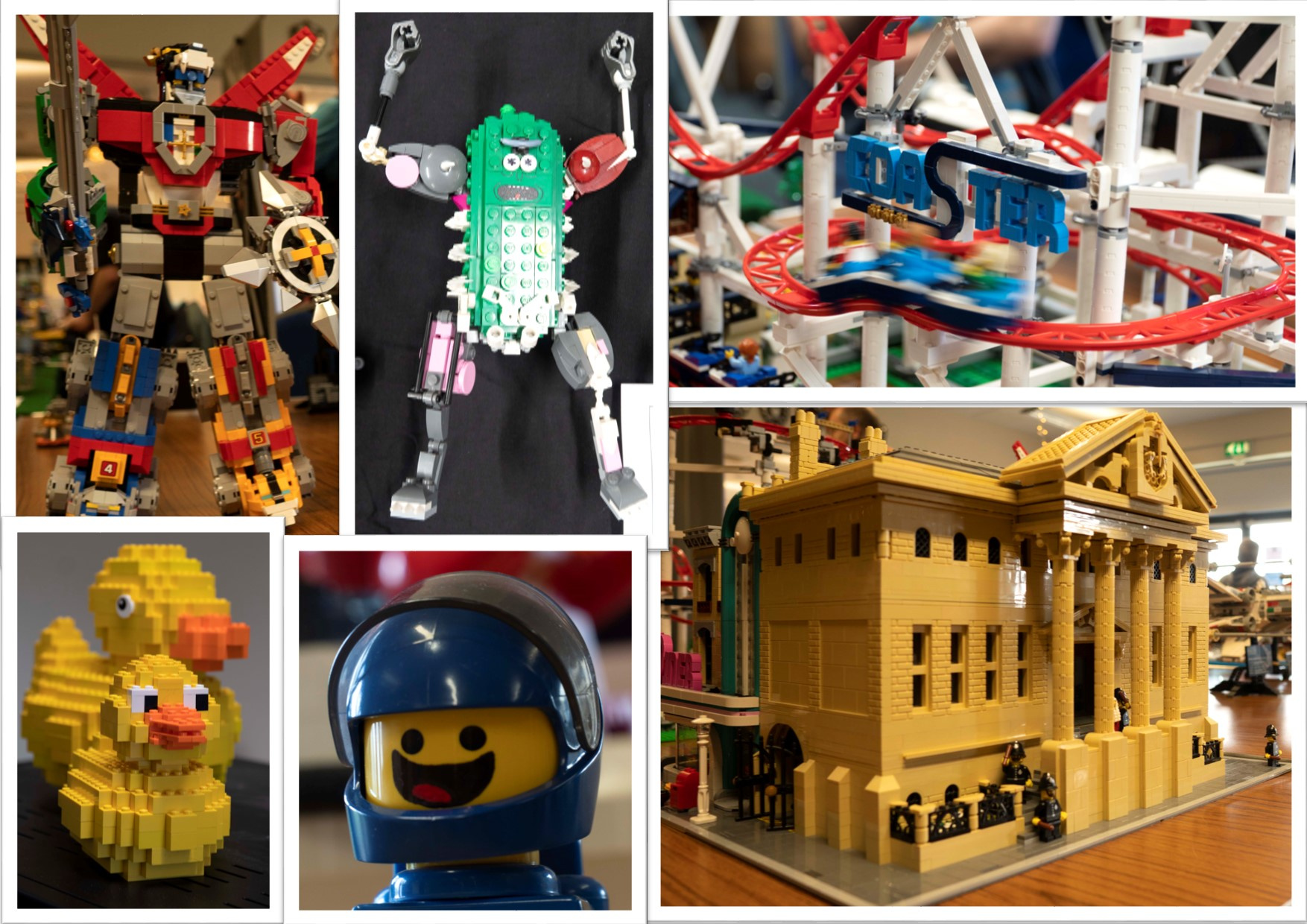 The duck race drew a constant crowd this year despite the weather being dull. Farnham ASSIST had a tombola stall with the additional draw of Lego ducks in preparation for the Lego exhibition a week later.
Thank you to all our volunteer helpers who helped create a cheerful stall.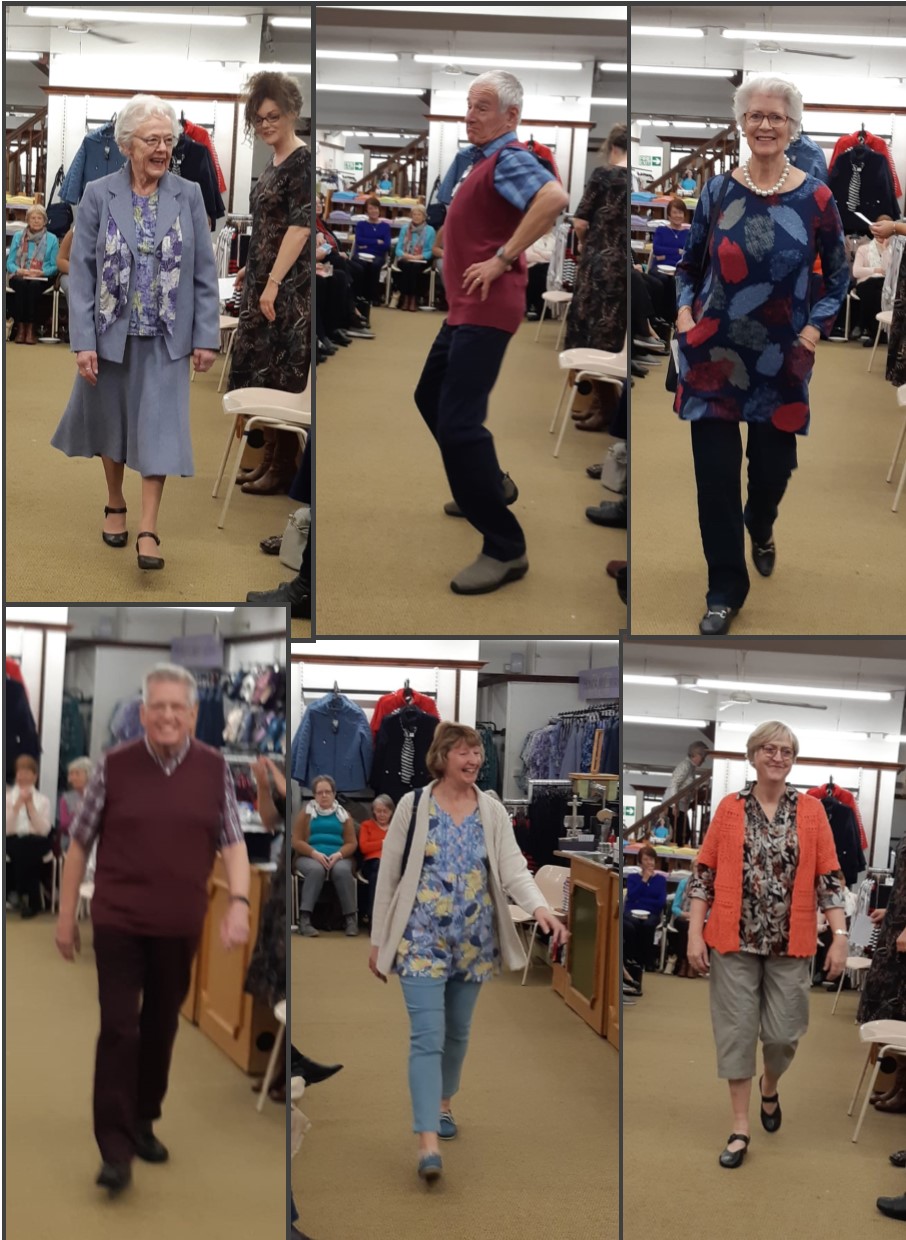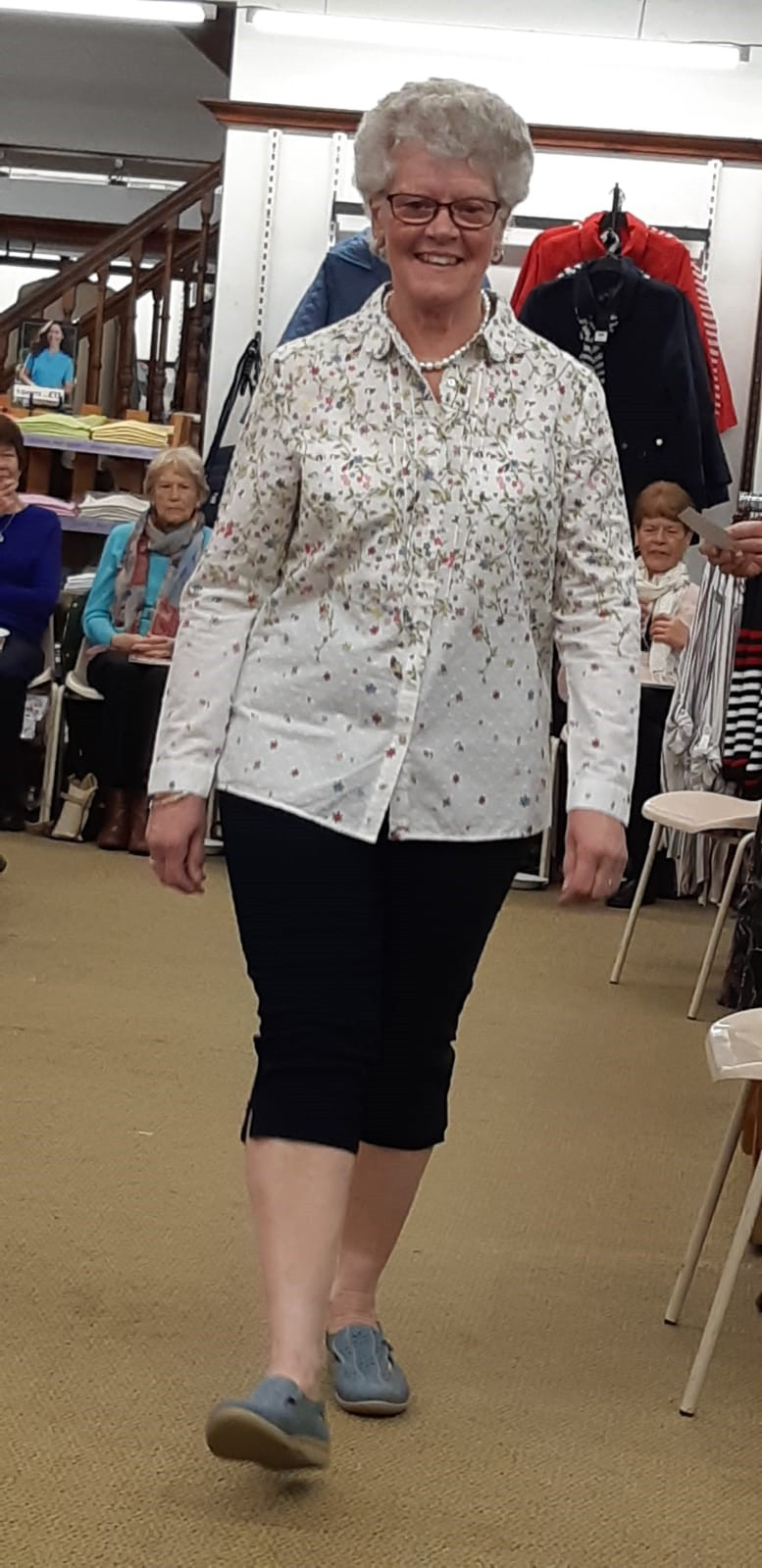 Our volunteers had fun strutting for the Farnham ASSIST fashion show held at Edinburgh Woollen Mill during ASSIST week, thank you to all who made it possible.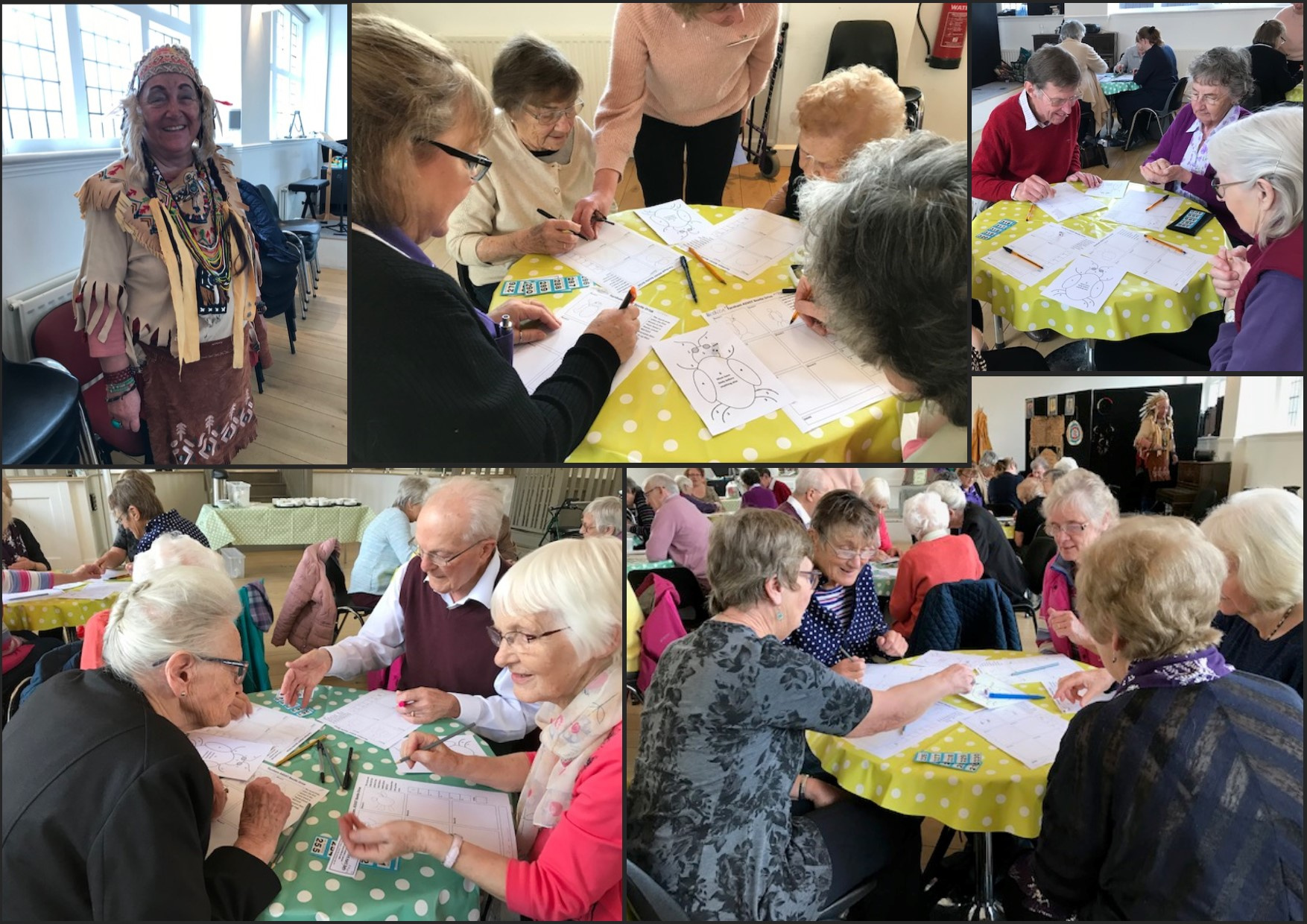 We had a fun few games of Beetle during Farnham ASSIST week followed by tea and cake then enjoyed a story set in Native America told by Author Gilly Stewart.

Our lovely volunteers were out on Saturday 30th March collecting funds for Farnham ASSIST as informing the public about the charity. A huge thank you to all who help, they raised £246.39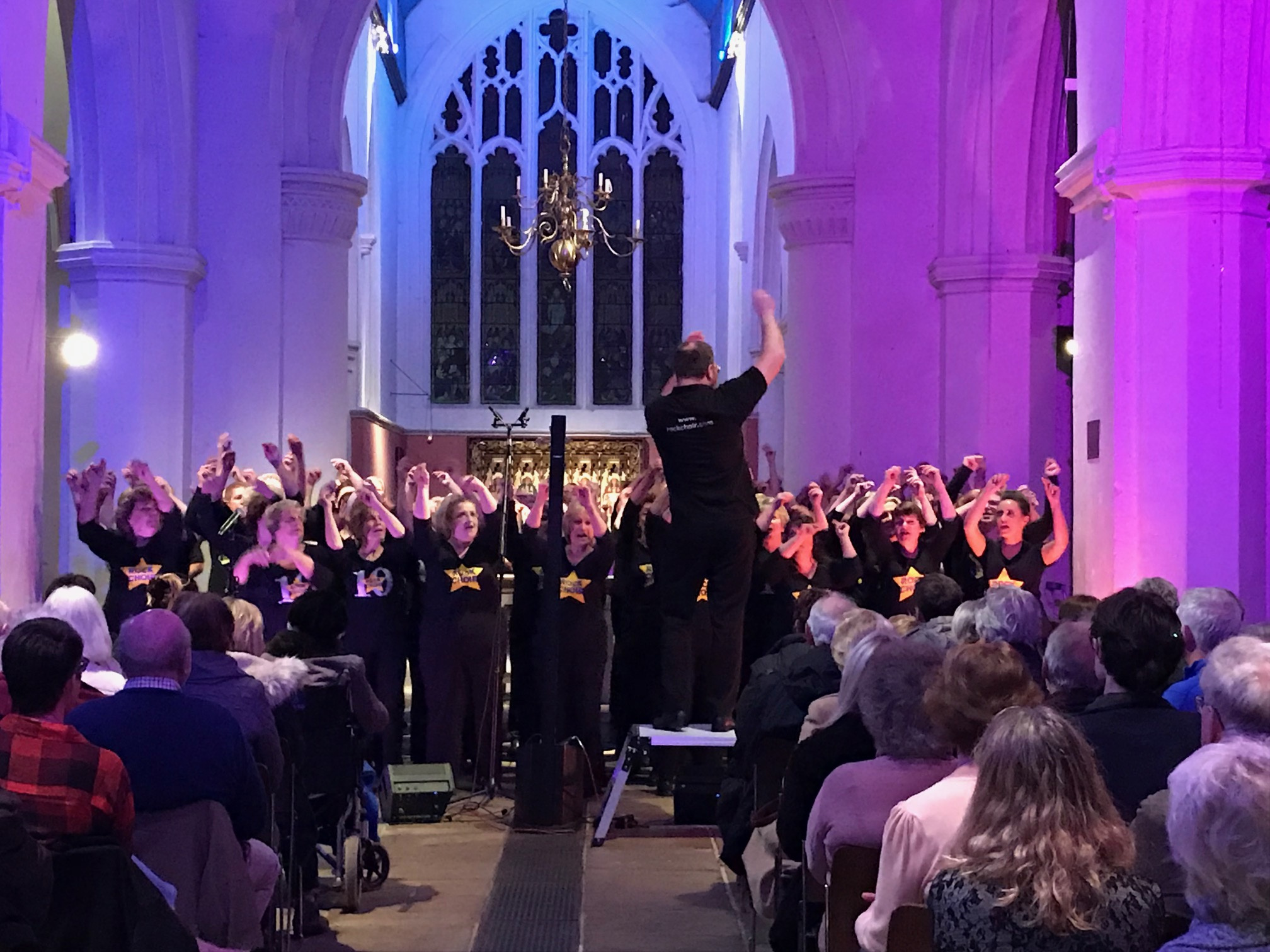 The Farnham, Godalming and Guildford Rock choir gave a wonderful performance on Saturday 9th March in St Andrews Church, the church was full and everyone commented on the enjoyable evening. £639.11 was raised in aid of Farnham ASSIST.
Thank you to all who performed and helped.
Our Ceilidh was a great success everyone had a fun evening dancing and enjoying the ploughmans' supper.
Thank you to all who came and especially to the volunteers who did an amazing job setting up, preparing and serving food.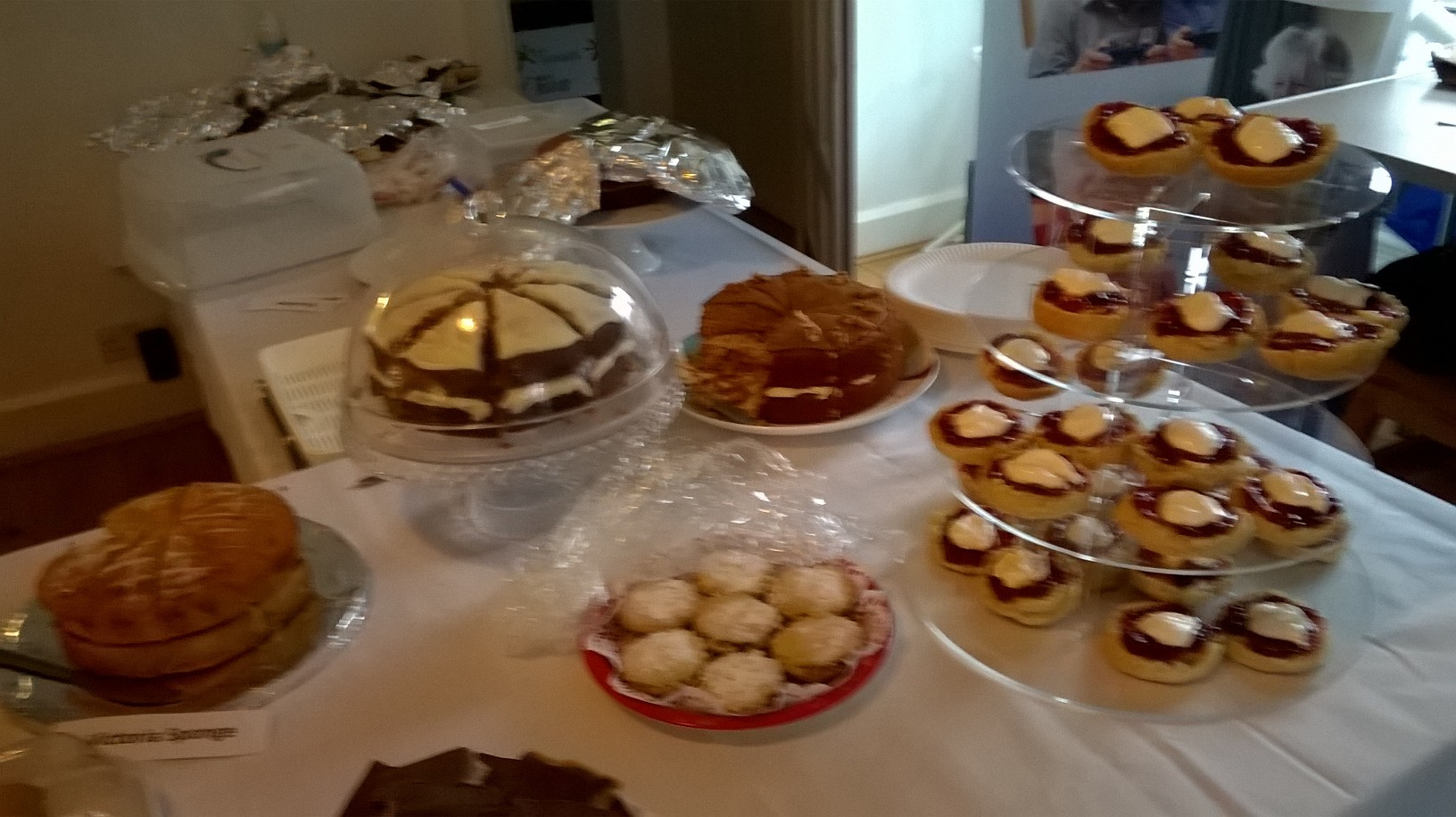 Out of the Shadows played at Music in the Vineyard on Sunday 27th January, it was a great afternoon of 60's music with tea and cake served by Farnham ASSIST. We raised just over £350! Thank you to all who helped and donated cakes and to FTC for the opportunity.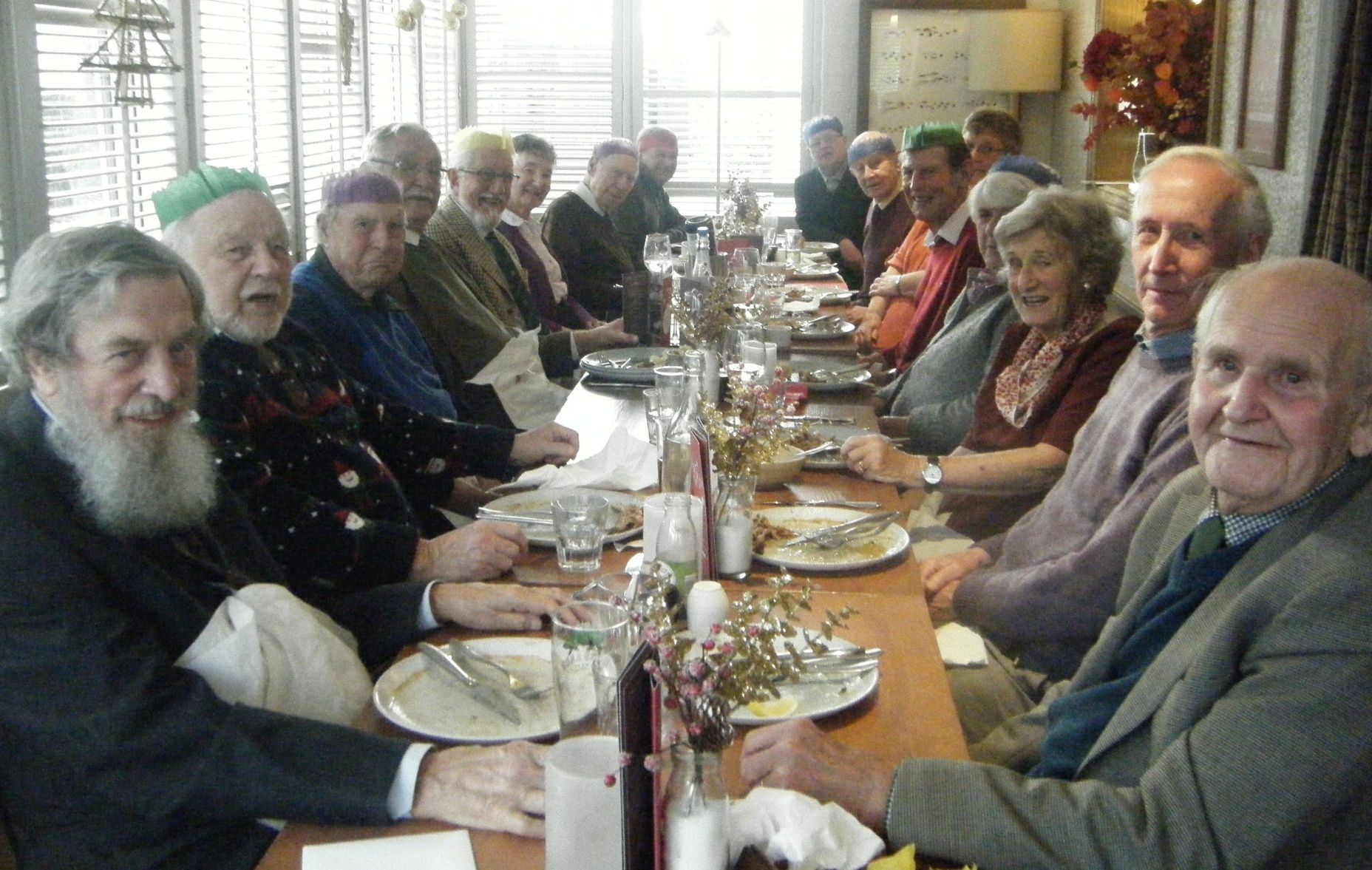 The Pie & Pint gents went to The Exchequer for their Christmas meal, the guys thoroughly enjoyed it and are looking forward to their meetings in 2019!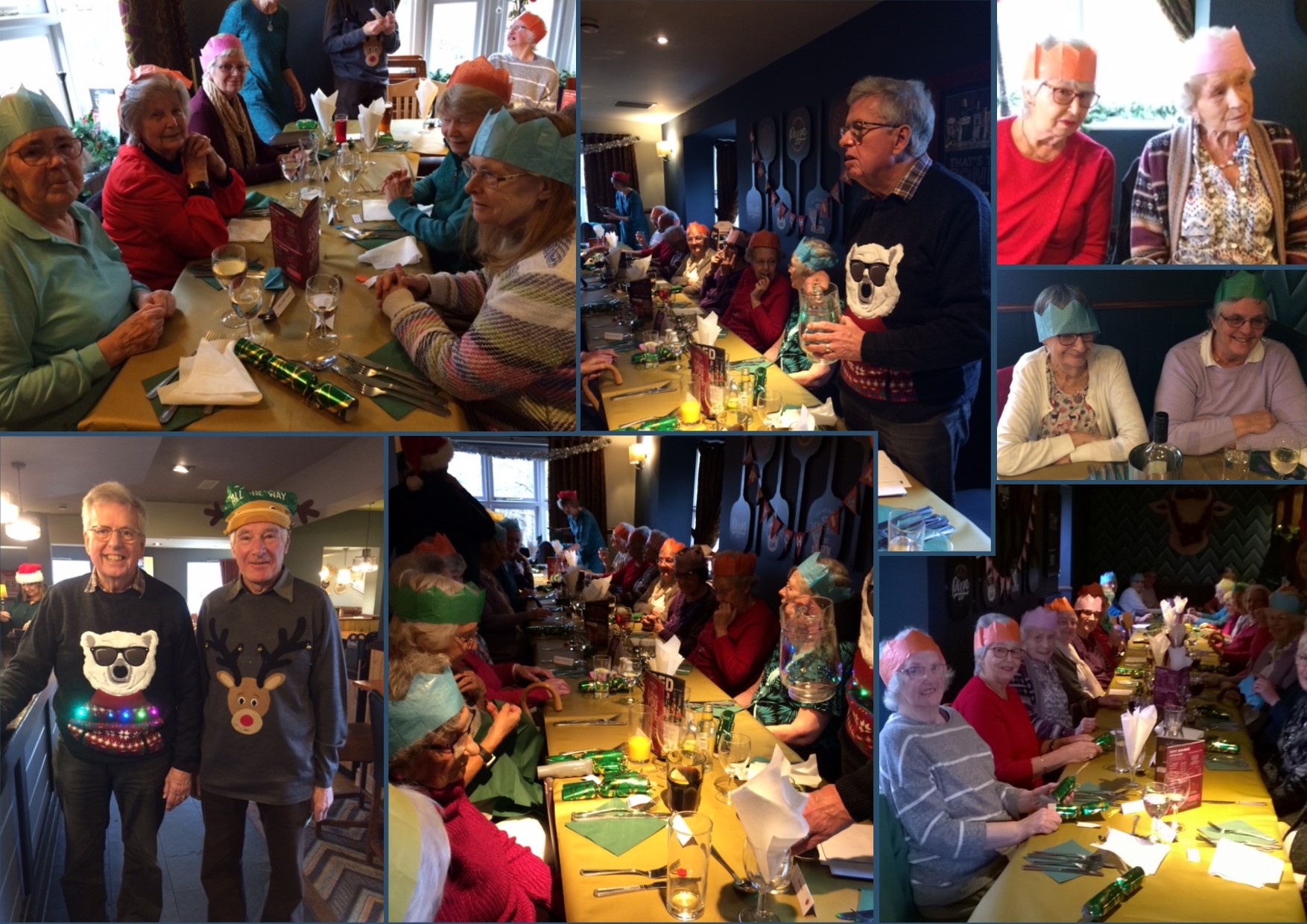 31 ladies came along to the Ladies Pub Lunch Christmas special meal held at The Woodlark, Bordon, we all had a very merry time together.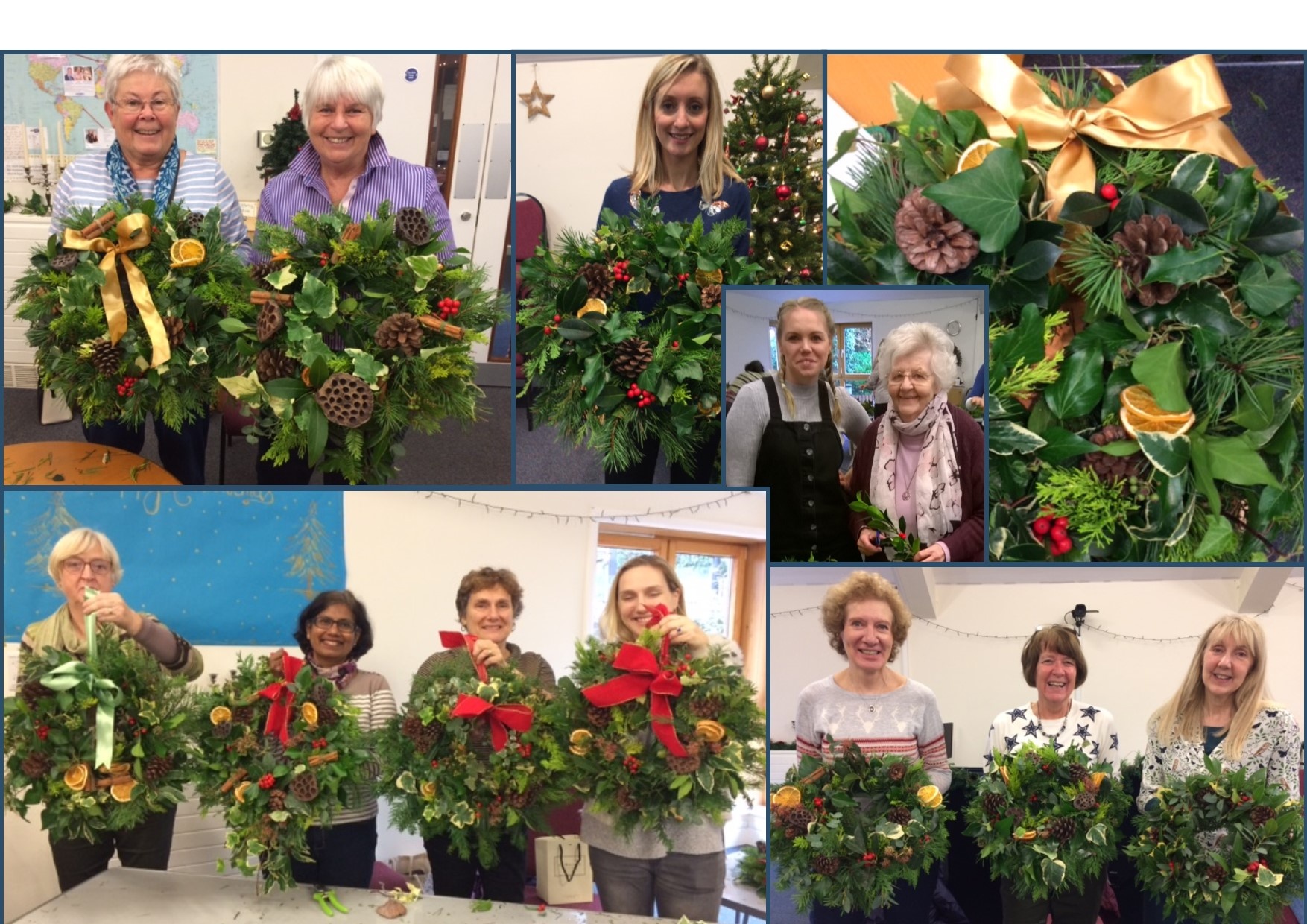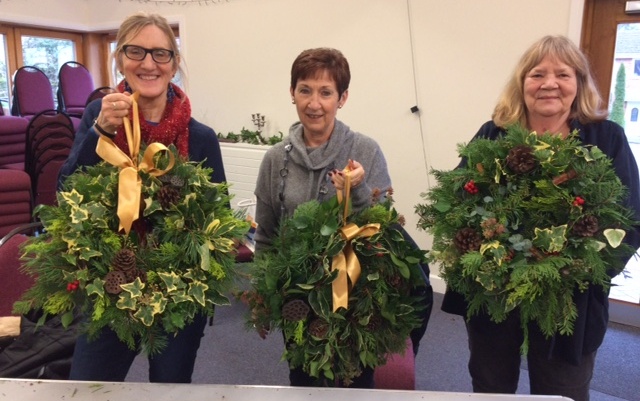 Our wreath making workshop was a great success and got us in the Christmas spirit. 21 attended and left with a beautiful wreath to hang up.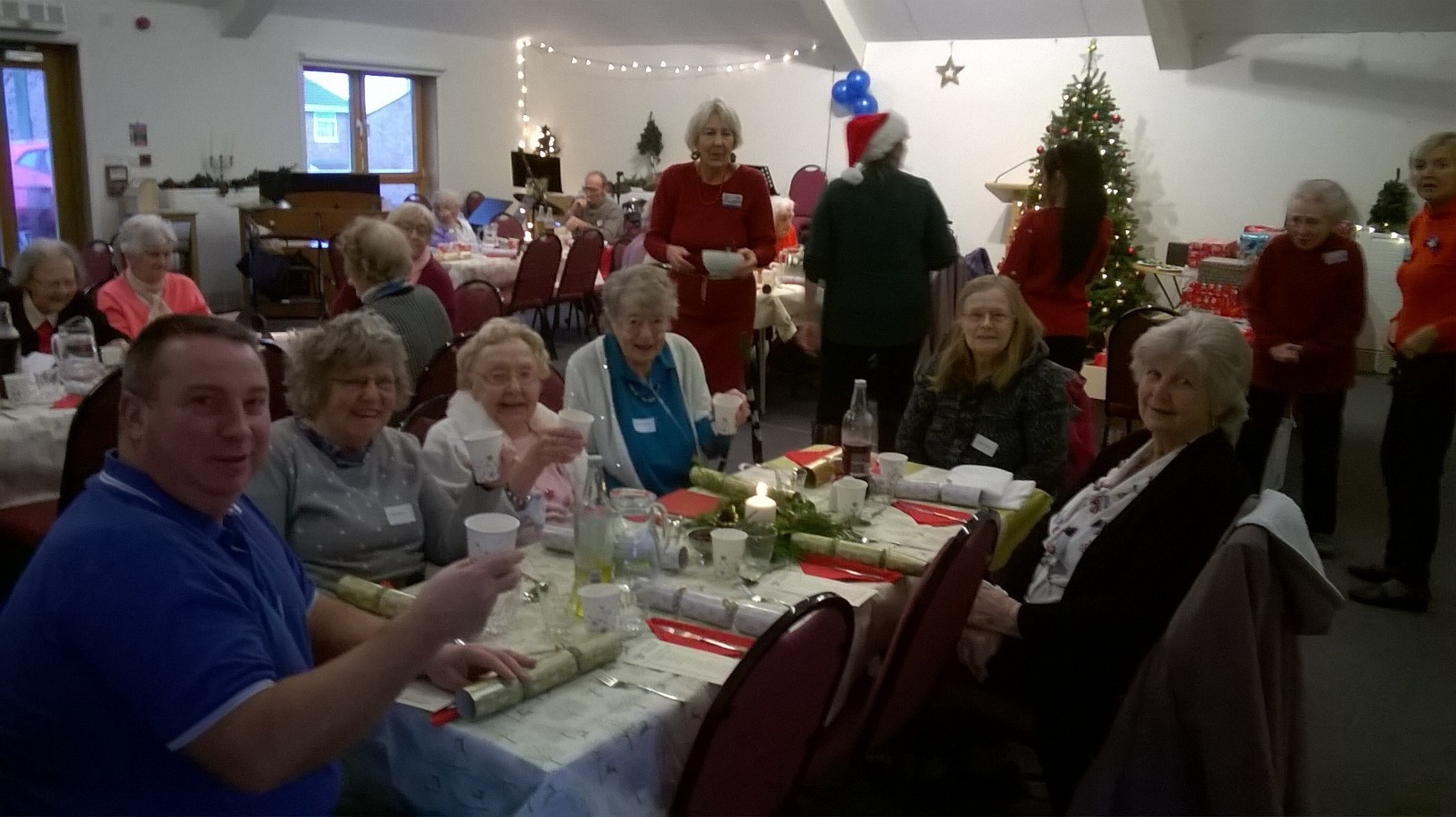 There was lots of Christmas cheer at the Hale lunch on 15th December 37 guests enjoyed a spectacular 2 course home cooked traditional Christmas lunch with all the trimmings. Readers of the Surrey and Hants news kindly donated gifts for each attendee and Tesco sponsored the whole event through their Bags of Help appeal. A huge thank you to all the volunteers who helped to make the day really special.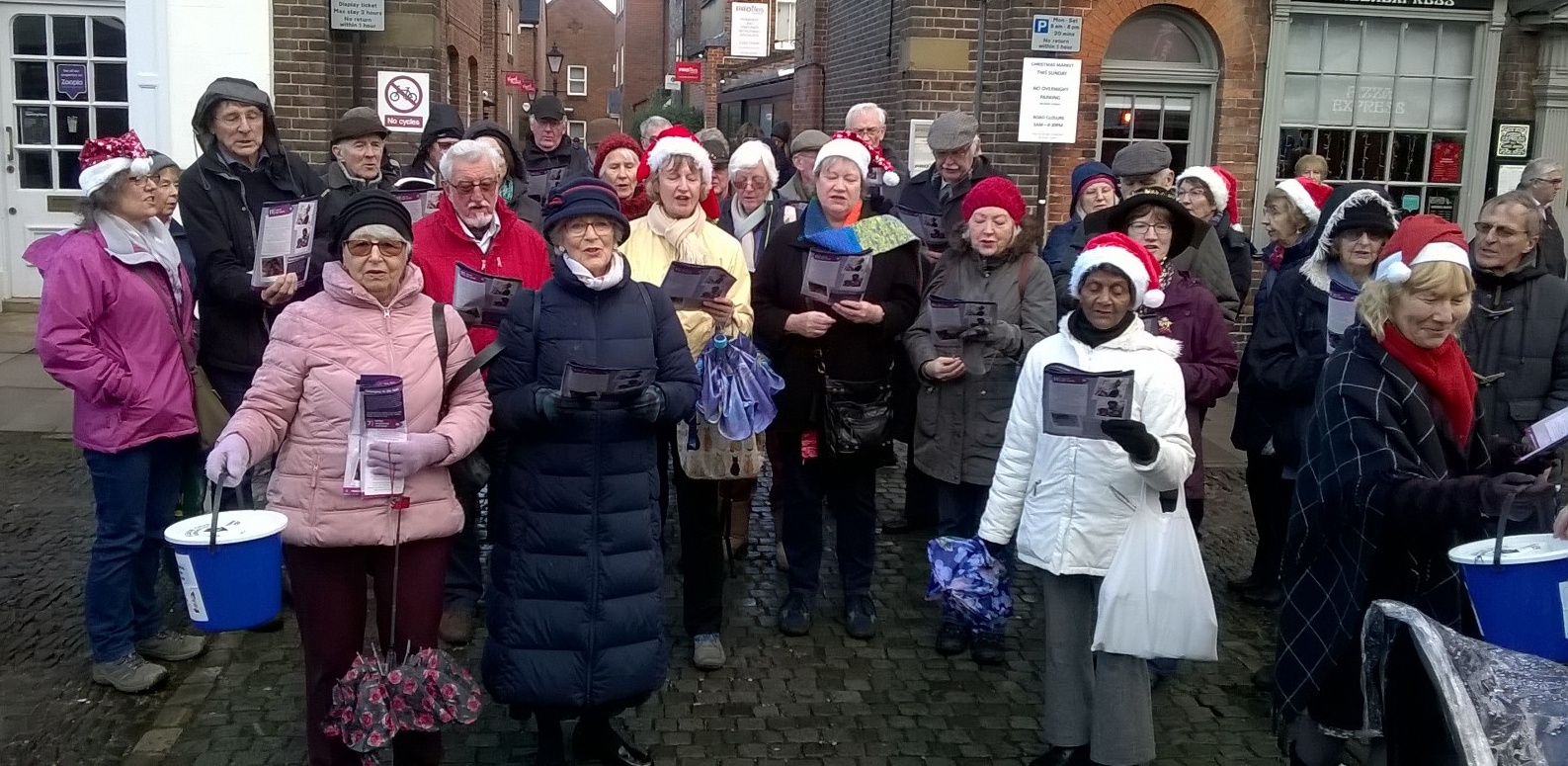 Farnham ASSIST volunteers and friends brought Christmas cheer to all who passed as they sung heartily at the Christmas market on 9th December.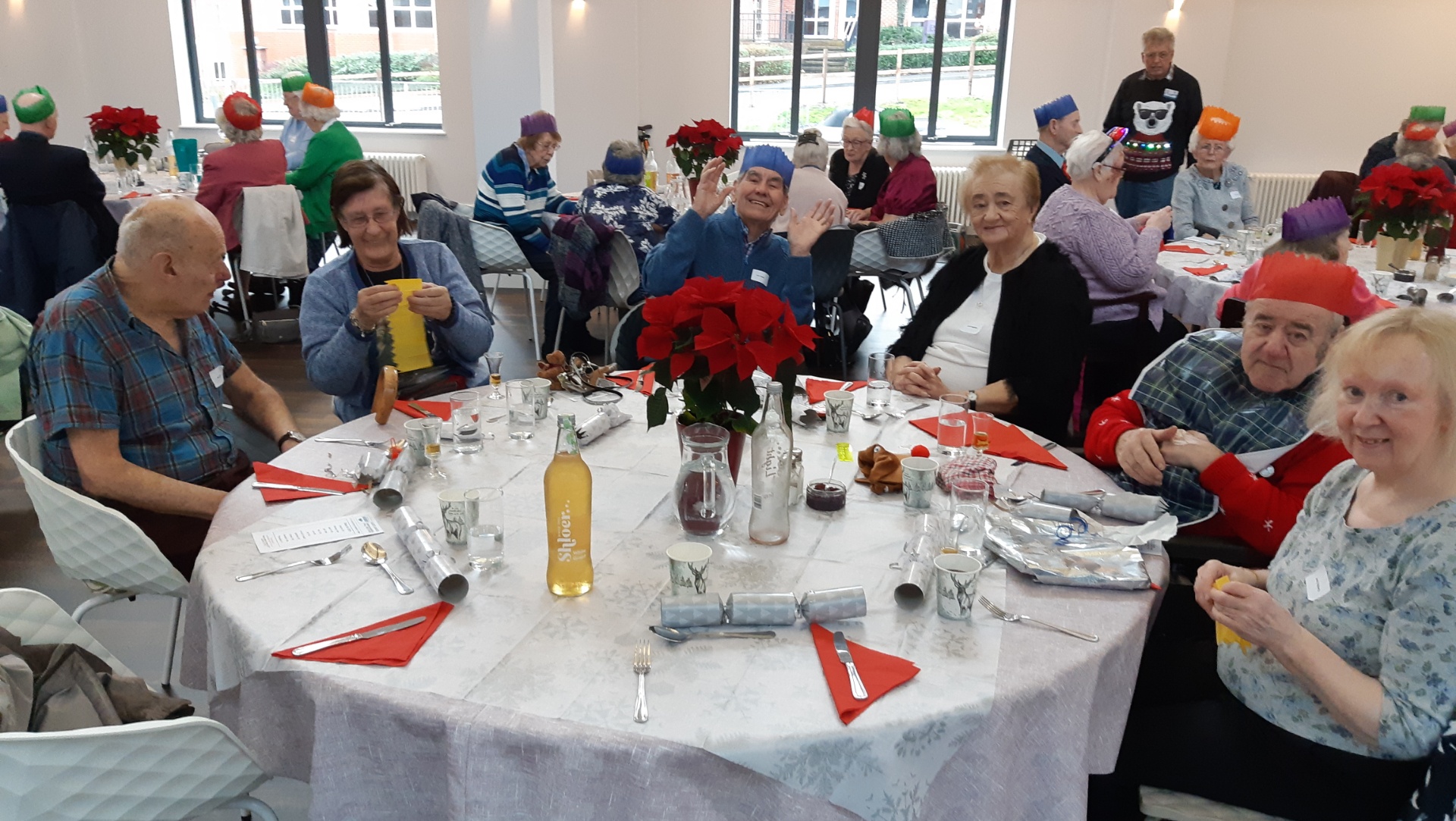 The 2nd of December was the first Christmas meal organised by Farnham ASSIST held at the Memorial Hall. 72 guests enjoyed a spectacular 2 course home cooked traditional Christmas lunch with all the trimmings. Readers of the Surrey and Hants news kindly donated gifts for each attendee and Tesco sponsored the whole event through their Bags of Help appeal.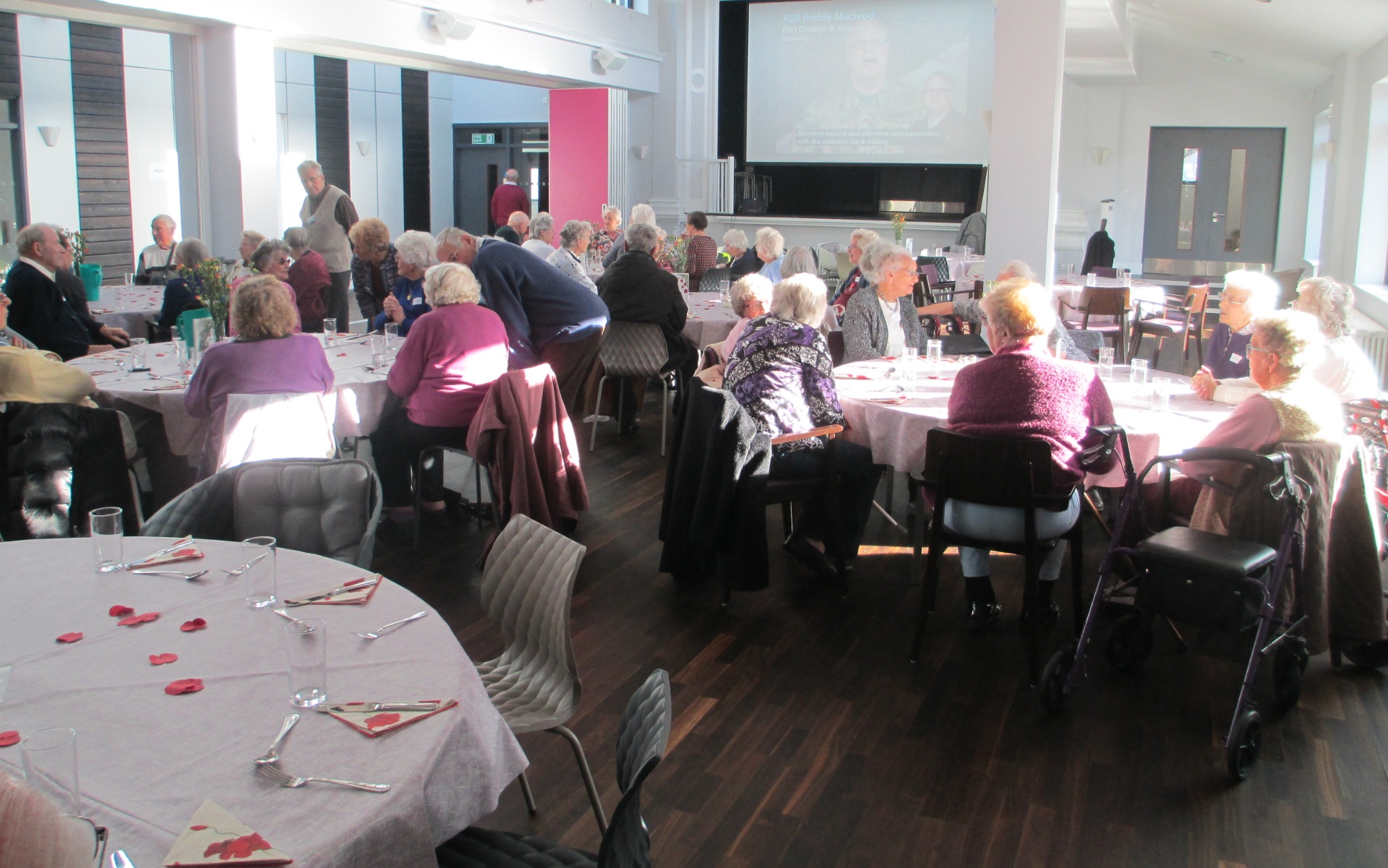 We held a special lunch on Remembrance Sunday at the Memorial hall with many people attending to hear the moving poem written by volunteer Carol Holman reminding us of the loss so dearly felt.
A wreath was laid by Meg Daniels dedicated to the 5 young men from Farnham (one of whom was a family member) lost in battle for whom the hall was built as a tribute to their bravery.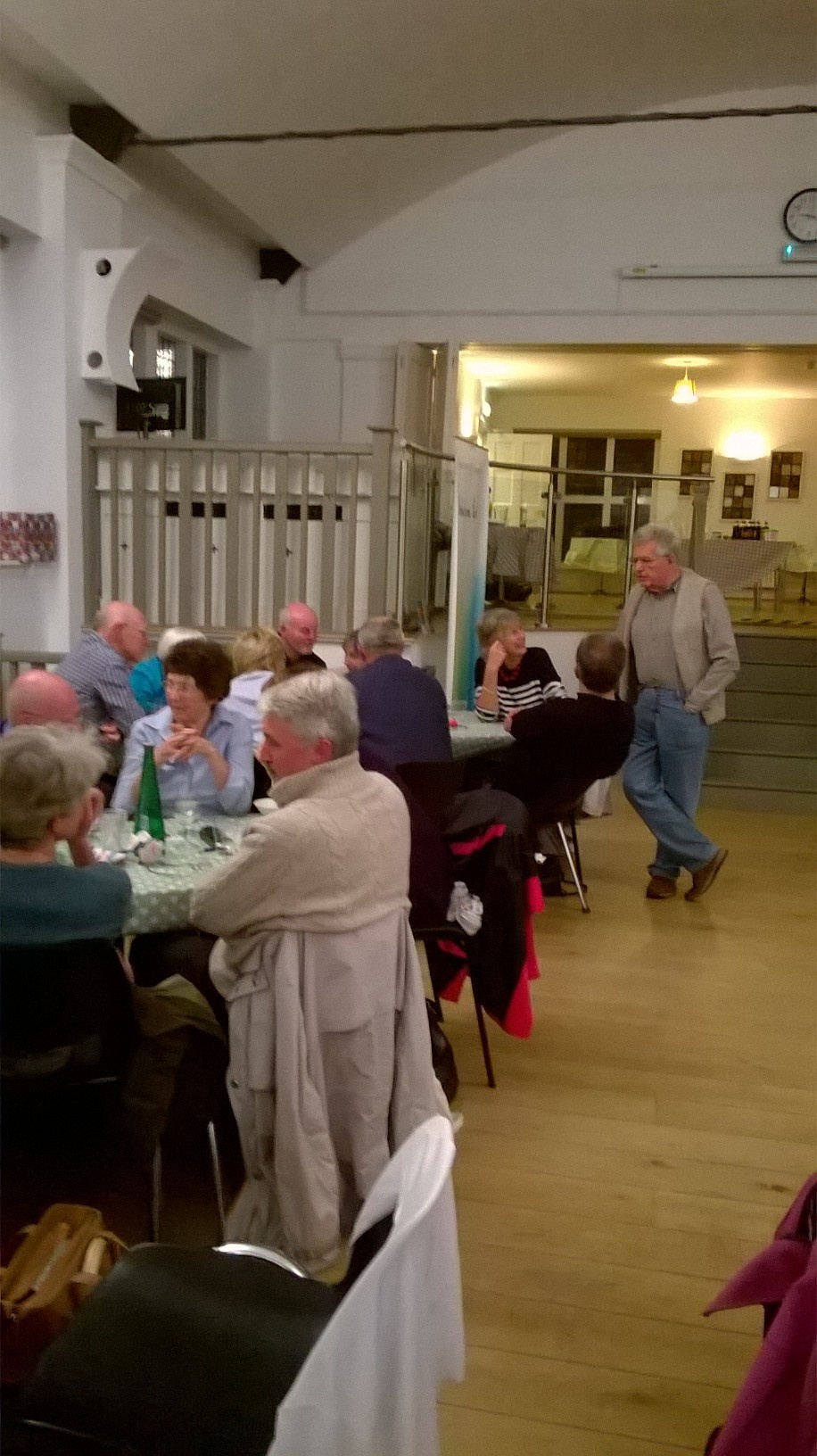 Our fundraising fish & chip quiz night was a great success. A big thanks to The Traditional Plaice in Farnham for supplying the food and to our volunteers for their help on the night.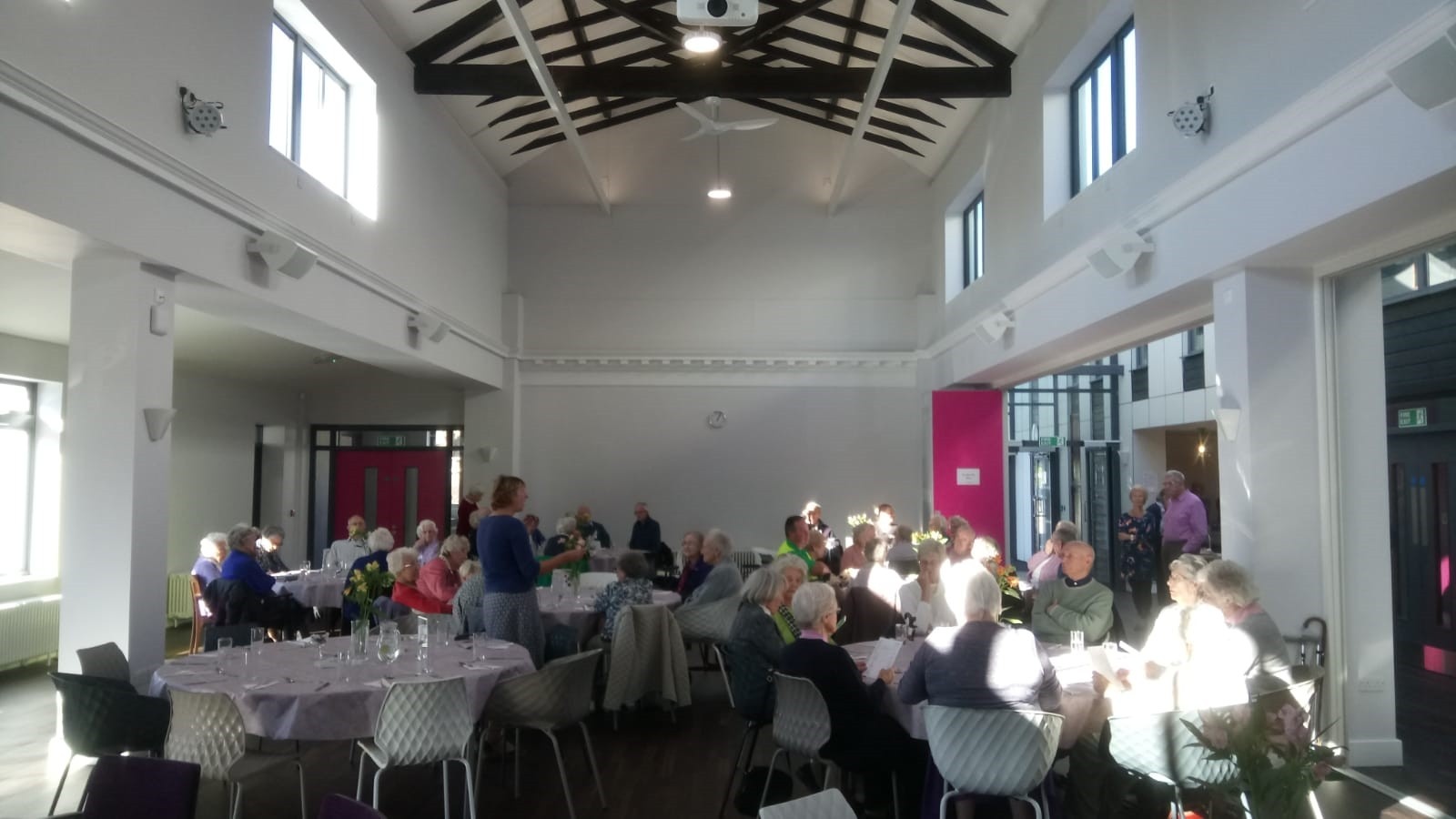 We held our first Central lunch in the refurbished Memorial Hall on the 21st October, everyone was very glad to be in contact with each other again and had a wonderful time catching up with friends. The meal as always, cooked by volunteers, was delicious.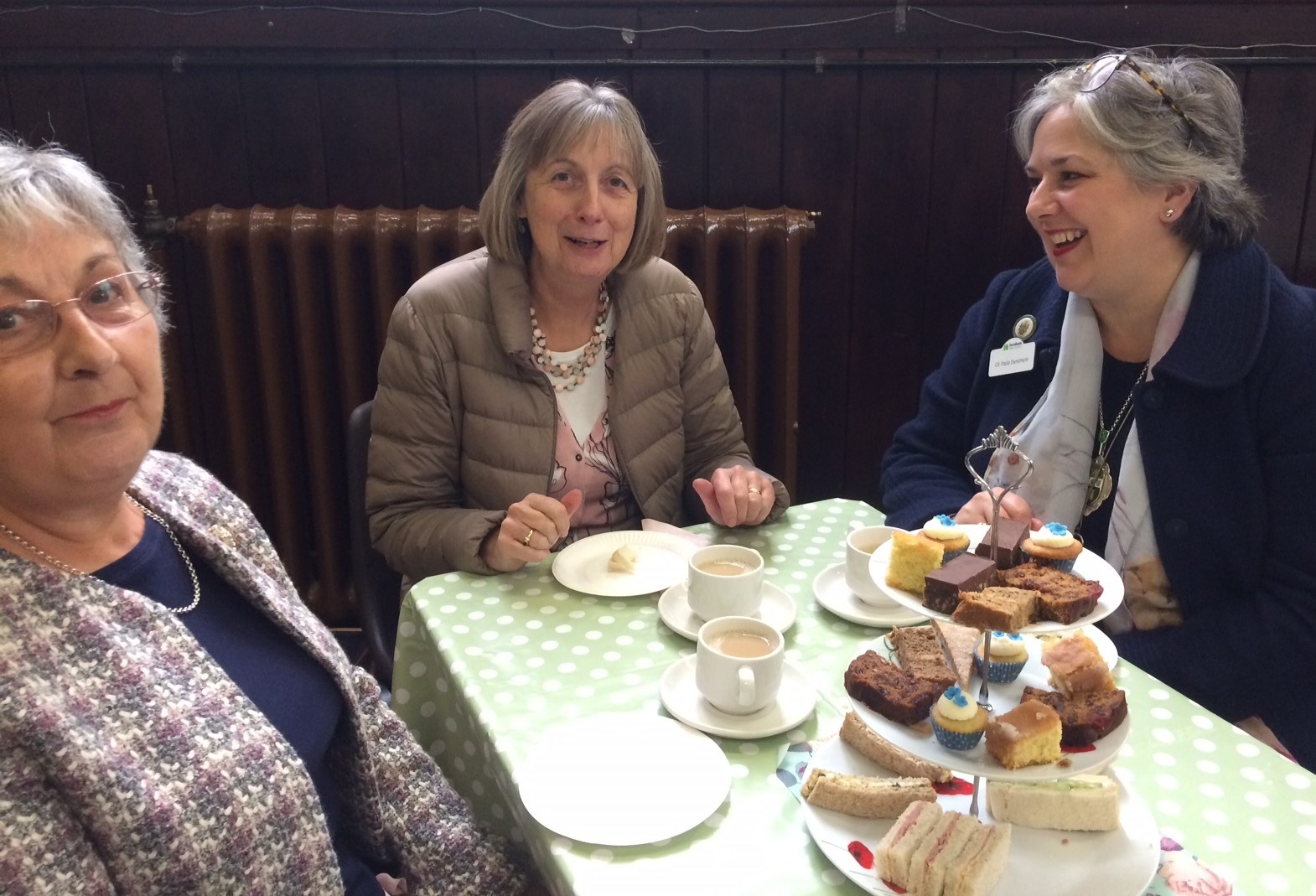 Councillor Paula Dunsmore joined us at our annual Songs of Praise service and kindly read Genesis 18 v 9-15. She is seen here with her mother and Alex Burn our Chair of Trustees enjoying the after service refreshments.
Songs of Praise celebrates the International Day of Older Persons, if you would like to join us next year we will be holding the service at The Spire Church, Farnham Methodist Church site on Thursday 3rd October 2019 3pm.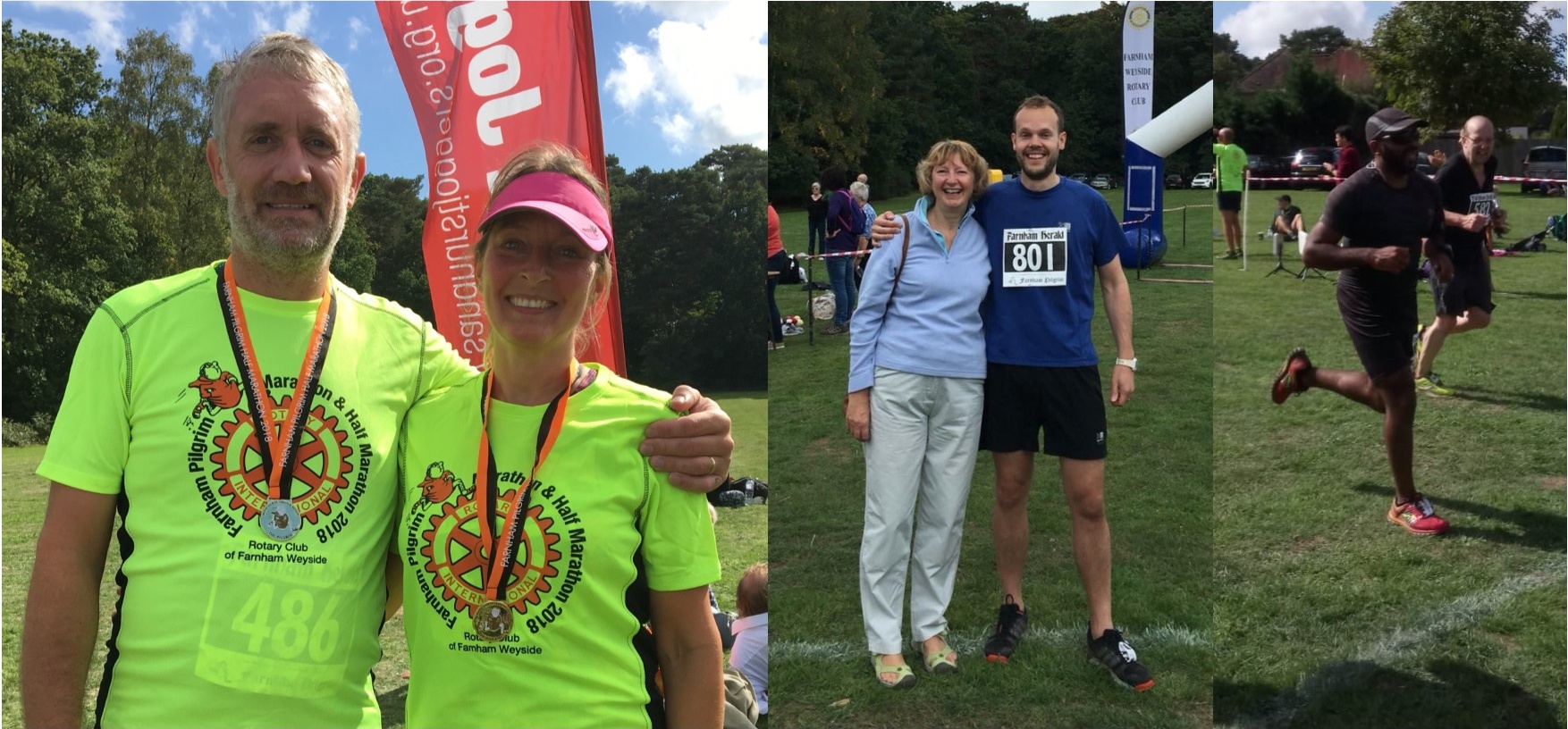 A big thank you to our walkers Nick & Libby Daniels and runners Nick Trantom and Elroy Blackwood at the Pilgrims run on 9th September.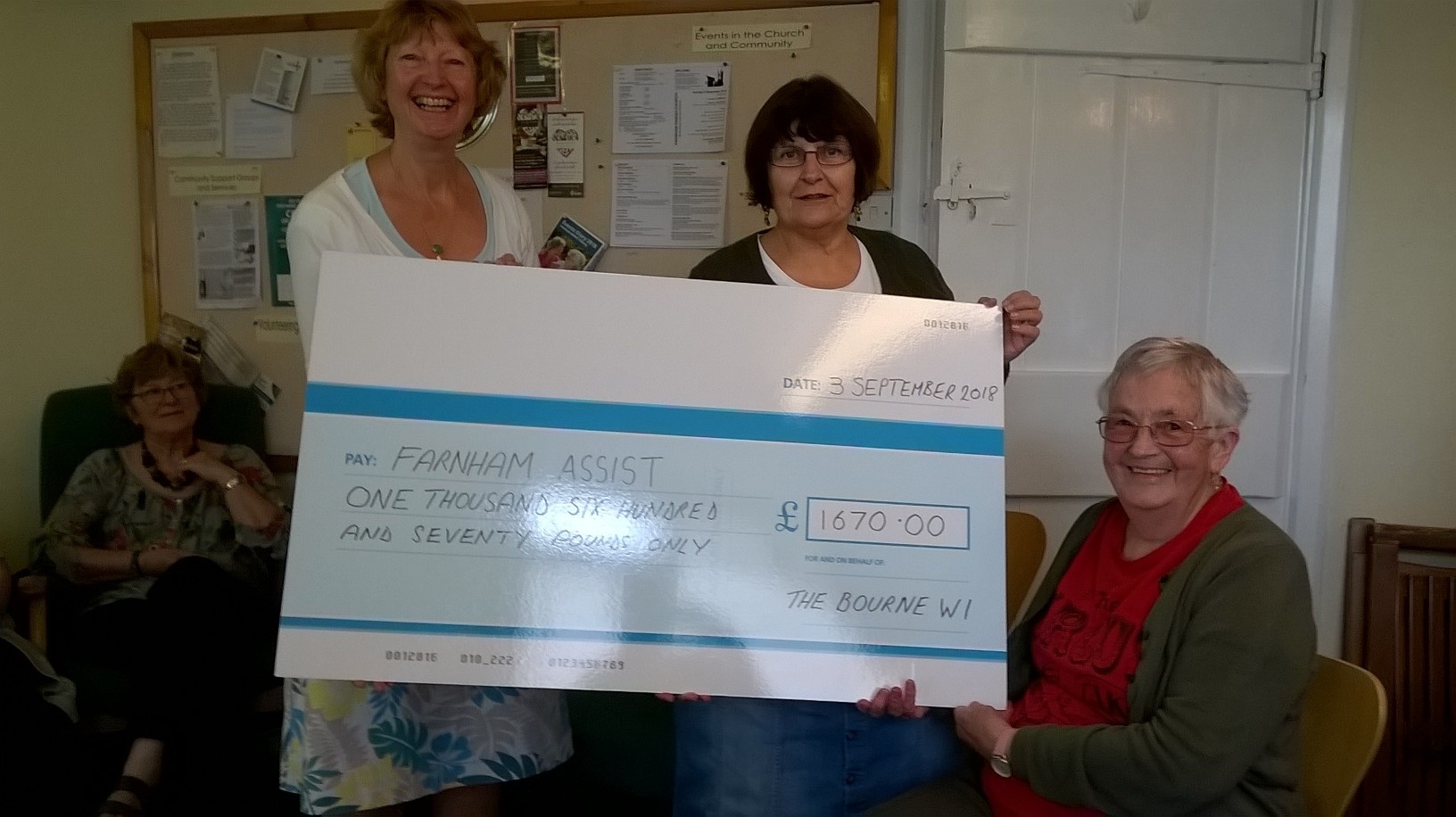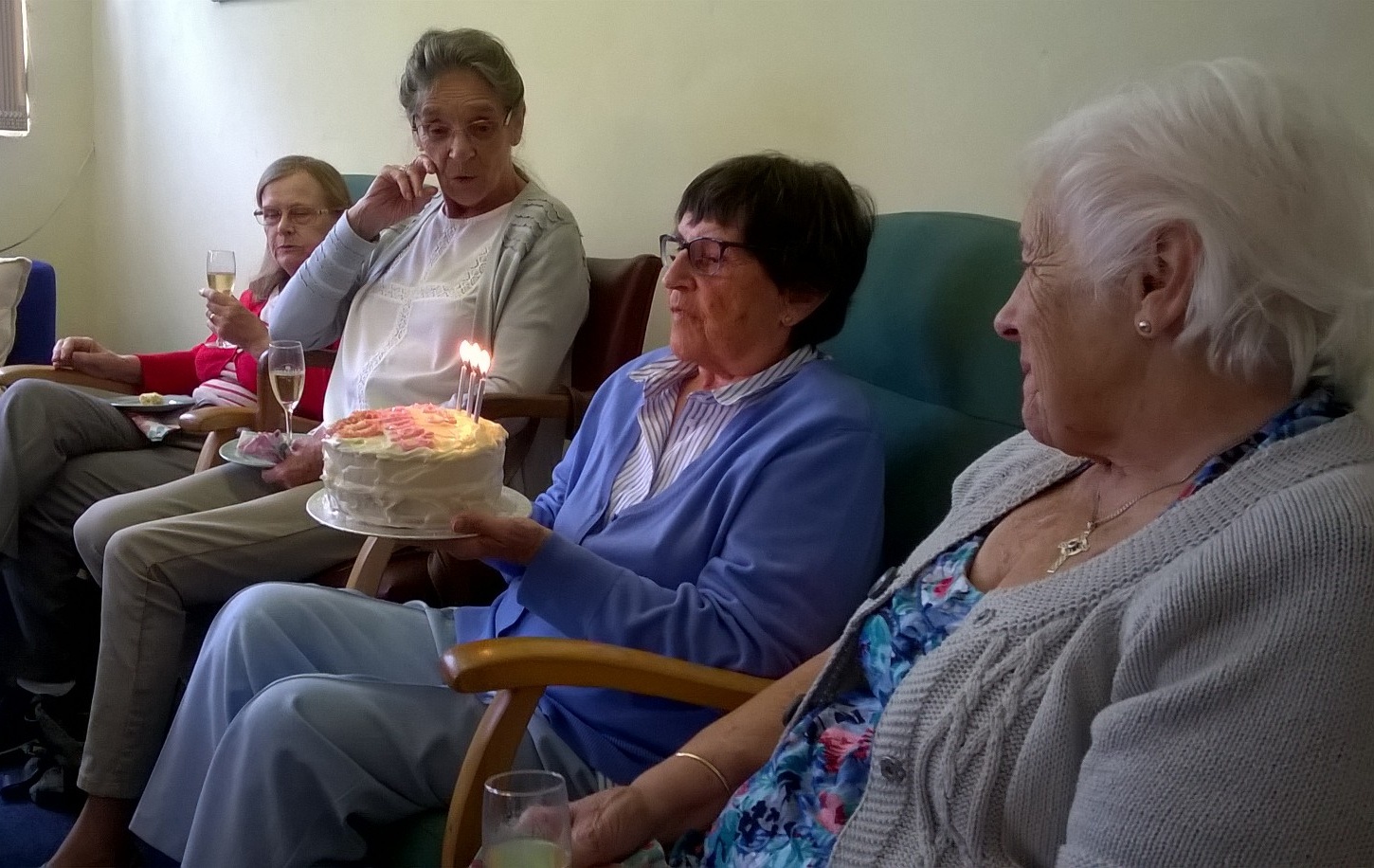 One of our Knit & Natter ladies had one of her 90th birthday celebrations during the Knit & Natter session surrounded by friends from the weekly group, a very generous cheque was presented by her daughter courtesy of Bourne WI towards Farnham ASSIST's ongoing costs.




It was a beautiful summers day for the John Pinkerton Canal boat trip. The trip was extended due to the low level of water from the scorching summer much to the amusement of the attendees.
Everyone enjoyed the cream tea that was served on-board. We hope to run a similar event again next year. Do look out for announcements!
We had a glorious day at Chawton House on Saturday 28th July. The sun shone and the wind blew but the rain held off.
Talented head gardener Andrew Bentley entertained all on his tour of the stunning formal and informal gardens cleverly updated and refreshed by Andrew himself, he including the history of the house and many other snippets of knowledge. The Pelley Concert Orchestra played a mixture of wind instruments in the courtyard amongst cream teas being served by the dedicated staff at Chawton.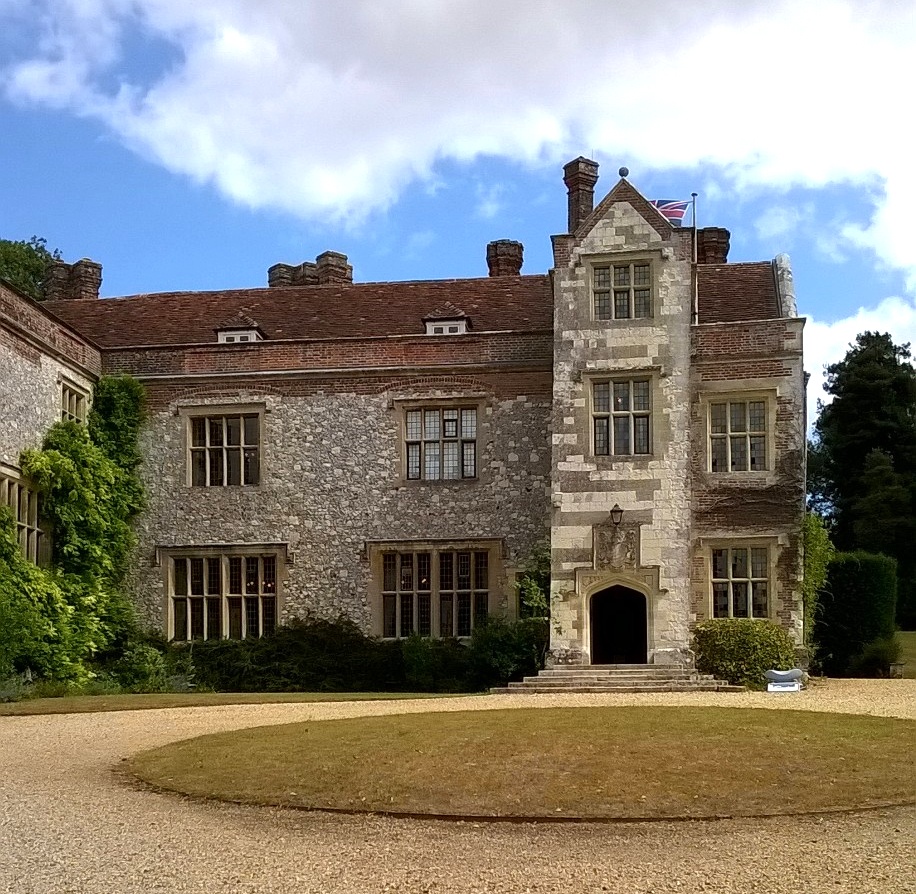 Sam Manz kindly ran for Farnham ASSIST in the London Virgin 10k on Sunday 15th July.
It was a scorching day but Sam battled through and finished in just over an hour! Sam raised £156.10.
Thank you Sam for supporting Farnham ASSIST.
Our Pie & Pint gents chose a trip on a riverboat along the Thames this year, starting at Runnymede and enjoying a cooked lunch along the way they thoroughly benefited from being on the water during the heat of the day.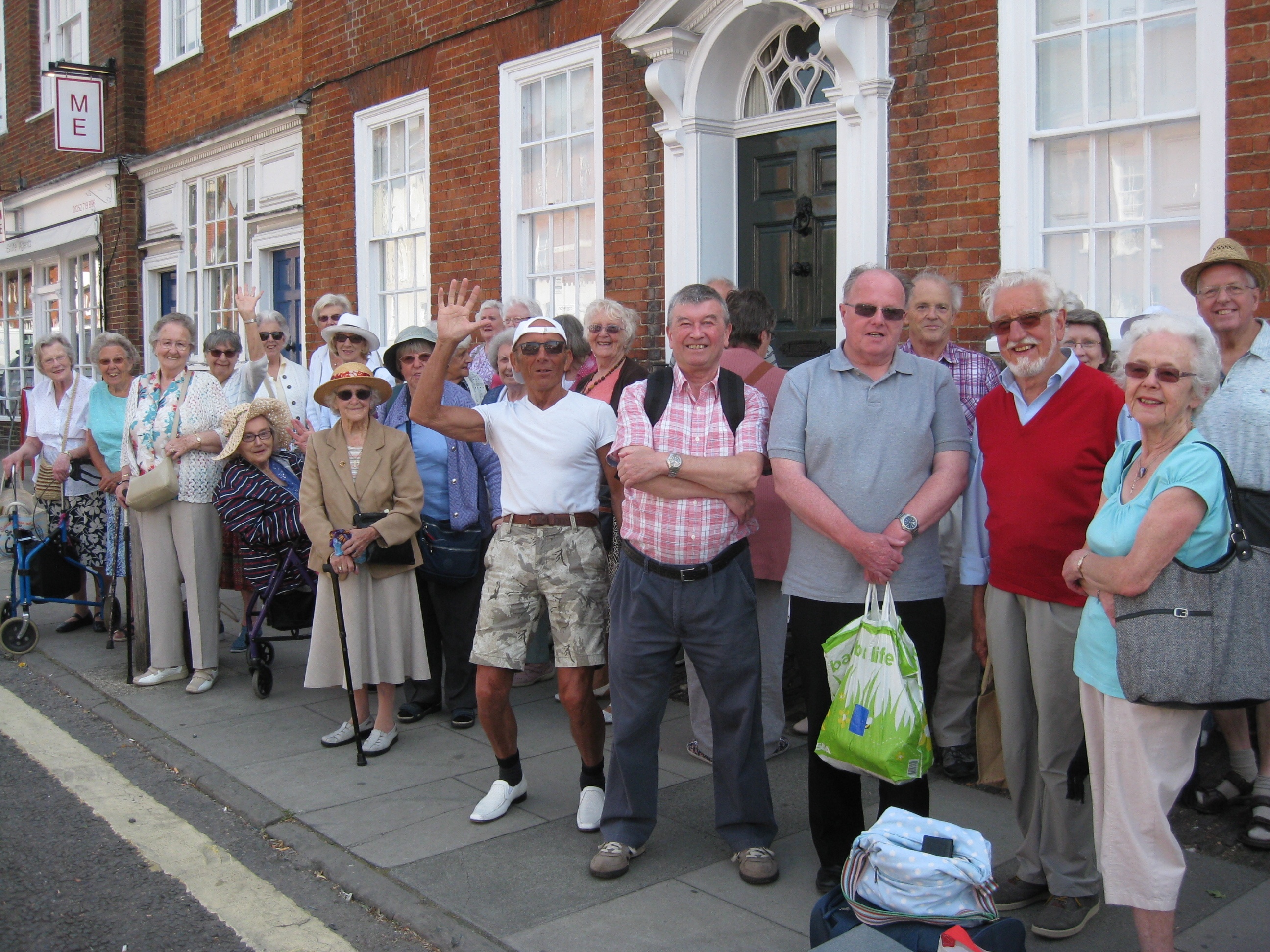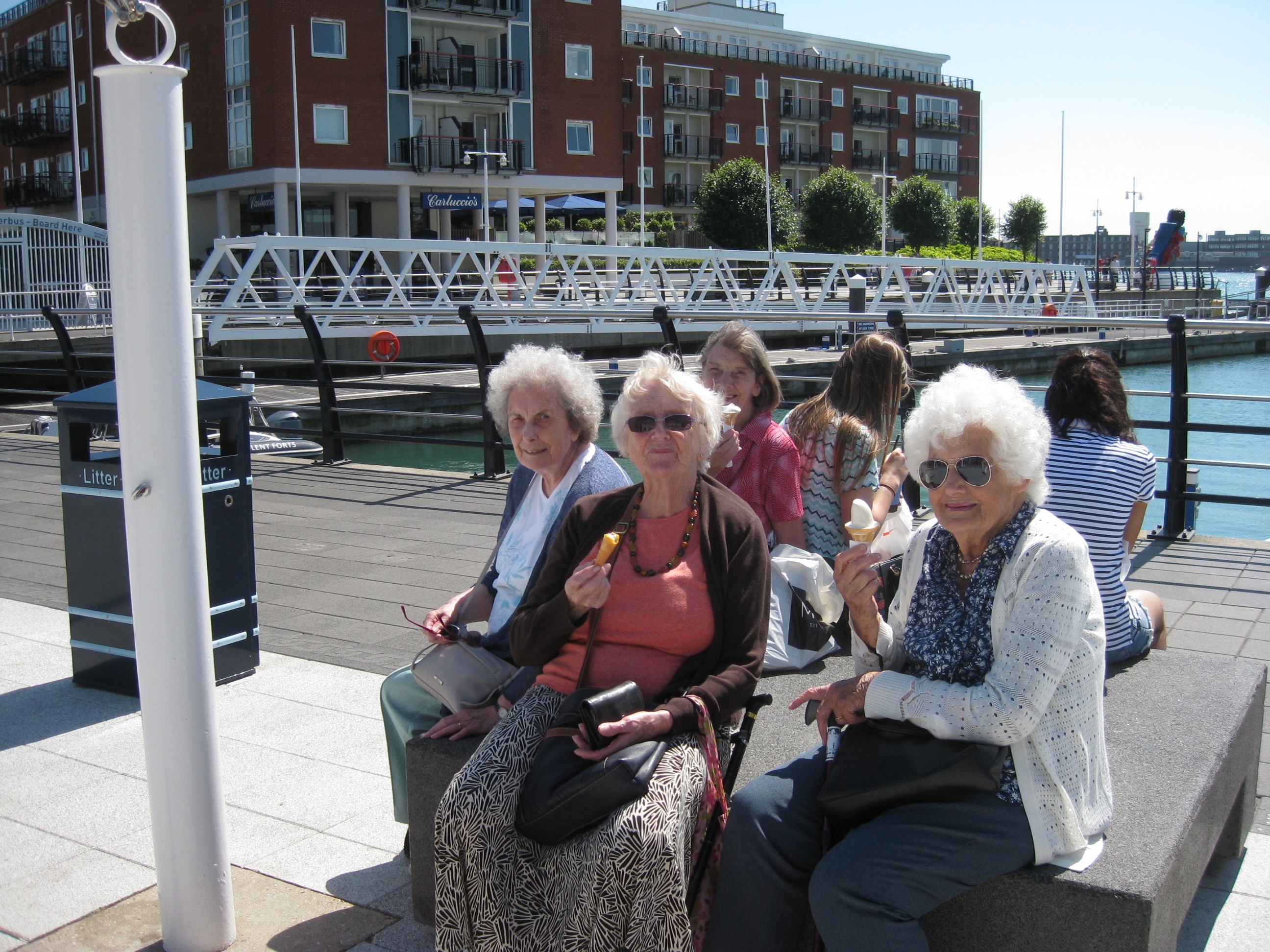 We had a full coach (seen here waiting to leave) on our annual outing to Southsea on an extremely hot Tuesday in July.
After a fish & chip lunch at Rocksbys cafe, ice-creams were enjoyed along the seafront, and then at Gunwharf Quays, which was the second stop of the day for a spot of retail therapy and a chance to see the harbour and Spinnacker Tower.
Our clients who attend our different groups came along and had a chance to meet one another and gain new friends.
A big thank you to our volunteers who came along and helped to keep everyone happy and hydrated.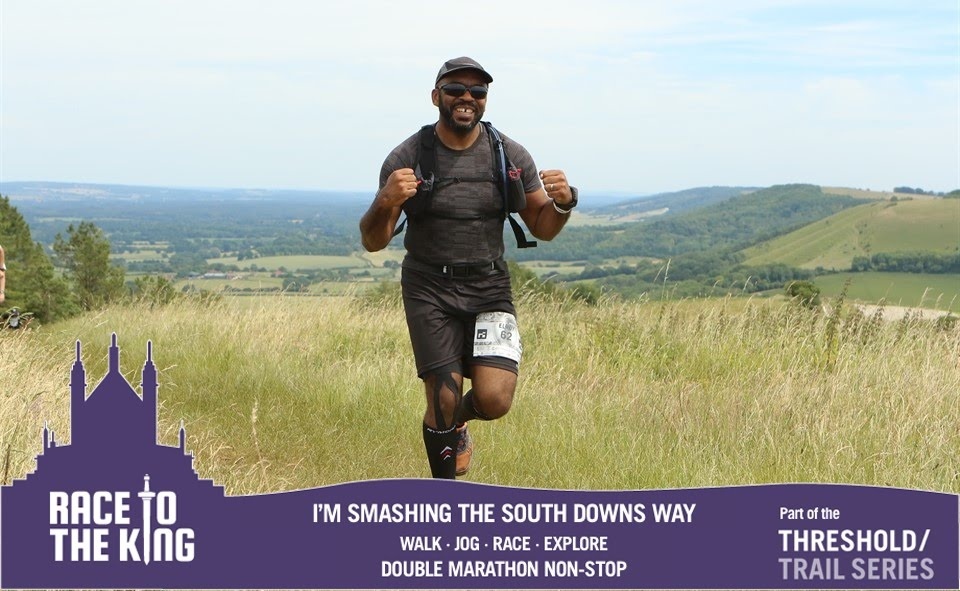 Elroy finished his grueling Race to the King double marathon in 15 hours and 17 minutes, donations can be made at:
https://mydonate.bt.com/donation/v4/chooseAmount.html?event=458873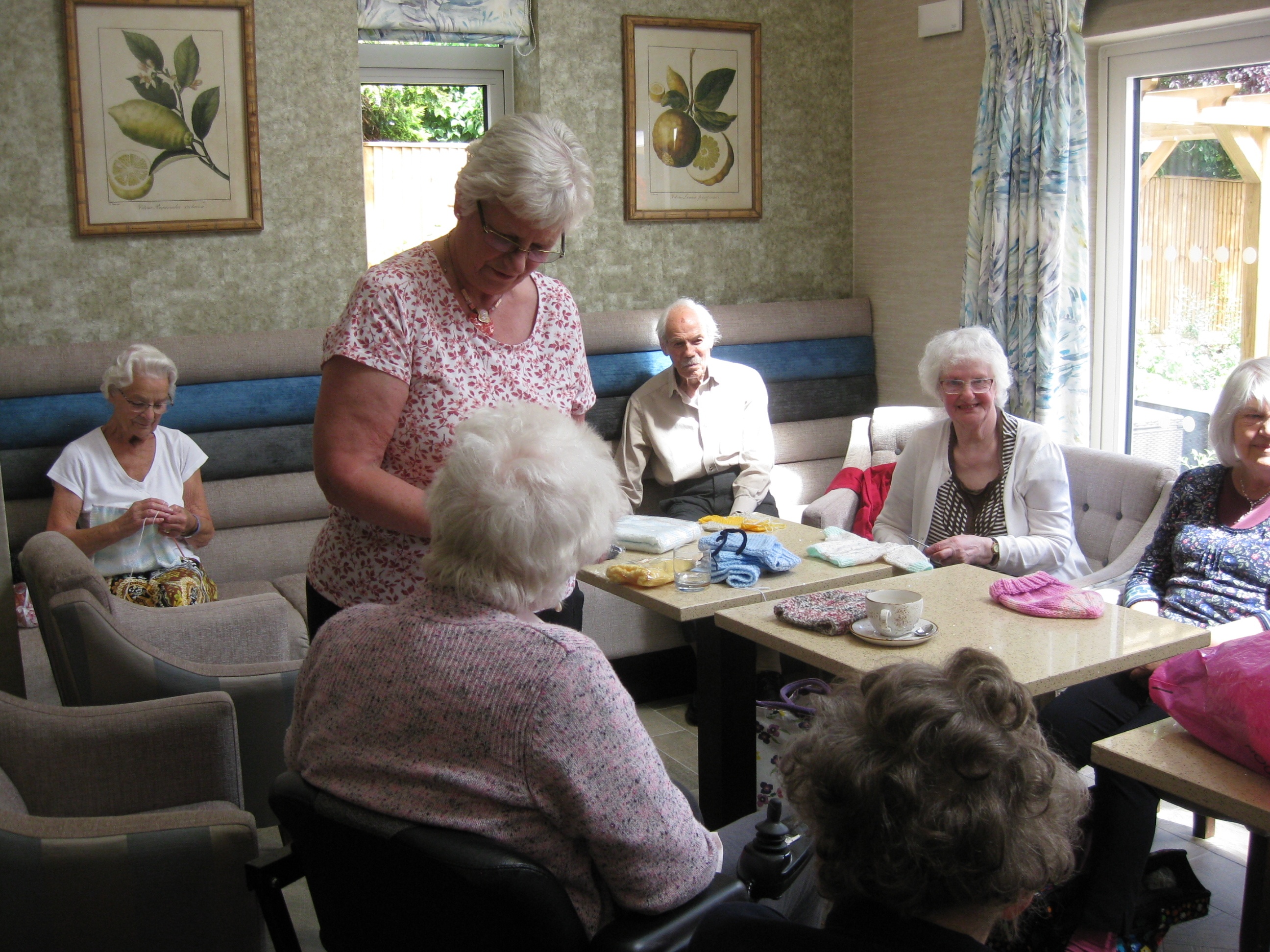 Our Knit and Natter ladies showed off their creations at new care home Bourne Wood Manor.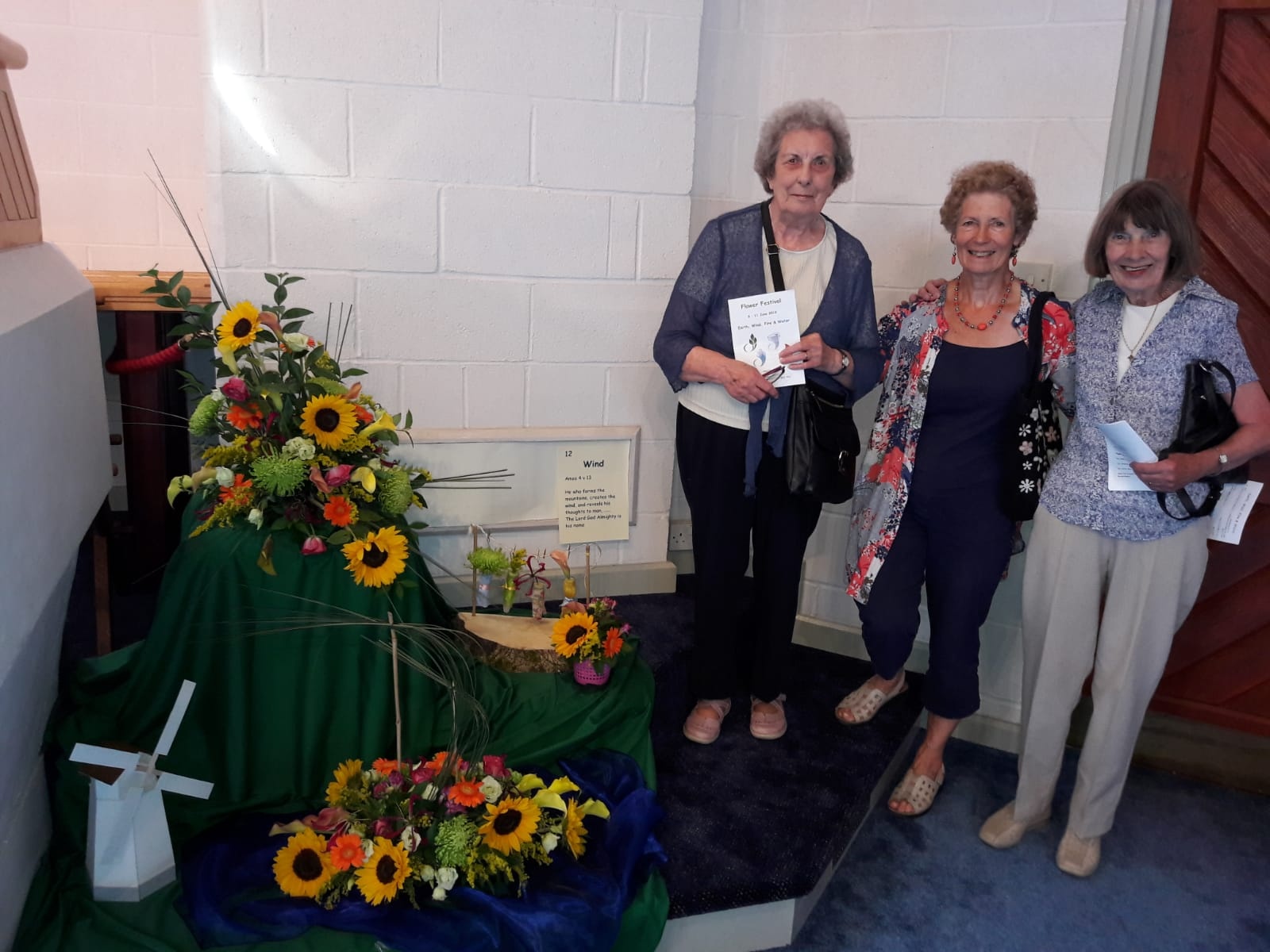 Some of our clients enjoyed a flower festival on Monday 11th June, hosted by Emmanuel Church, Guildford.
Some of ASSIST's clients enjoyed a day out at Wisley, the garden was looking beautiful and the mobility buggy helped cover the distances.
Our Lego exhibition was a great success for fundraising at Farnham ASSIST, we had many people attending who enjoyed seeing all the creations and buying their own Lego. If you would like to be involved next year as a stall holder or exhibitor do contact us on 01252 717710.
What a lovely day for the duck race! The town center was very busy and we quickly enticed people to the tombola.
We need to give a HUGE thank you to Tandy who organised and supplied the whole tombola and children's lucky bags, this was a massive task and we are so grateful for her generosity.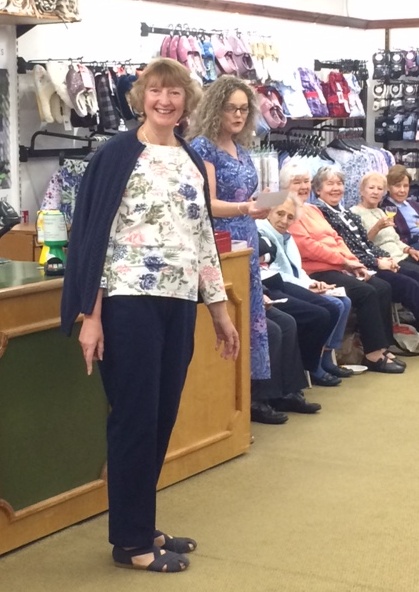 Farnham ASSIST week was a success in informing more people about the charity, we also had many organisations hosting cake sales and coffee mornings which boosted our fundraising monies.
Thank you to everyone who helped out during the week and we hoped you enjoyed the fashion show and cakes.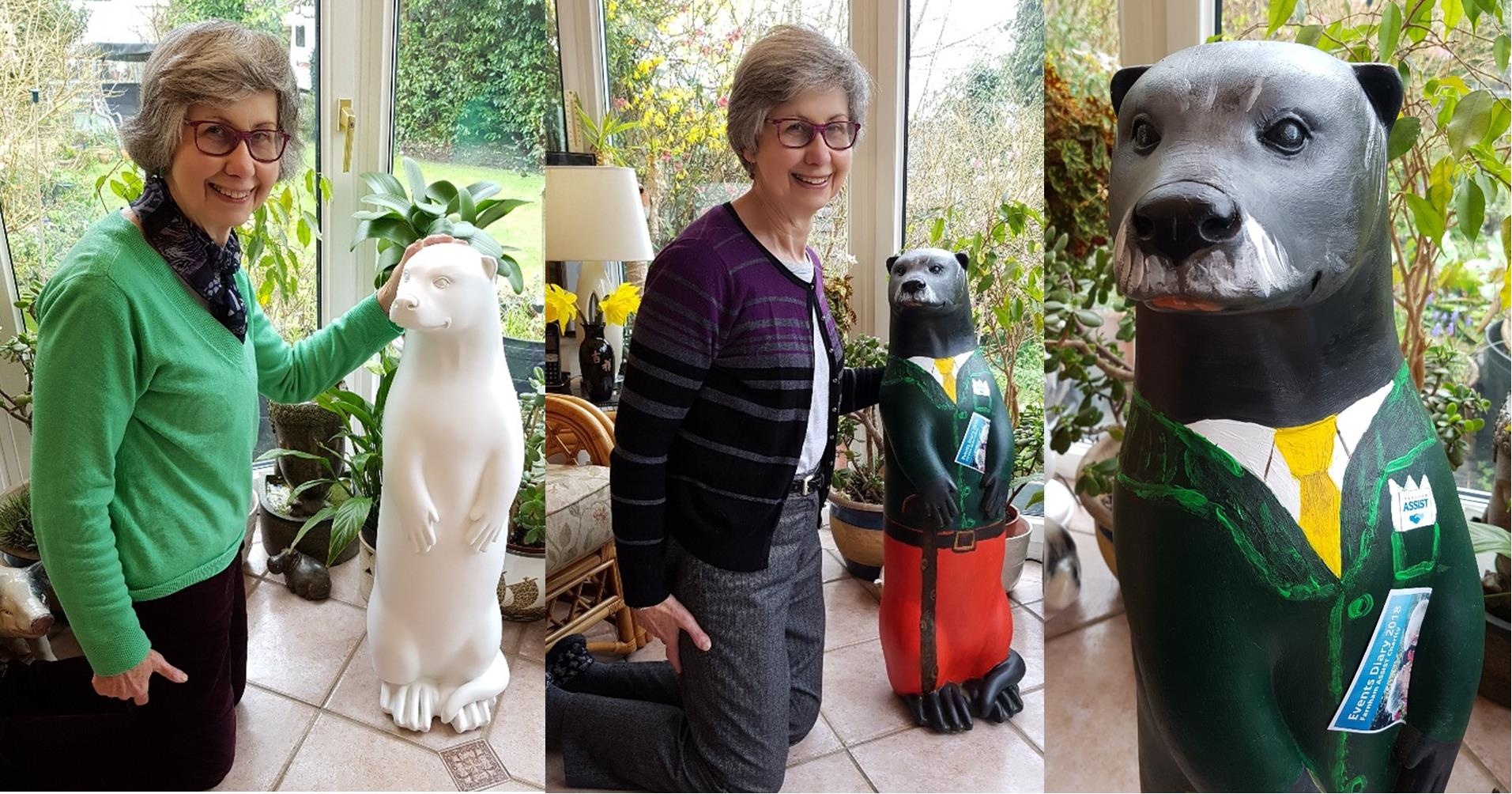 Talented artist Diana Ashcroft kindly painted Osmond the Otter for Farnham ASSIST, he will be displayed in town during the walking festival, do try and spot him outside our offices,
7 St Georges Yard, Farnham GU9 7LW
Down Memory Lane was well attended and all enjoyed a talk by the lovely Amanda Pettey of Farnham Museum about the buildings' heritage. This was followed with a cream tea and singing old favourites such as An English Country Garden and Side by Side.
A raffle was drawn towards the end of the afternoon raising £62.00 towards Farnham ASSISTs work with isolated and lonely older people.
Thank you to all the volunteers who again worked tirelessly to deliver a fun afternoon for all.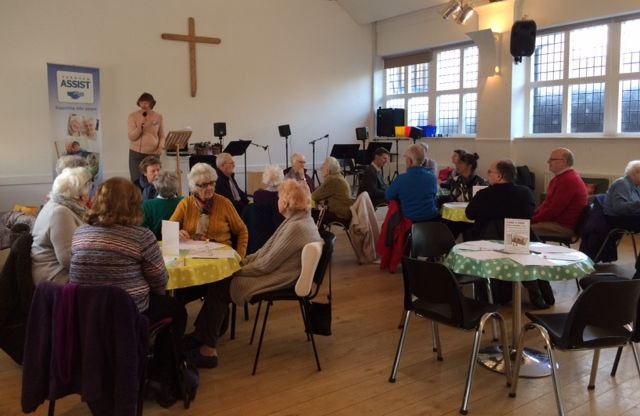 We had a good turn out on Wednesday afternoon for our Beetle Drive followed by tea & cake. The winners for speed and creativity were given a potted tub of Primulas to take away and enjoy.
Thank you to all who joined us to make this a fun time and for the volunteers helping serve refreshments and providing cakes.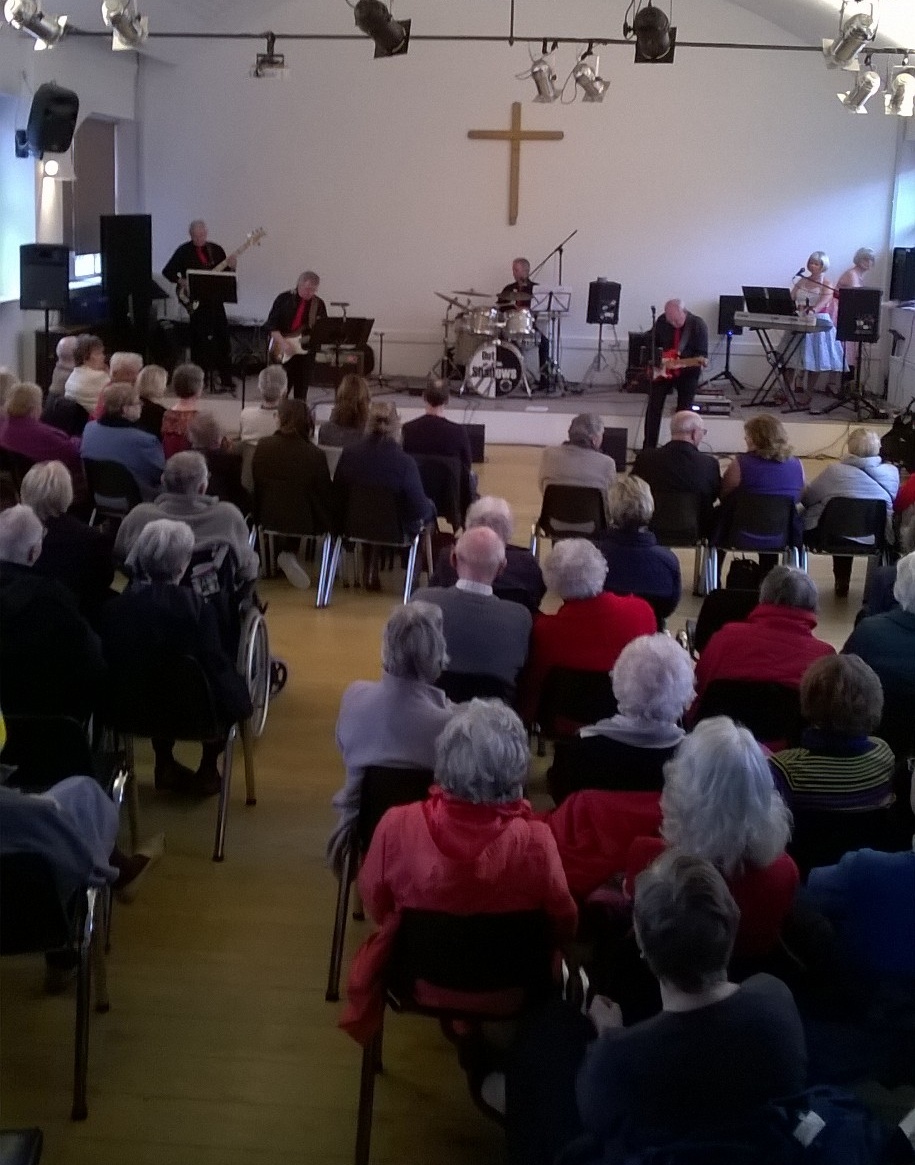 The Music in the Vineyard event run by the town council was a great success, Out of the Shadows drew a large crowd to listen to their 60's cover hits.
Tea and cake were provided by Farnham ASSIST who really enjoyed themselves, thanks to the volunteers who helped on the day and also provided cakes and scones.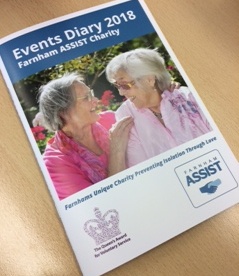 Our 2018 events diary is in!


Do contact us or pop in to the office if you would like a copy.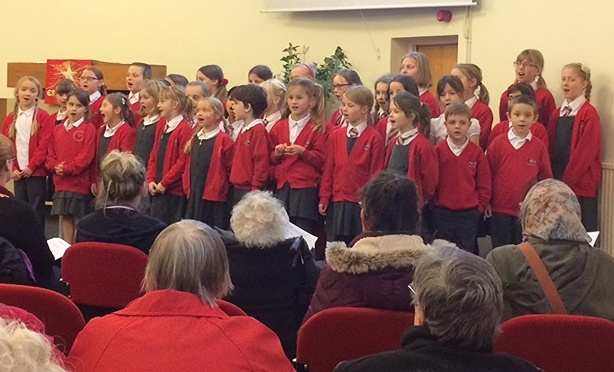 The Carol Service started off well with a reading by the Mayor of Farnham followed by the choir of Potters Gate C of E Primary School singing Starry Night. Various volunteers from Farnham ASSIST read passages from the Bible throughout the service, and the Assistant Pastor of Farnham Baptist, Philip Sweeting gave the sermon.
80 people enjoyed a Christmas lunch with Farnham ASSIST at the Central location - Brightwells Gostrey Centre in Farnham with presents from Farnham ASSIST, beautiful Poinsettia from Castle Street Flowers, Christmas Crackers and Schloer from the Co-op stores and shoe box goodies from the readers of The Surrey and Hants News. It was a delicious meal cooked and prepared by wonderful volunteers. A huge thank you to everyone involved.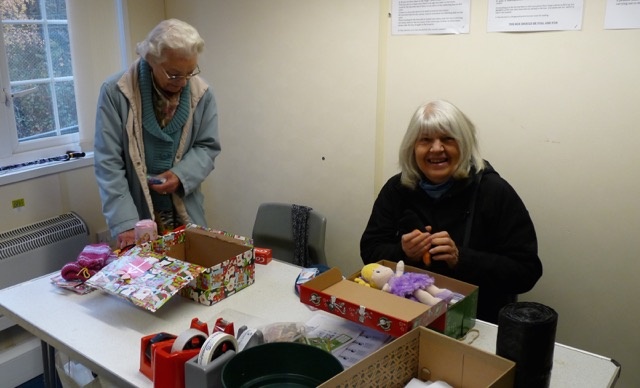 Our Knit & Natter ladies enjoyed helping check the Operation Christmas Child shoe boxes before they left for their journey to needy children. They had made many hats and scarves throughout the year to go in the boxes during their knitting group which runs on a Monday at St Andrews Parish Rooms.
Home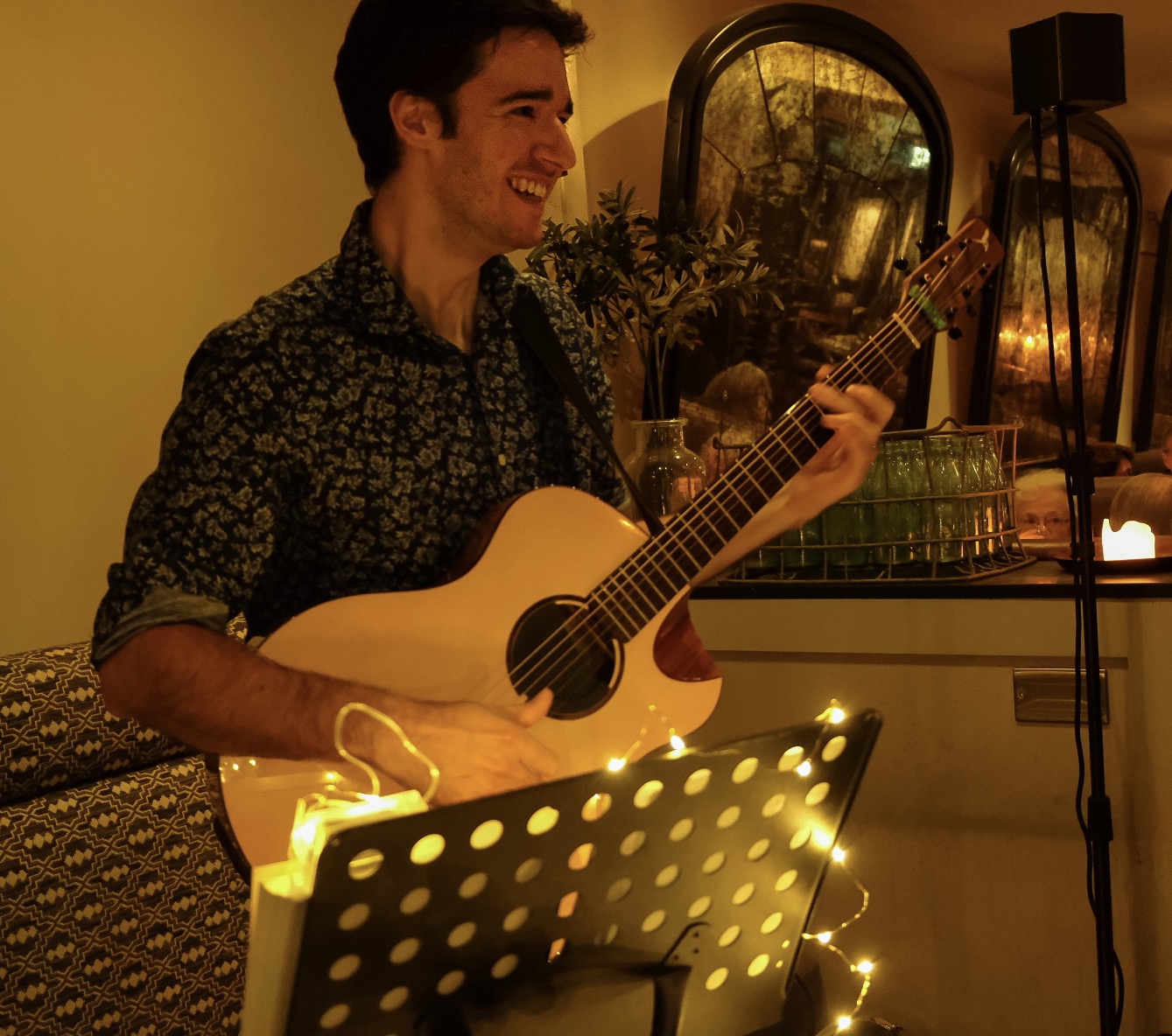 Nathan Churchill performed beautifully for the Acoustic evening at Brasserie Blanc, Farnham.
The evening was wonderfully supported by friends and family connected to Farnham ASSIST, and the staff at Brasserie Blanc were impeccable with their serving of delicious food and drinks.
Nathan played an mixture of his own music as well as covers from well know hits, the evening was an extremely relaxed time with everyone commenting on the ambiance.
Click here for music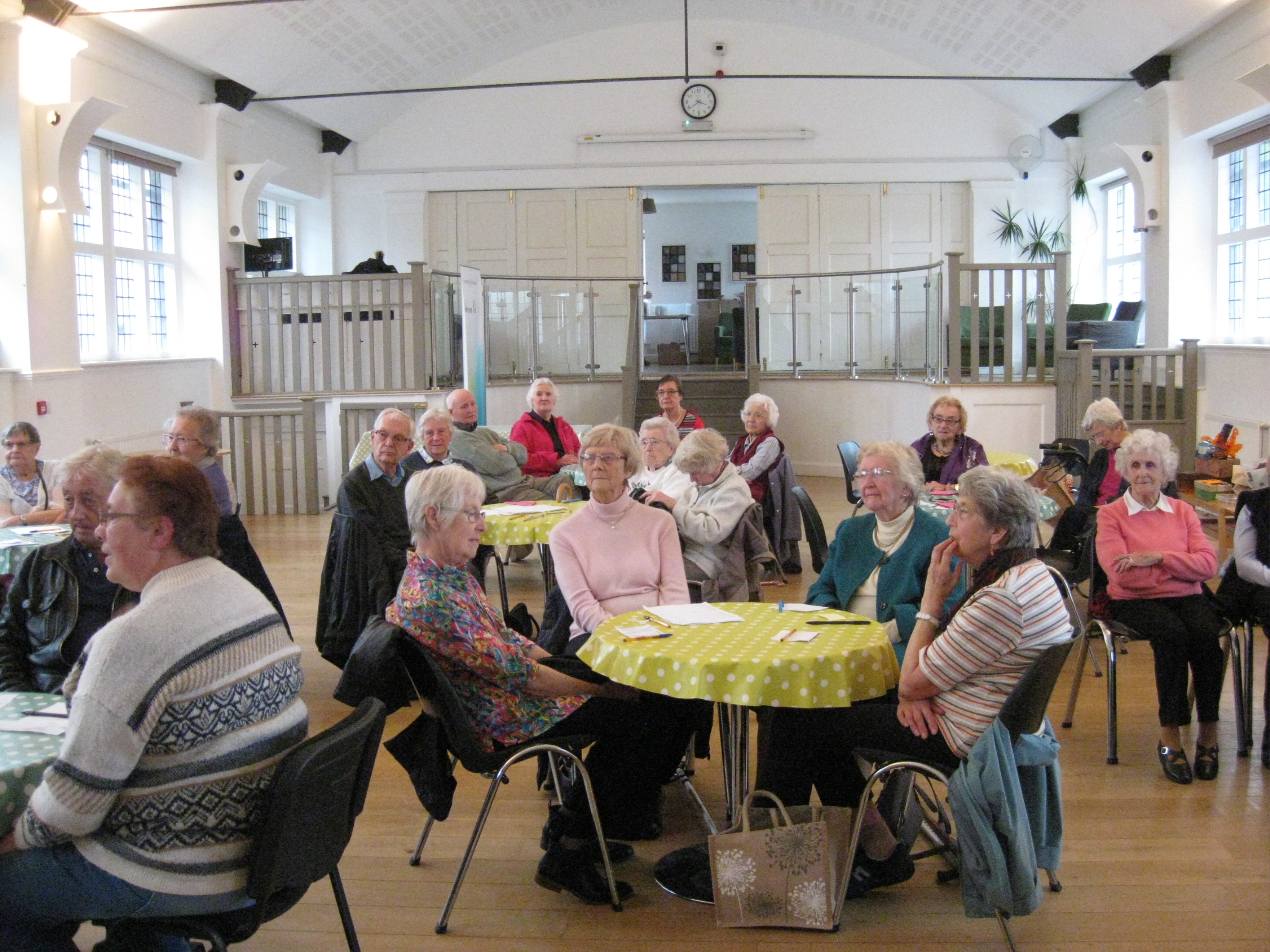 Afternoon quiz with music
An afternoon quiz kindly written and delivered by one of Farnham ASSIST's regular clients was hosted in the Vineyard church and enjoyed by 40 attendees of Farnham ASSIST events.

The talented Vic Cracknell entertained us all with his music and singing which many people sang along to.

A selection of cakes and scones with tea were served in the interval and everyone went home well fed and happy.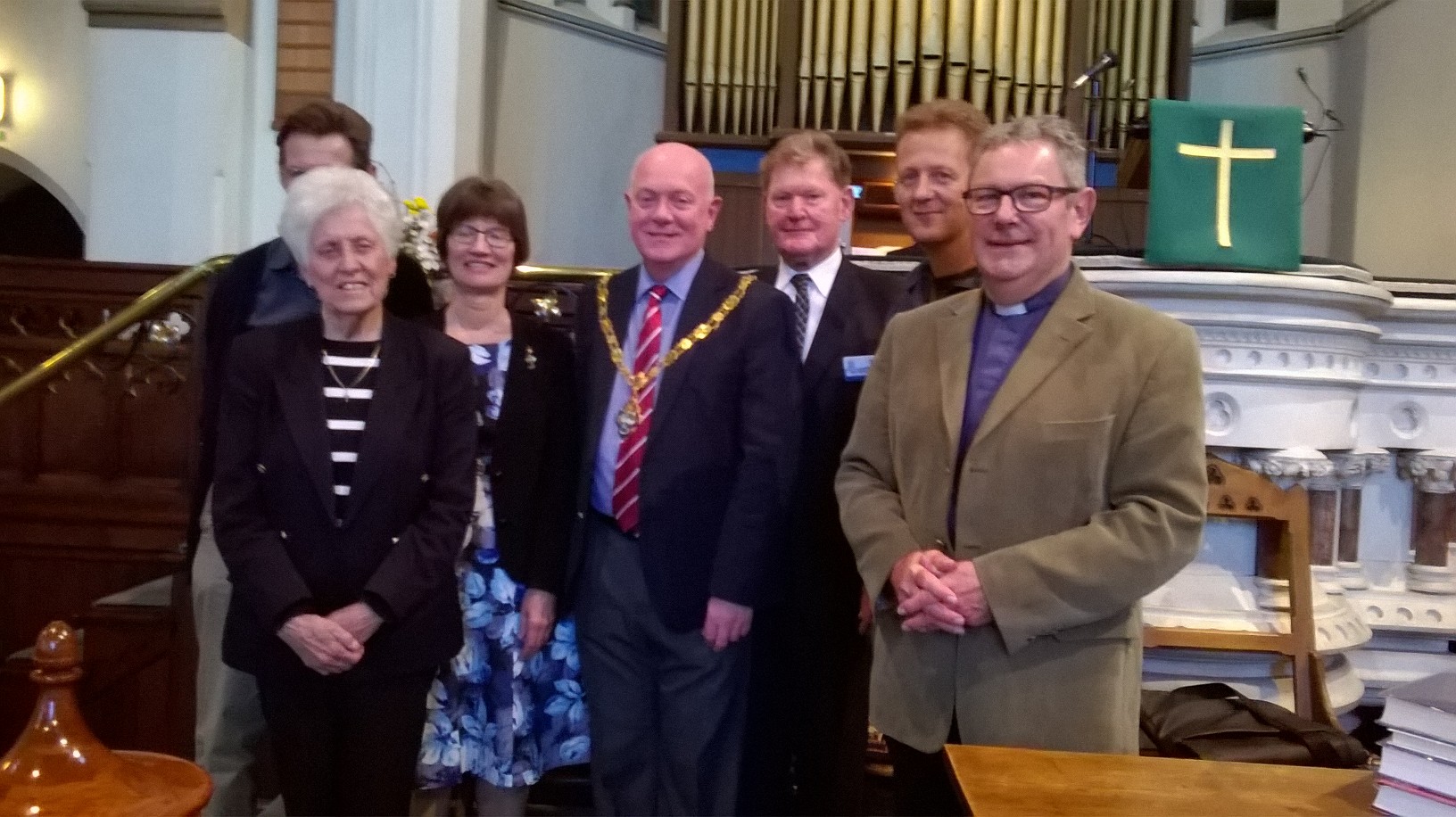 Songs of Praise
A joyful occasion remembering the International Day of the Older Person with Sermon on Sharing by Rev'd David Uffindell, Psalm 67 read by Farnham Mayor Mike Hodge and hymns chosen by Farnham ASSIST volunteers.
Afternoon tea was served at the end and enjoyed by all.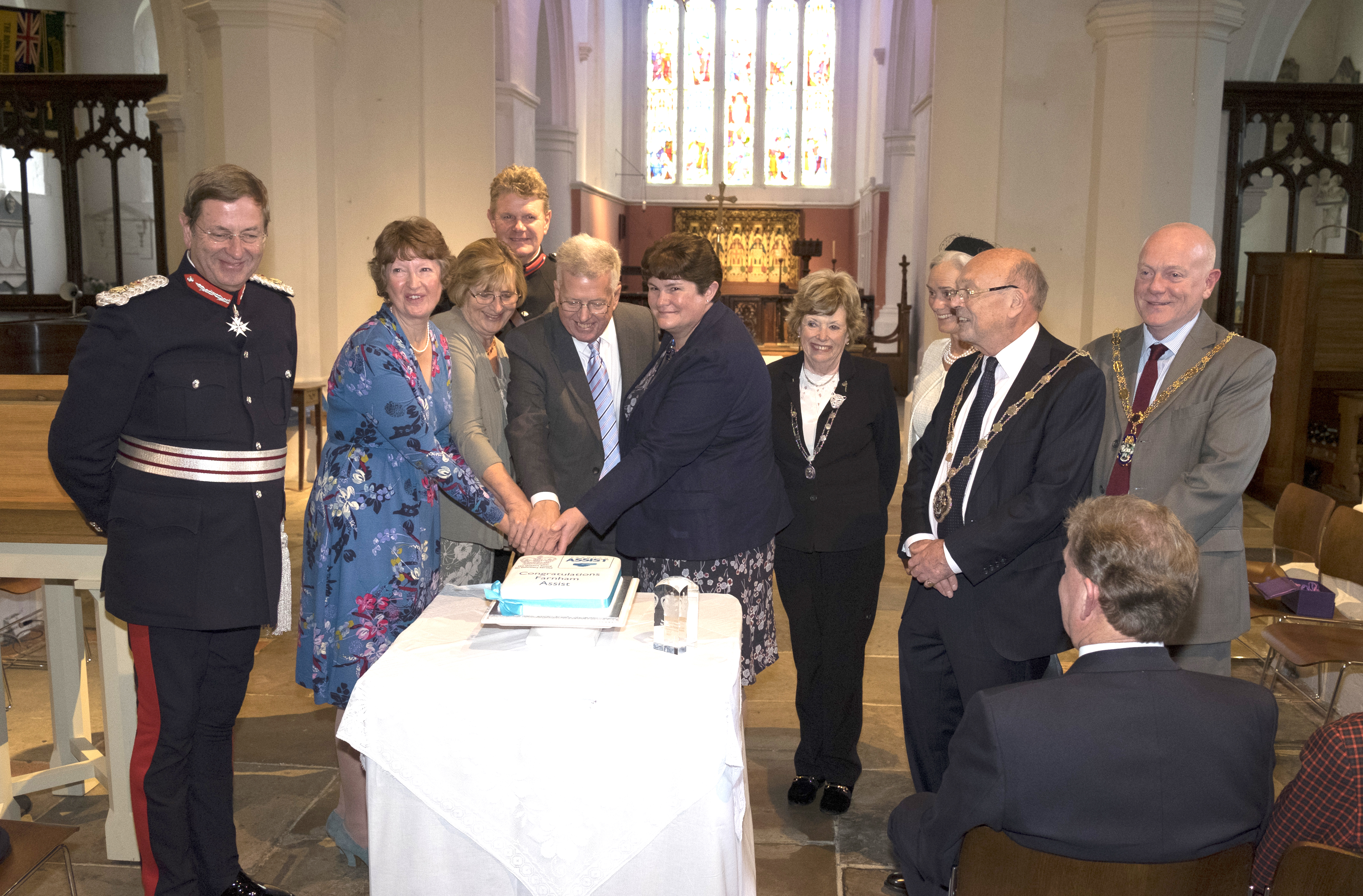 Past and present managers of Farnham ASSIST cutting the celebratory cake and receiving the Queens Award for voluntary service.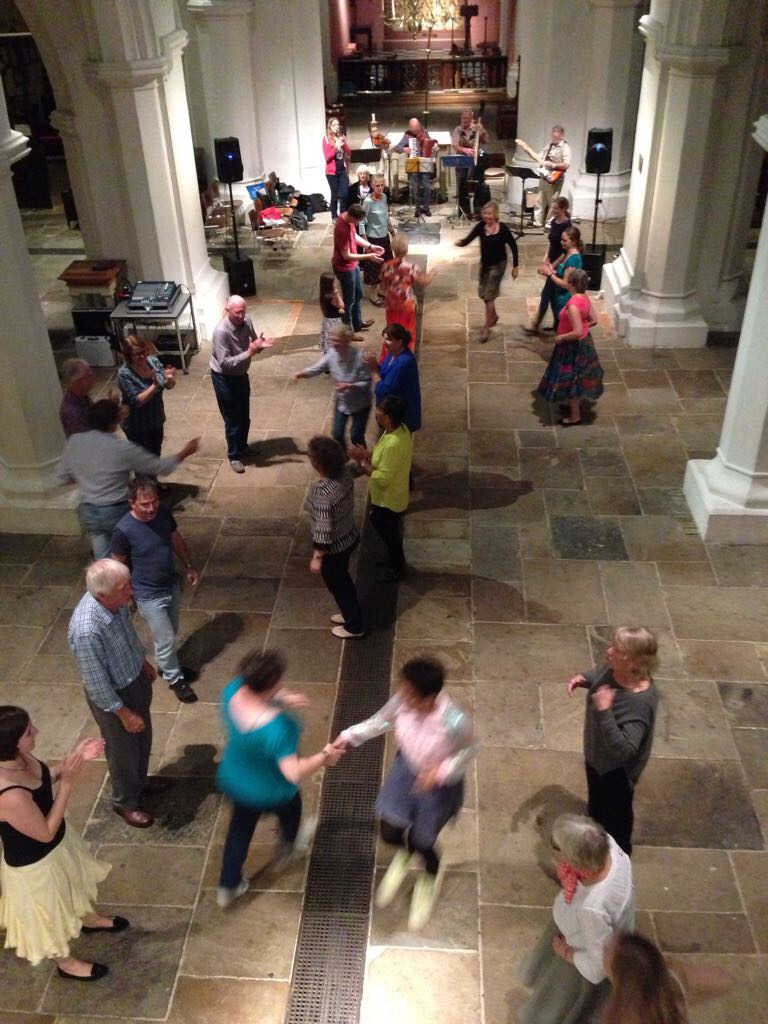 St Andrews Ceilidh
A fabulous evening of dancing was had by all on the 29th September.
St Andrews church in the centre of Farnham opened their doors for a delicious harvest supper and dancing with music played by the talented Saxon Drain band. There were many variations of dances on the evening to keep everyone on their toes.
A big thank you to St Andrews staff and members who worked so hard to put on the event in aid of Farnham ASSIST.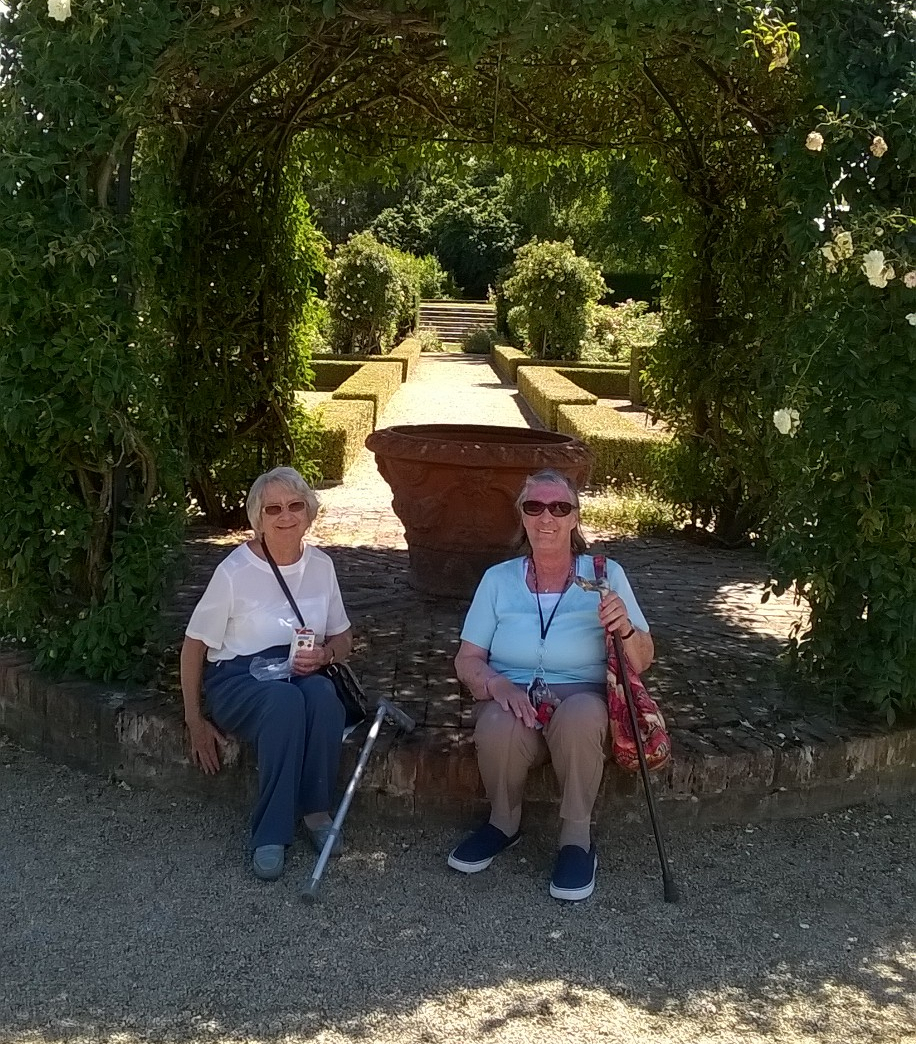 What a beautiful afternoon wandering the stunning gardens at Loseley. It was a scorching day and everyone was grateful for the shade provided by the plants. The cream tea was served in a cool private tent and was refreshing and delicious.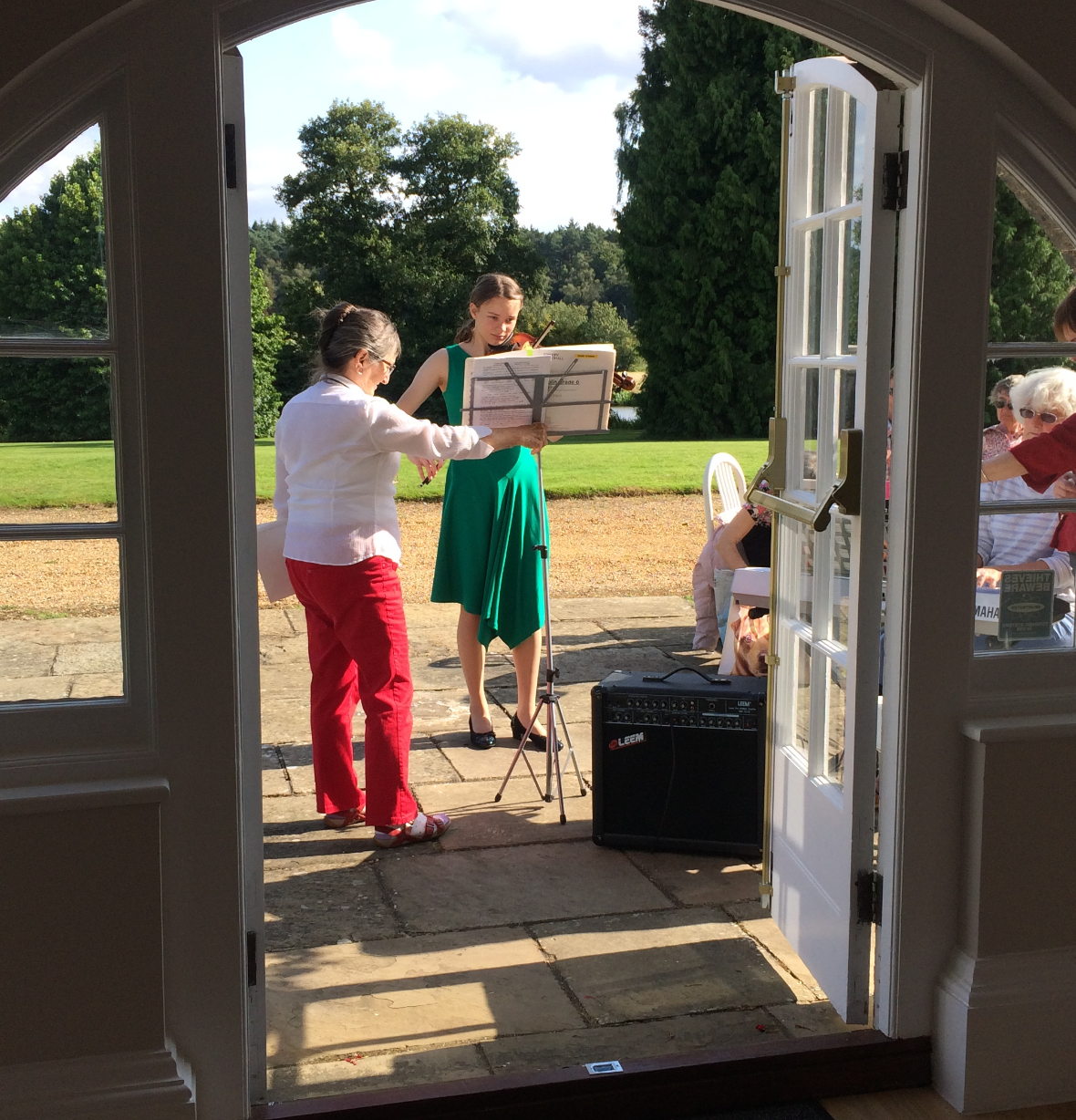 Everyone enjoyed their afternoon at Waverley Abbey House with cream tea and music.
Fleur Frew played beautifully on the piano, her music drifted across the grounds of the house greeting those wandering the gardens. Rosie Thomas entertained the guests with classical music, playing her violin in the dining room whilst the cream tea was served, and Heather Golding played haunting flute tunes throughout the house and gardens filling the rooms with warm.

We would like to express our thanks and gratitude to the staff at Waverley Abbey House and especially to the musicians.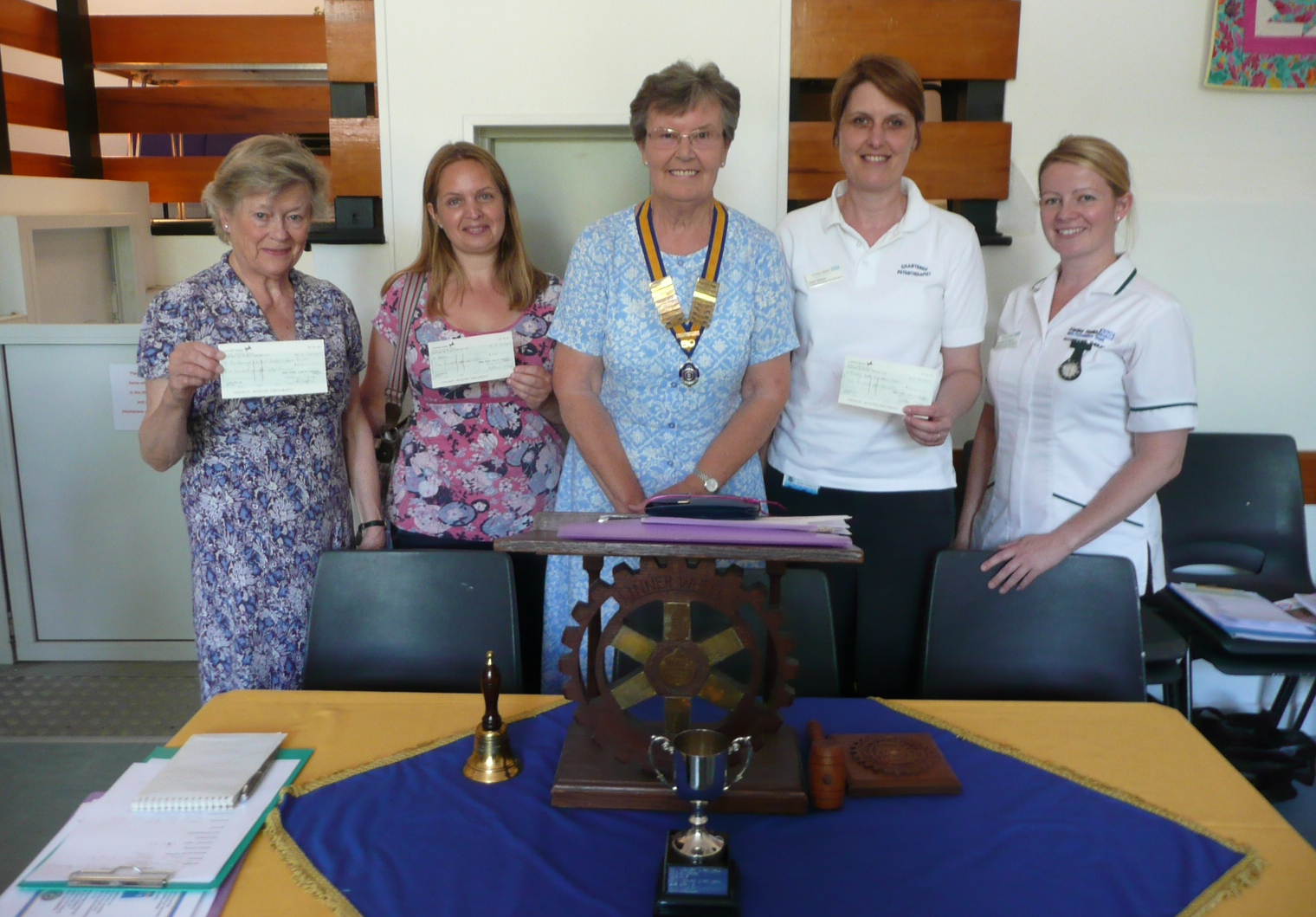 A big thank you to the Inner Wheel for their donation of £100 to Farnham ASSIST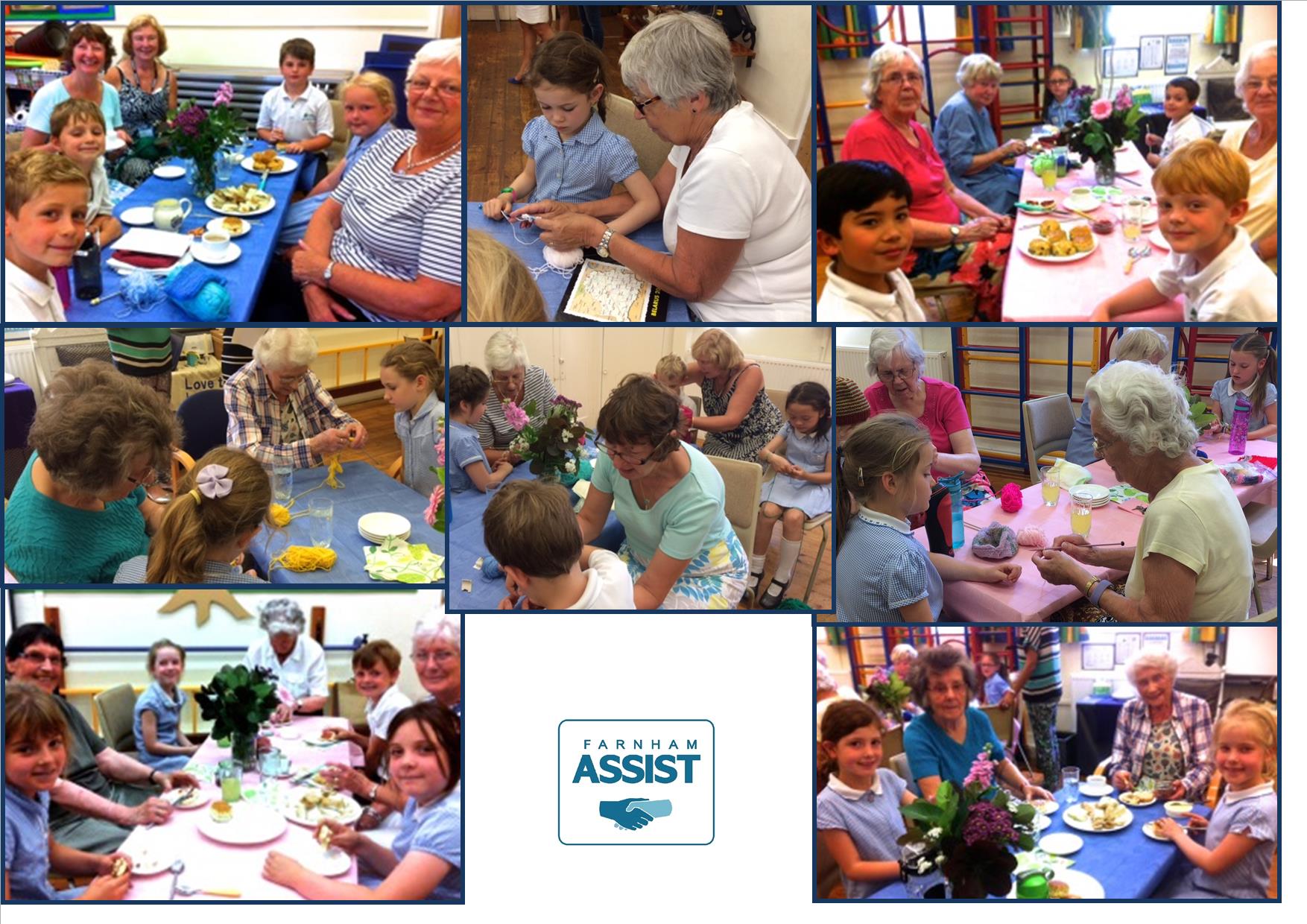 The Knit & Natter ladies had a wonderful time at All Saints Tilford teaching the yr2's to knit and being served afternoon tea. Thank you to All Saints for supporting Farnham ASSIST and working to merge the generations.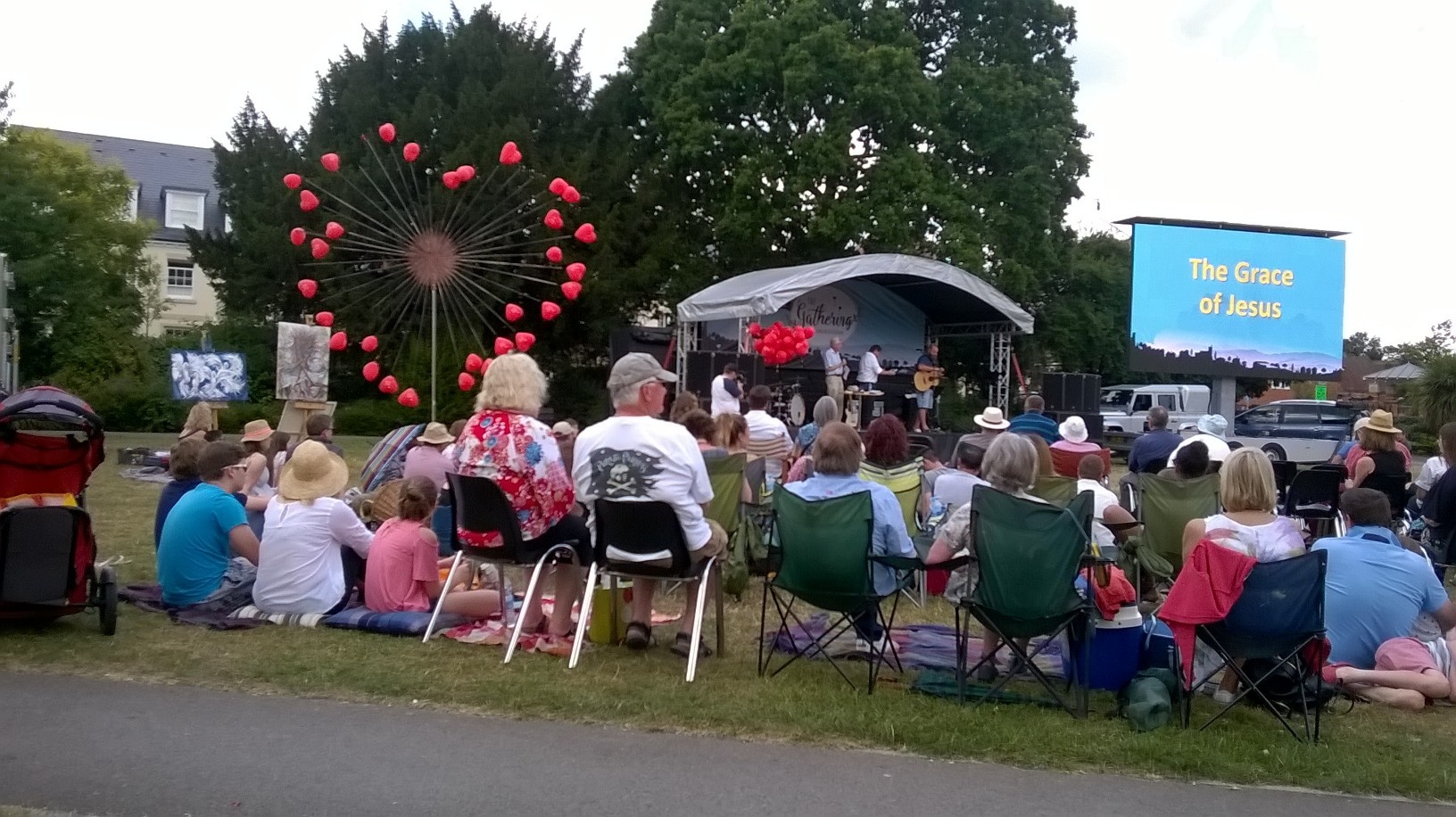 The Gathering in Gostrey Meadows on Sunday 9th July went well, it was a super hot day and we were lucky enough to be in the shade.
Lovely to meet other Christians from the churches in and around Farnham and potential volunteers.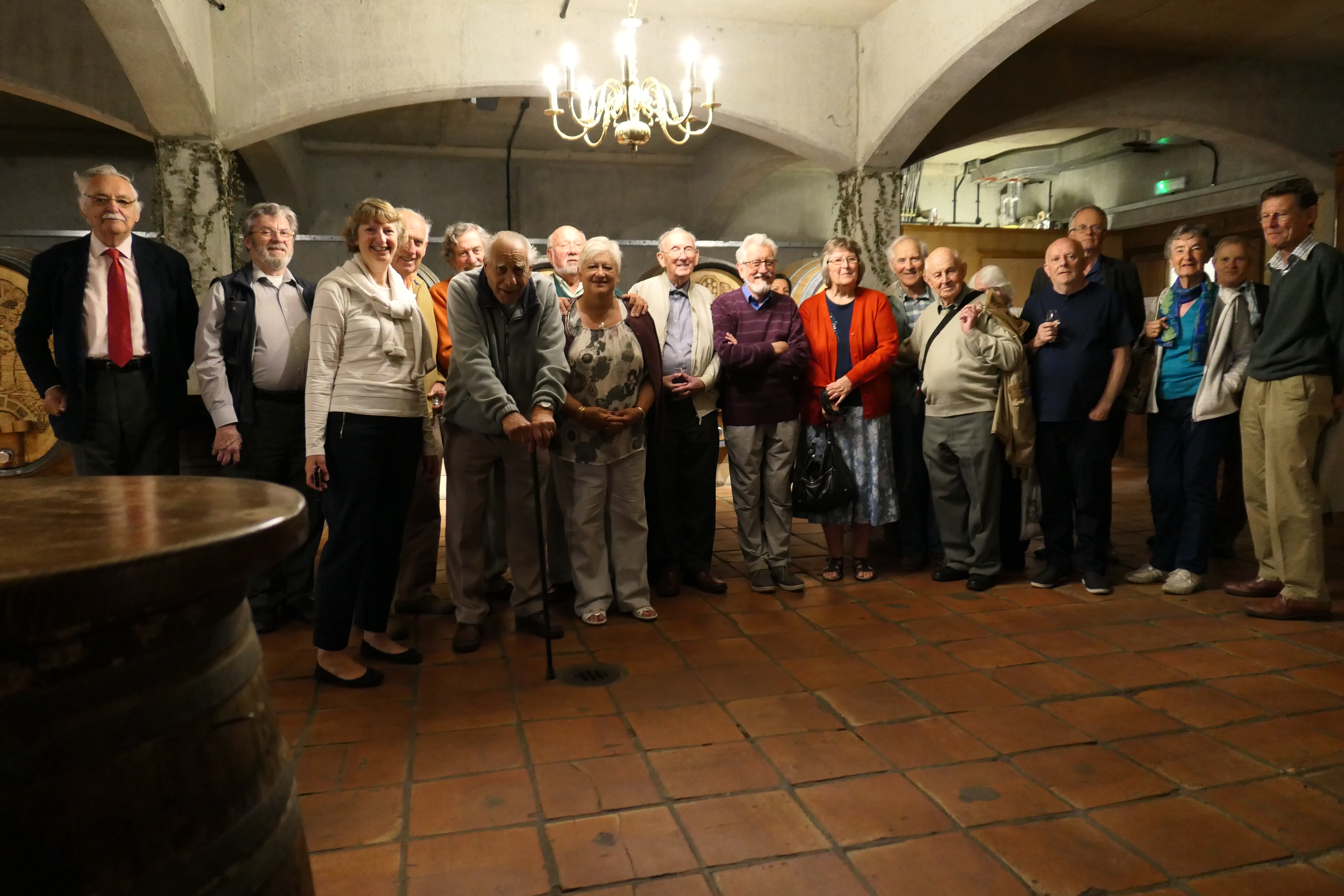 The Pie & Pint gents had a great time at Denbies sampling wine and enjoying a tour of the estate.
24 met at Sainsburys to be picked up by a coach and transported through the Surrey Hills to the award winning winery. After the tour lunch was eaten together and then time was taken to enjoy a stroll through the vineyard and visiting the art exhibition on site.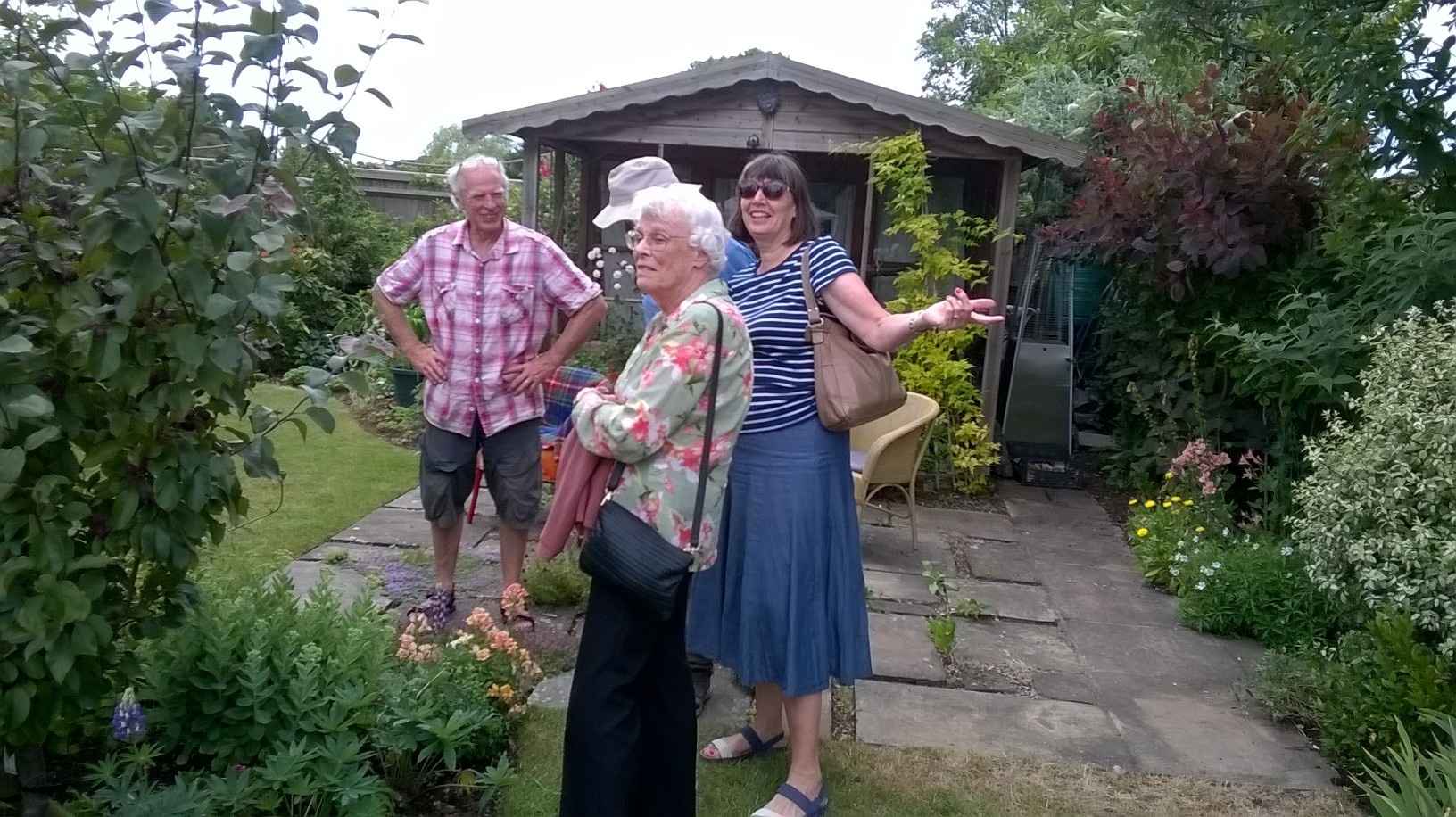 Thank you to Nick and Susan who opened their garden on Saturday for Farnham ASSIST volunteers and clients. It was a lovely afternoon to enjoy their beautifully planted garden and indulge in cucumber sandwiches and cakes.
Thank you to all who helped on the day and especially to Nick and Susan and all their hard work in the months leading up to our visit. Their kindness and hard work raised £223 for Farnham ASSIST.
Home
Finished and having a well deserved rest!
Elroy Blackwood supported Farnham ASSIST on Saturday by taking part in the Race to the Kings double marathon with donations going to this worthwhile charity.
The course started at 8.00am in Arundel and he finished his 53 miles at 11.30pm at Winchester Cathedral. He is shattered but recovering well.
Elroy has so far raised just over £1,300 for ASSIST with online donations and sponsorship forms in the office. If you would like to donate please visit: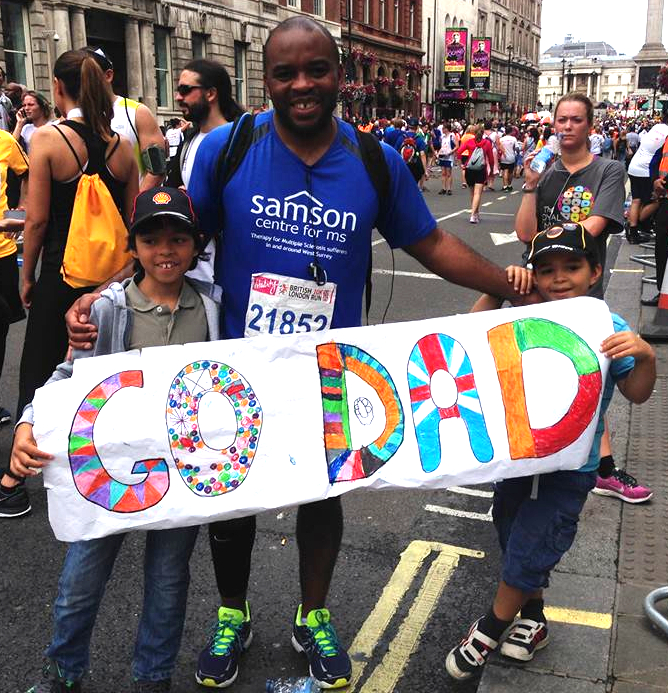 Elroy Blackwood, one of our kind supporters of Farnham ASSIST will be running the Race to the Kings course on 24th June 2017.
Race to the Kings is a route from Arundel to Winchester along the South Downs way, it covers a double marathon of 53.2 miles, passing stunning scenery along the way.
Route Highlights
The Devil's Jumps
Beacon Hill
Queen Elizabeth County Park
Butser Hill
HMS Mercury
Old Winchester Hill
Beacon Hill
Winchester Cathedral
Cheesefoot Hill
St Catherine's Hill
Elroy, husband of Assist staff member Susie, has been training since Christmas and will be collecting money for Farnham ASSIST he would welcome your support by donating directly to the ASSIST offices or online at
https://mydonate.bt.com/fundraisers/elroyblackwood1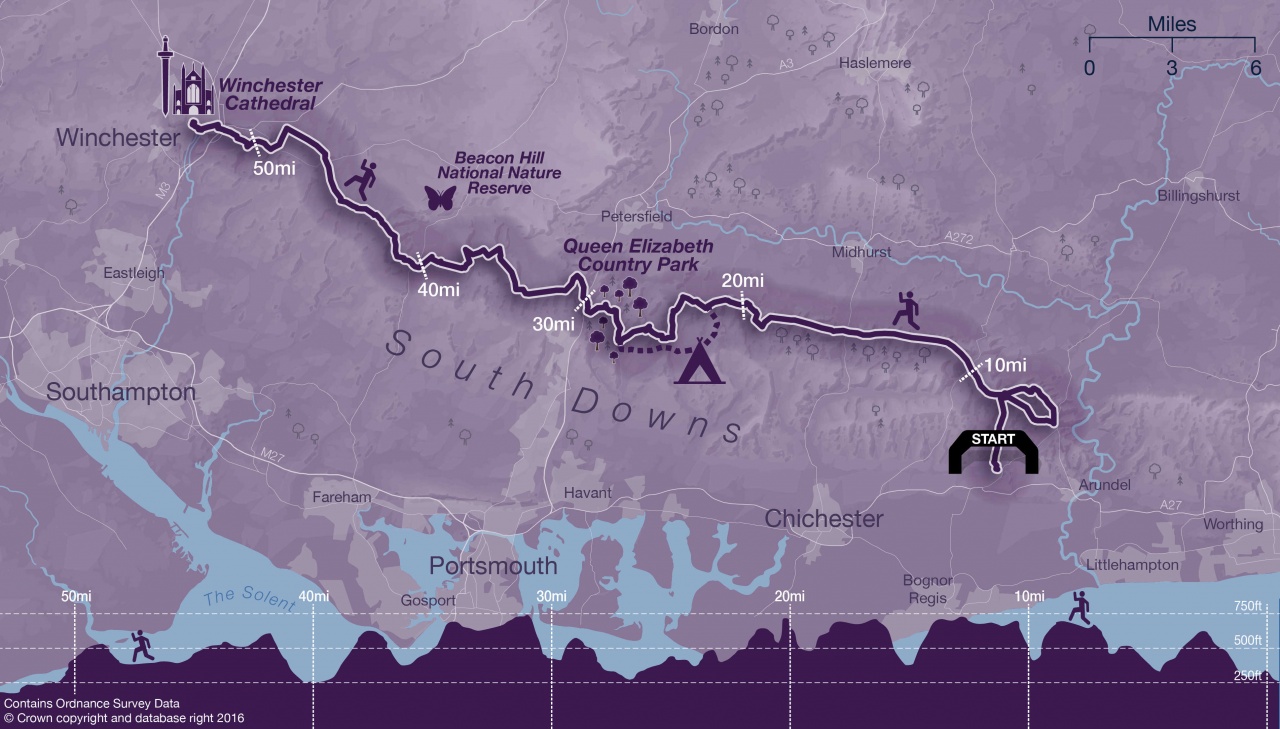 Farnham ASSIST's Queens Award


Farnham ASSIST is thrilled and delighted to receive the prestigious Queen's Award for Voluntary Services. This is the highest award given to volunteer groups across the UK. It is awarded for outstanding achievement by groups who volunteer their own time to enhance and improve the lives of others. This award reflects the hard work of our volunteers and supporters since 2002, and we would like to reaffirm our thanks for being a vital part of this recognition.
Manager June Trantom with former manager Brian Kurton attending the Royal Garden Party at Buckingham Palace.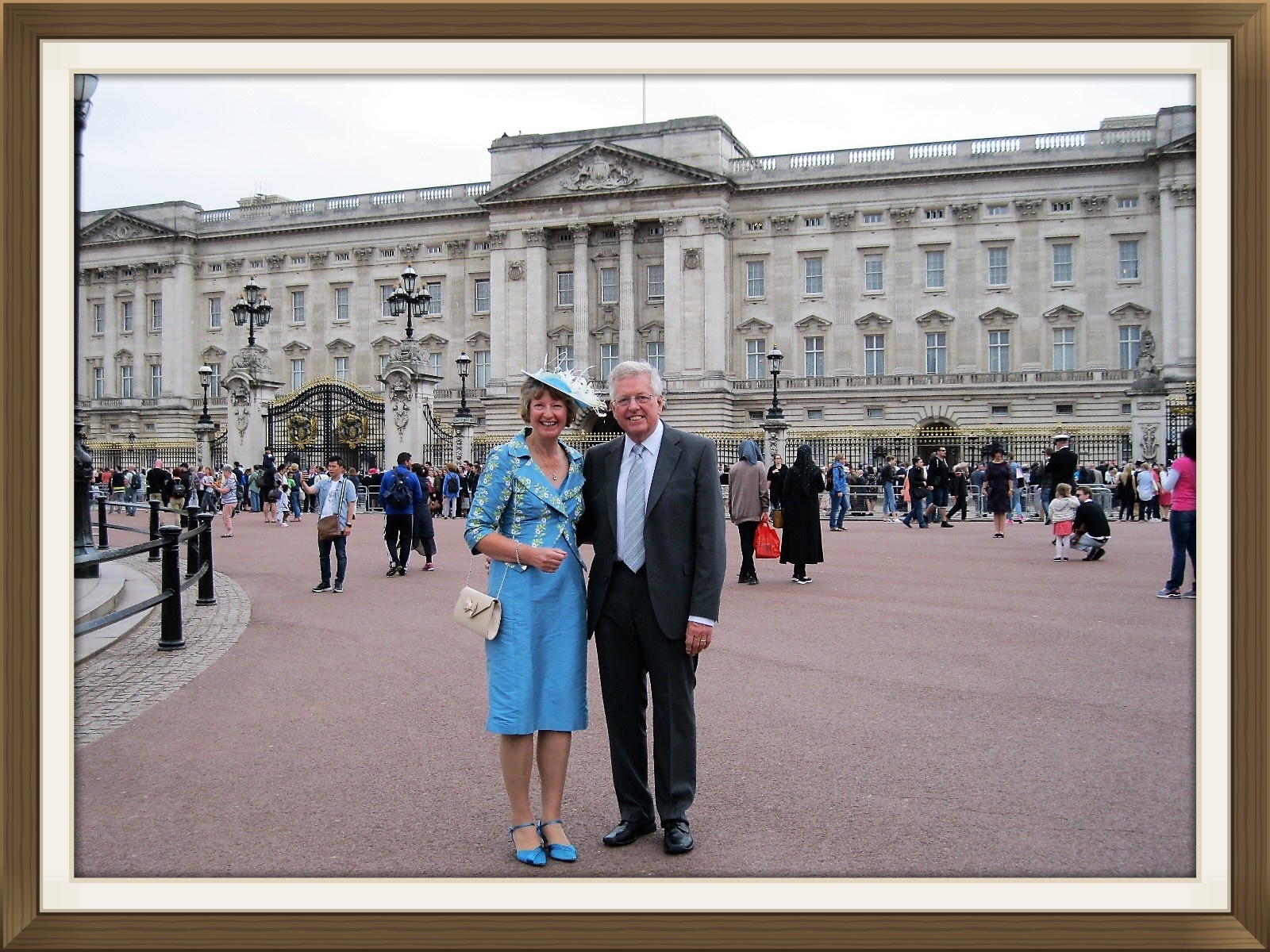 Mad Hatters Tea Party
We had a fun afternoon creating beautiful hats eating cake and playing croquet on the museum garden lawn. Many thanks to the volunteers for helping out and providing delicious cakes.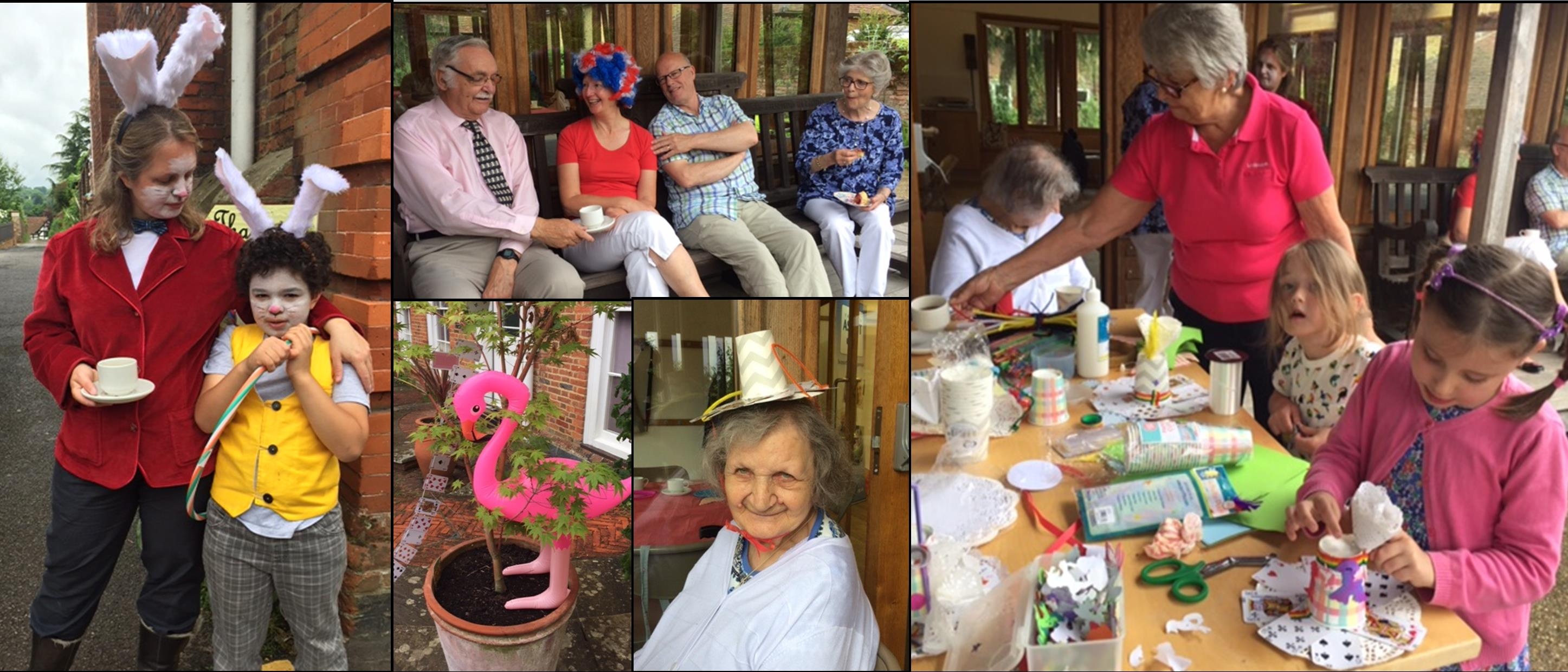 Lego Show
Wow what a busy day! We had just under 1000 attendees to our Lego exhibition on Saturday 6th May to view the exhibits by AFOL's who had brought along trains, planes, mosaics, TV sets, ships and all sorts of wonderful creations. Children were able to happily play and build their own displays with Lego, Duplo and large foam blocks. Rhys Knight of Mister Bricks helped to co-ordinate the AFOL's (Adult Fans of Lego) which was a huge help and we appreciate his help immensely.
There was a marketplace to keep the other family members happy and food to sustain us all.
Thank you to Kidd Rapinet for sponsoring the event, Sainsburys for supplying prizes to our child master builders and the Rugby Club for letting us use such a great venue, and of course our volunteers who sold tickets, provided refreshments and manned the car park.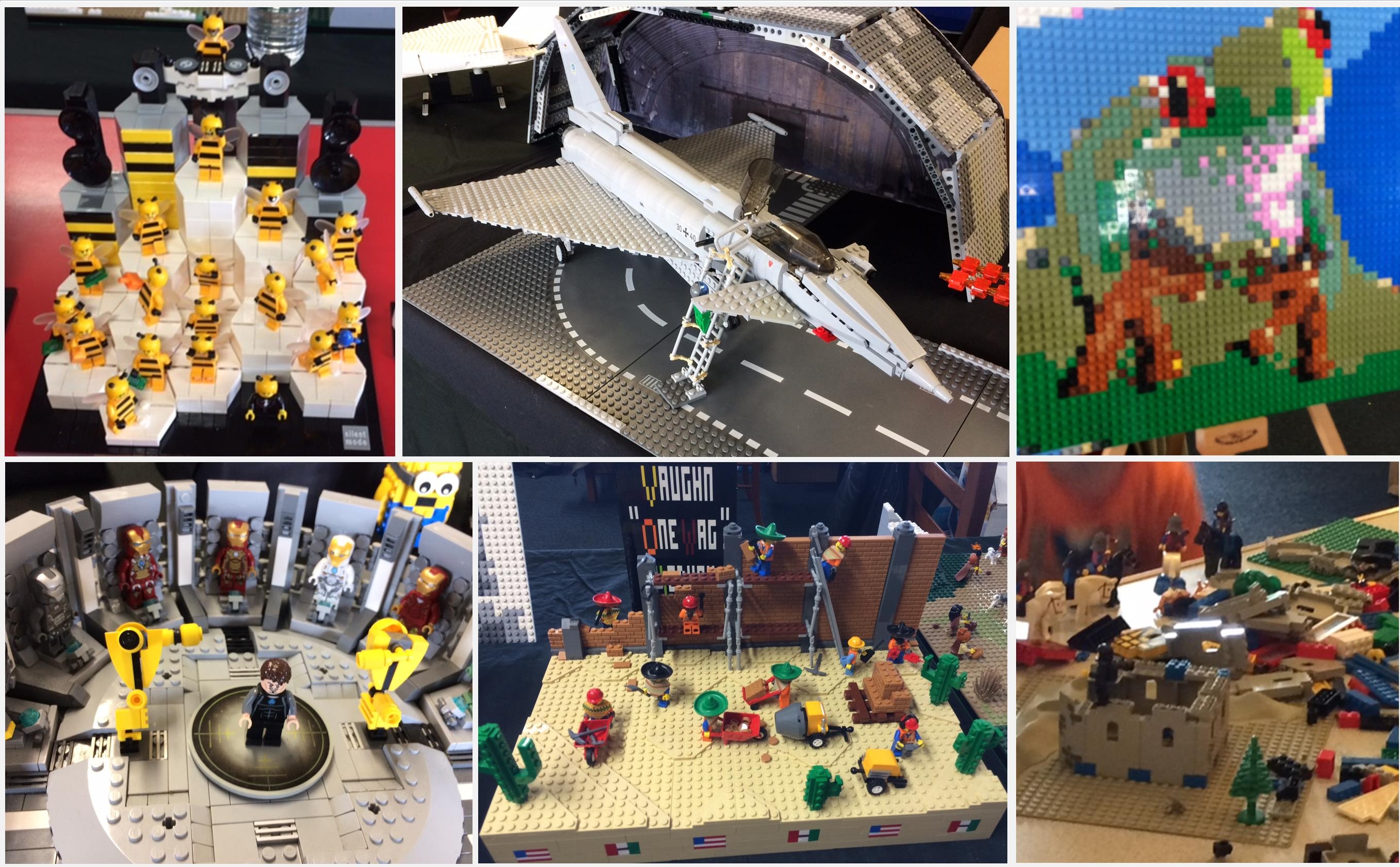 Farnham ASSIST WEEK - 24th to 30th April
Thank you to Barrington's Solicitors for sponsoring our ASSIST week, the idea of Farnham ASSIST week is to raise the profile of Farnham ASSIST to encourage more people to come along to our client events and enjoy making new friends and socialising.
Bethel Baptist Church kindly held their Tuesday coffee morning in aid of ASSIST, they raised over £165 for Assist during the morning.
We held a coffee morning with cakes for sale at Farnham Vineyard church on Wednesday we raised £83.11 with many of our clients and volunteers visiting us.
Edinburgh Mill held a Fashion Show for us on Thursday, this was great fun and the models were very professional!, the ticket sales raised £210.
Friday was our FLAG DAY – we collected around the town between 10 and 2pm, we also held a bikeathon in St Georges Yard with Brasserie Blanc being the fastest team, they enjoyed the cake sale afterwards, in total we raised £285.57.
On Saturday we had our tombola tent in Gostrey Meadow, from 10am – 3pm this was successful with the opportunity to hand out leaflets for our upcoming fundraising event. We raised £170 from the tombola.
Lastly on Sunday, St Andrews church held a cake sale after their morning service in aid of Farnham ASSIST, they raised £150 for ASSIST.
Thank you to all volunteers and sponsors who help with this event we had a great week and hope that many more people will access our events due to the publicity.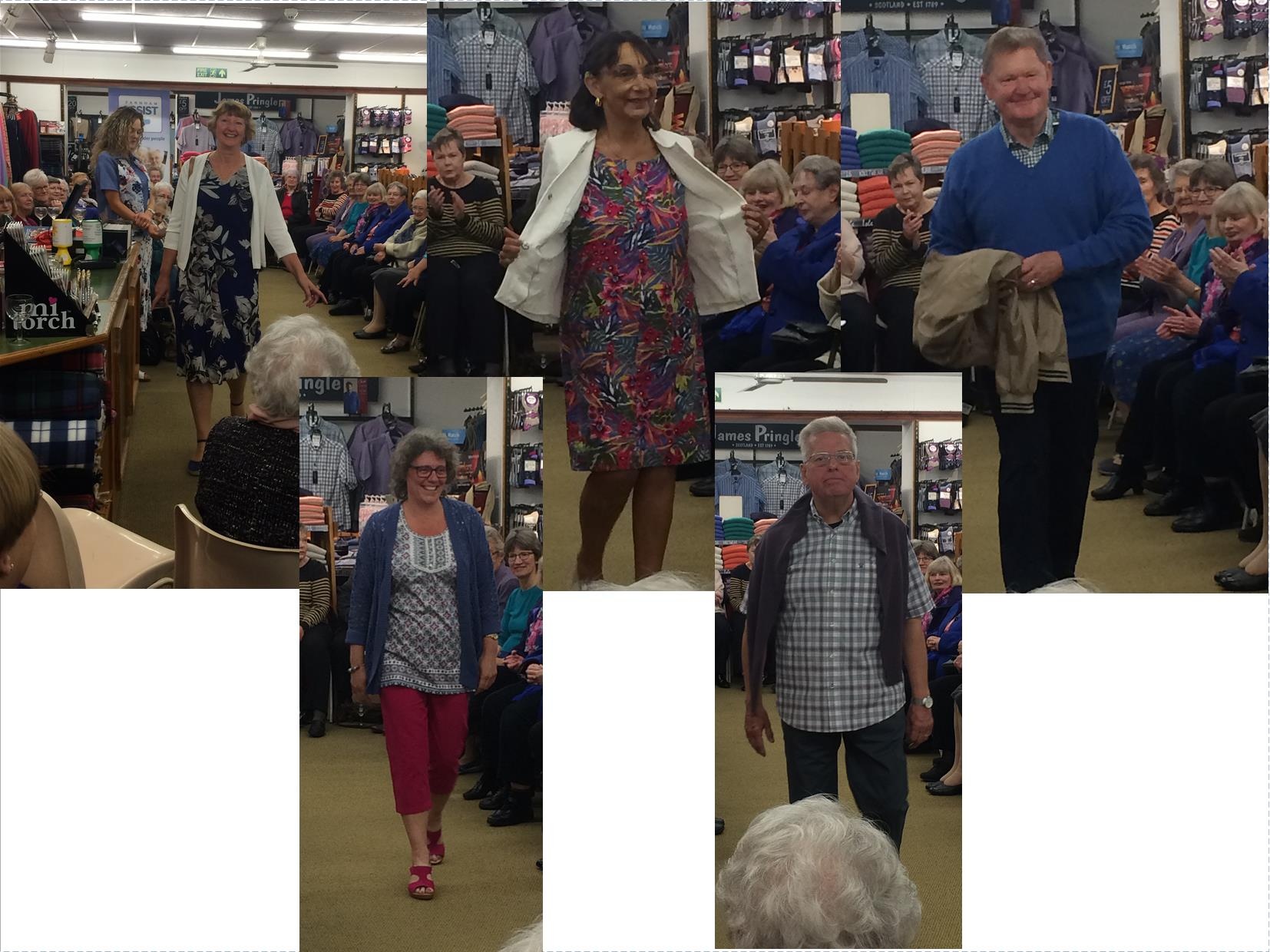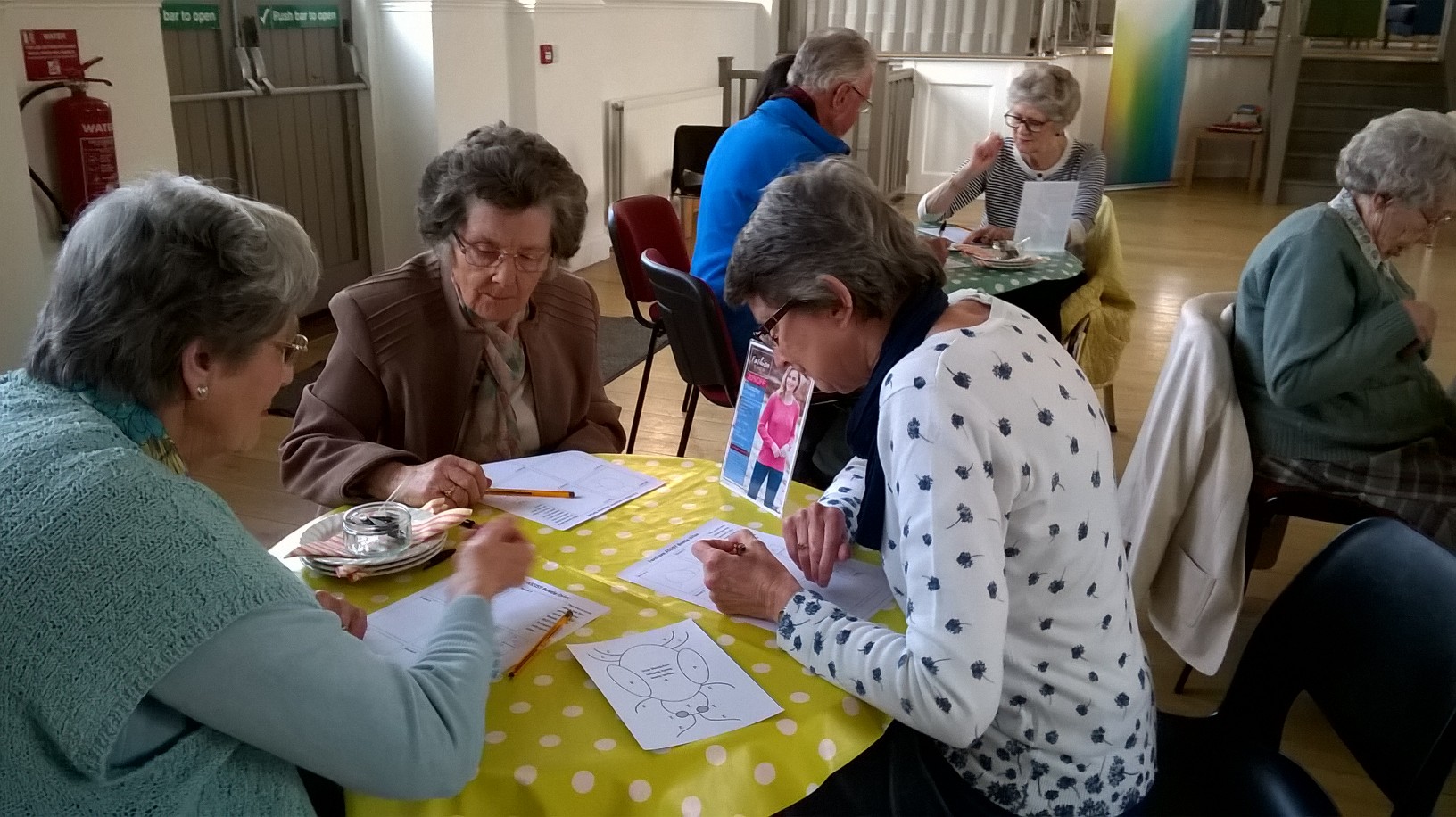 We had fun at the Beetle Drive, much rattling was heard with strong competition between two tables in particular. The winner was awarded an Easter egg and cake and tea was enjoyed by all.
A big thank you to everyone who came to our quiz night on the 24th March, we had 90 people on the night enjoying the questions and food. In total we raised over £870.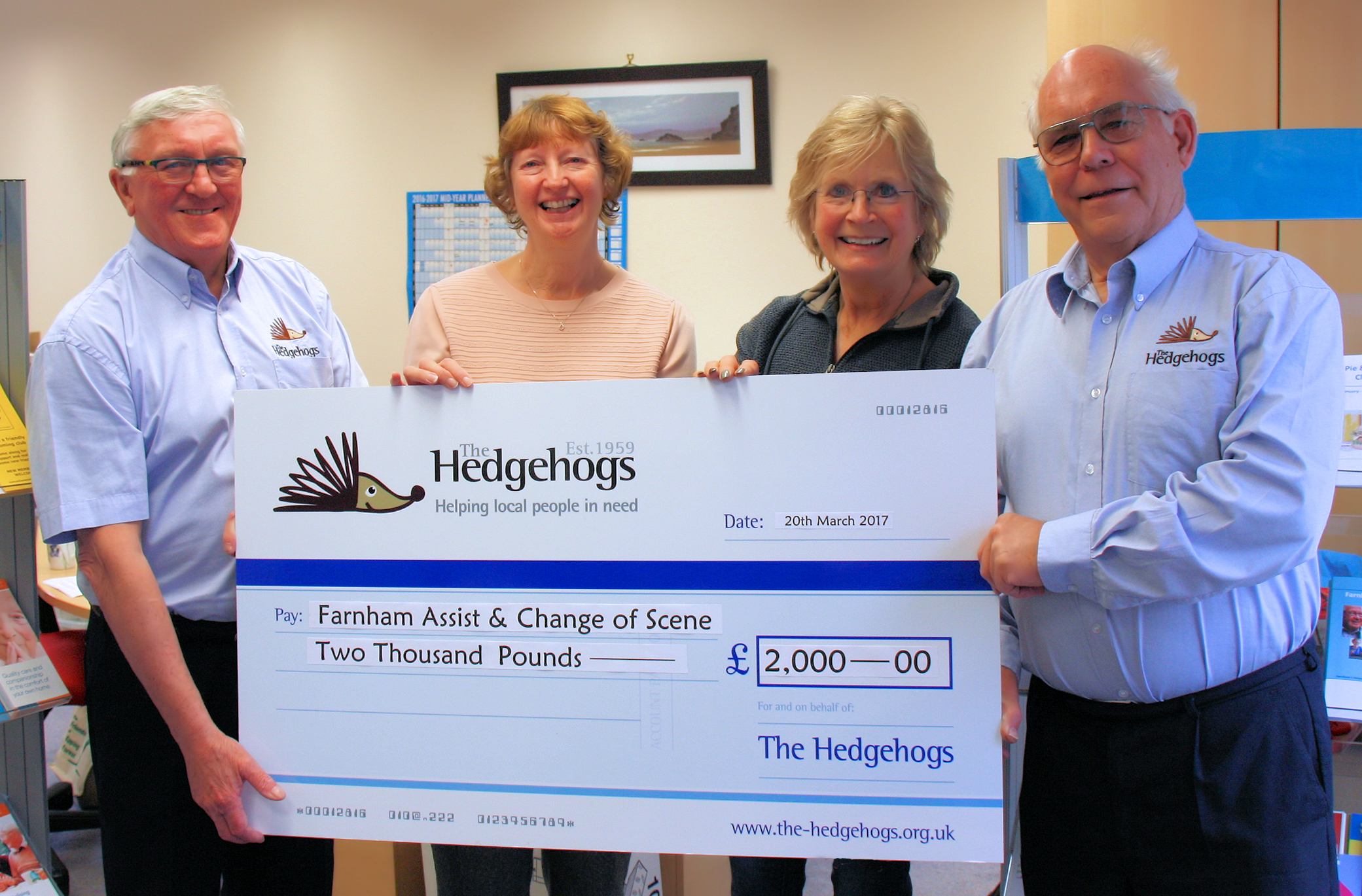 Thank you to Farnham Hedgehogs for supporting Farnham ASSIST by donating half of their quiz night takings to Farnham ASSIST.
Both ASSIST and Change of Scene benefitted from the Hedgehogs legendary quiz night with a cheque for £1000 each.
L-R Stephen Tilburn, Treasurer the Hedgehogs, June Trantom, Manager Farnham ASSIST, Sue Weaver, Change of Scene and Alastair Muir, Hedgehogs.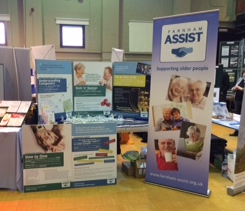 It was lovely meeting all the other organisations and charities at the Retirement Fair in Farnham Maltings. So many dedicated people working together in Farnham to make it such a great place to live.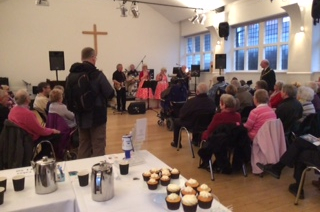 Thank you to those that supported us at the Music at the Vineyard.
Out of the Shadows were brilliant, performing 60's hits and encouraging people to dance. The afternoon was filled with fun and those that enjoyed refreshments helped us raise £220 for Farnham ASSIST.
We are looking forward to supplying refreshments during the summer at Music in the Meadow,
again, with Out of the Shadows playing their great music.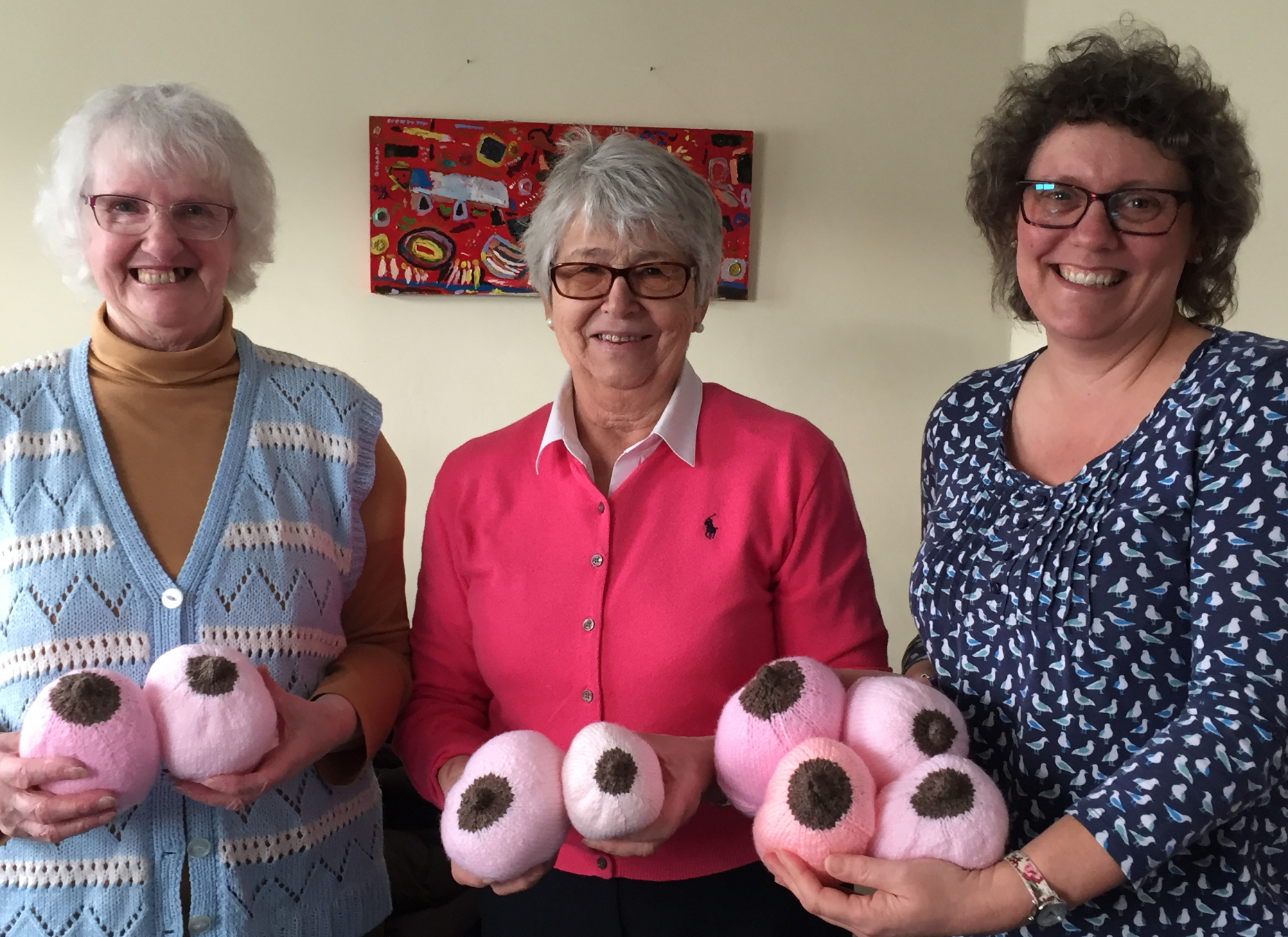 The Knit n Natter ladies have been busy again, providing the Sure Start Centre with knitted breasts for their breastfeeding clinic.
Following the patterns they knitted breasts of all shapes and sizes. The ladies had a giggle whilst supporting younger generations mastering breastfeeding.
If you would like to join the Knit n Natter ladies they meet on the 1st, 2nd and 3rd Monday of the month at 1-2.30pm at St Andrews Parish Rooms, Farnham.
Was great to see so many familiar faces at Love in Action on 12th Feb. What a great event - thank you FCCT for including us!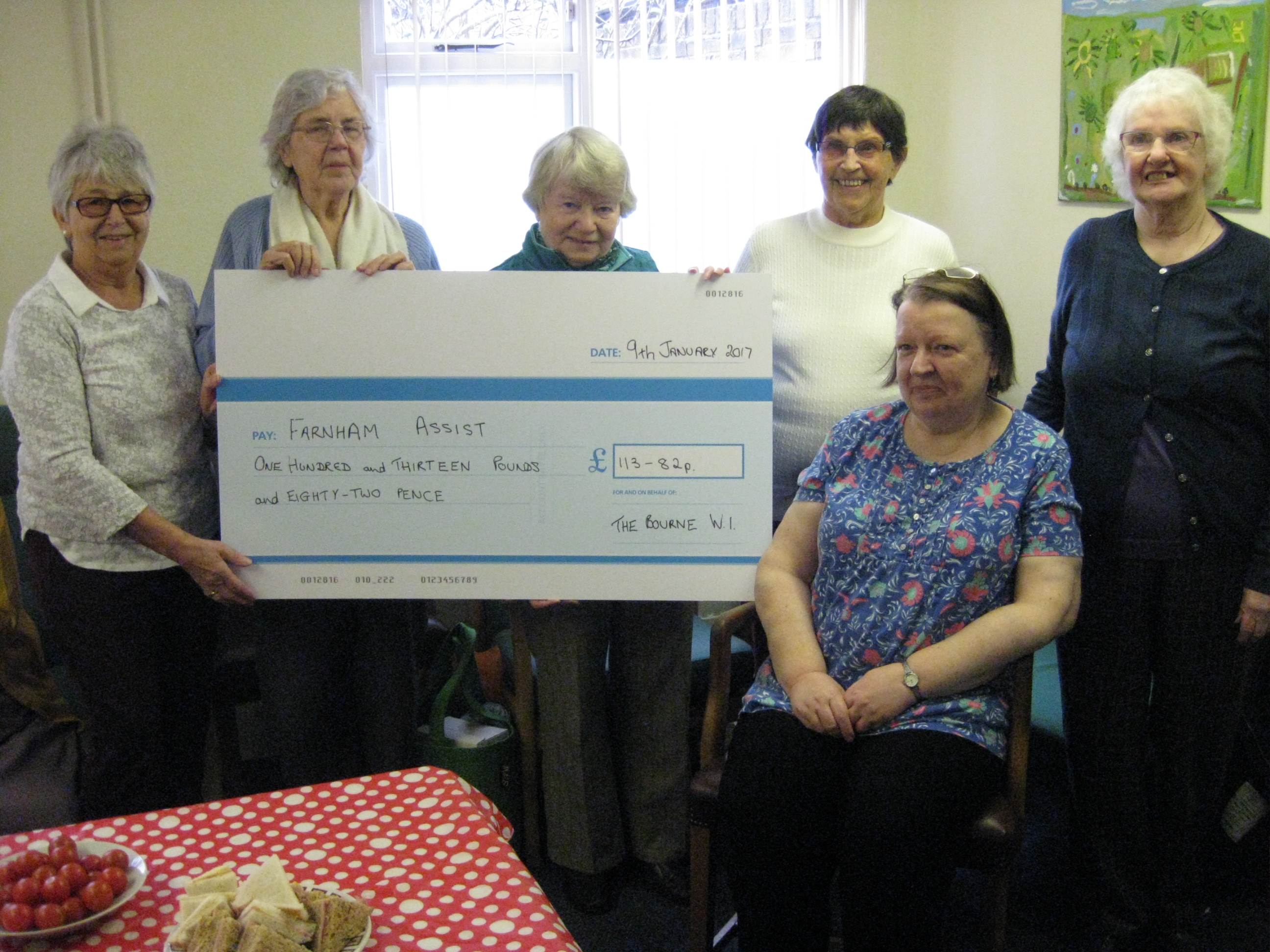 Thank you to The Bourne WI for their fundraising efforts and raising £113.82 for Farnham ASSIST, the Knit n Natter ladies seen here gratefully received the cheque as part of ASSIST.
January 12th was our clothing collection day, we had an office full of unwanted clothing and linen which was to be weighed and sold on to Africa. Many thanks to all who donated their clothing. We raised just under £120 which will be used for the supportive work of ASSIST in Farnham.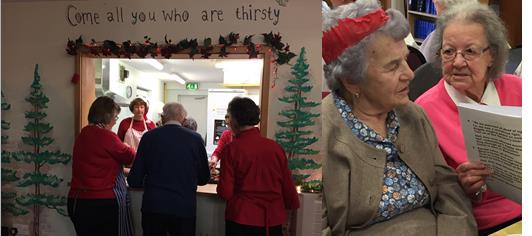 On the 17th December we held our Hale Christmas lunch.
The church was festively dressed and a delicious Turkey Christmas Lunch was served to 36 clients and volunteers, who enjoyed singing carols and receiving gifts from Farnham ASSIST and the generous readers of The Surrey and Hants News.
A big thank you to all who helped and to Howzat Cricket Club for raising the funds to pay for the meals and trimmings.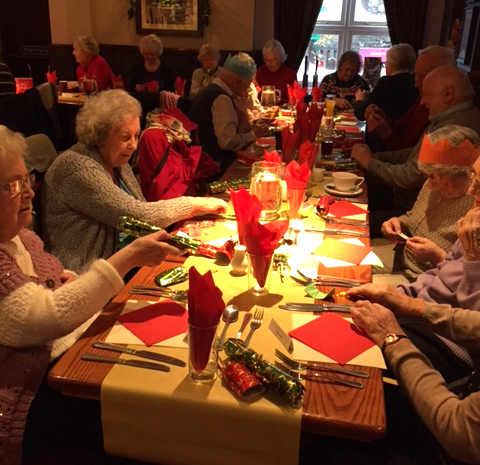 12th December was our Christmas Pub Lunch.
Just under 40 Farnham ASSIST clients enjoyed a meal at The Woodlarks Pub, Bordon, subsidised by Howzat Cricket club.
The mood was extremely friendly and festive with a filling 3 course meal and lots of chatter about the years events and future activities.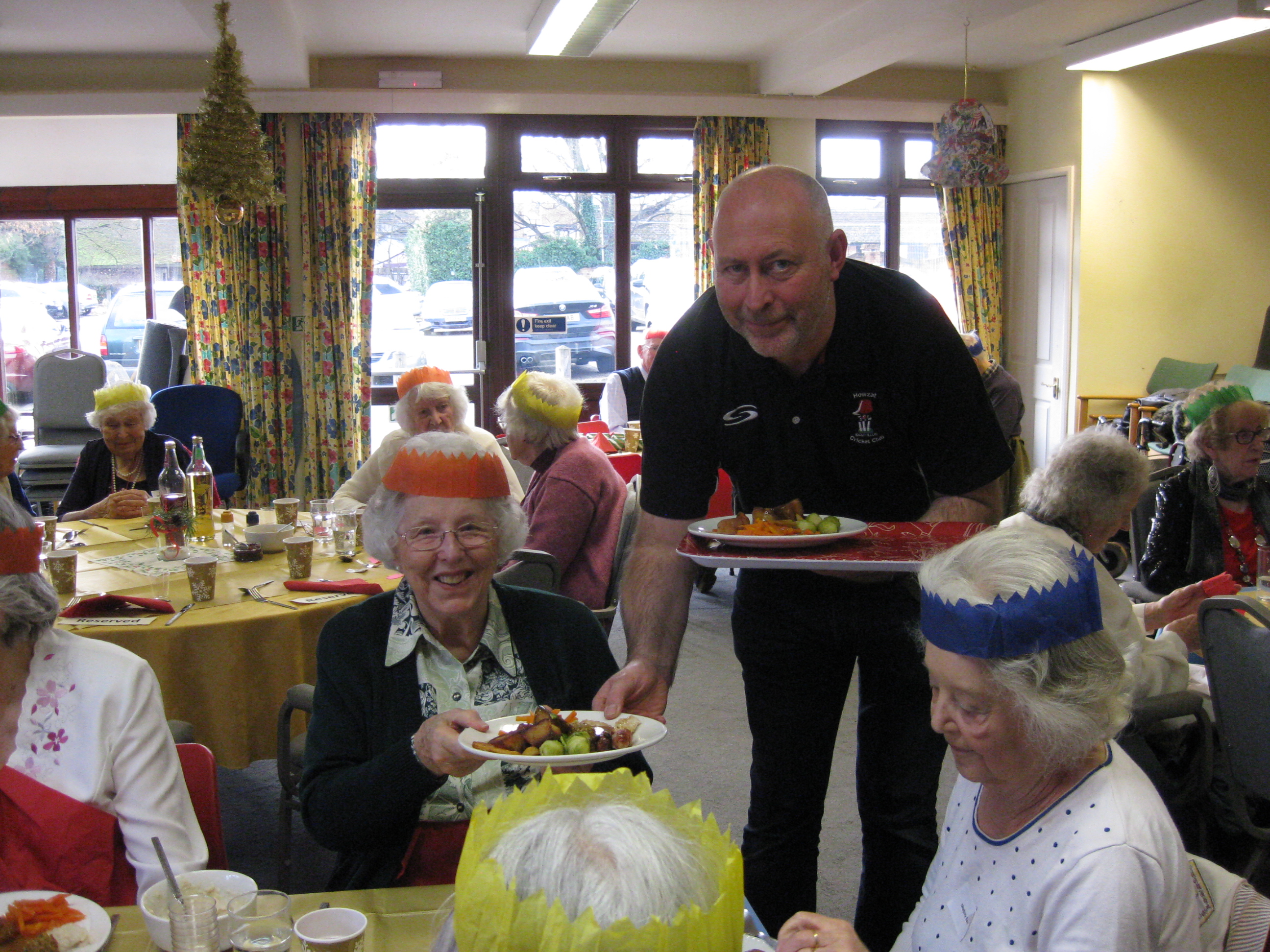 Christmas Lunch
We held our annual Christmas lunch on the 11th December at Brightwell's Gostrey Centre. Over 70 local residents attended to enjoy a Roast turkey lunch with all the trimmings. The Mayor and Mayoress of Farnham assisted in serving the meal as well as gifts from ASSIST and shoebox presents donated by resident readers of the Surrey and Hants News. Mark (pictured) and Paul from Howzat Cricket Club helped with all the festivities and their fundraising efforts throughout the year paid for the Christmas lunches and gifts. Thank you to everyone who helped on the day and to Howzat Cricket club for their generous donation.
Carol Service
We had a wonderful carol service on the 5th December attended by over 100 local residents including the Mayor and Mayoress of Farnham. Rev John Ross spoke of the Light coming into the darkness and the difference light makes in our lives. We finished the service with tea, coffee and mince pies.
Ceilidh
We had such a fun evening on the 18th November at the ceilidh and raised just over £820, due to ticket sales and the raffle we held.
70 people joined us for delicious food and enthusiastic dancing and commented on what a light-hearted and friendly evening it was.
Many thanks to the volunteers who worked tirelessly to serve a fabulous ploughman's supper and pudding and helped to clear up afterwards.

Down Memory Lane...
On the 19th October we held a Down Memory Lane Event, it was a great success with over 60 people attending to enjoy a cream tea with delicious homemade scones, stories and singing as well as looking at and discussing the artefacts from Farnham Museum. We would like to say big THANK YOU to our volunteers who helped to make this event so special for all our visitors.

Songs of Praise
On the 30th September we held a Songs of Praise service at the United Reformed Church in Farnham. The service was well supported by over 100 people who came to celebrate The International Day of Older Persons. The service was led by June Trantom in the Songs of Praise format with guests, Dr Mary Riggs, John Tucker, Rosie Burroughs, Barbara Hardaker and Ian Sargeant choosing their favourite hymn and sharing what makes the hymn so special to them. Revd Conrad Hicks delivered the message and Farnham Town Mayor, Councillor John Ward read Joshua 14 v 6-12 from the Bible.
Afterwards all enjoyed an afternoon tea served by Farnham ASSIST volunteers, many thanks for making the afternoon possible.